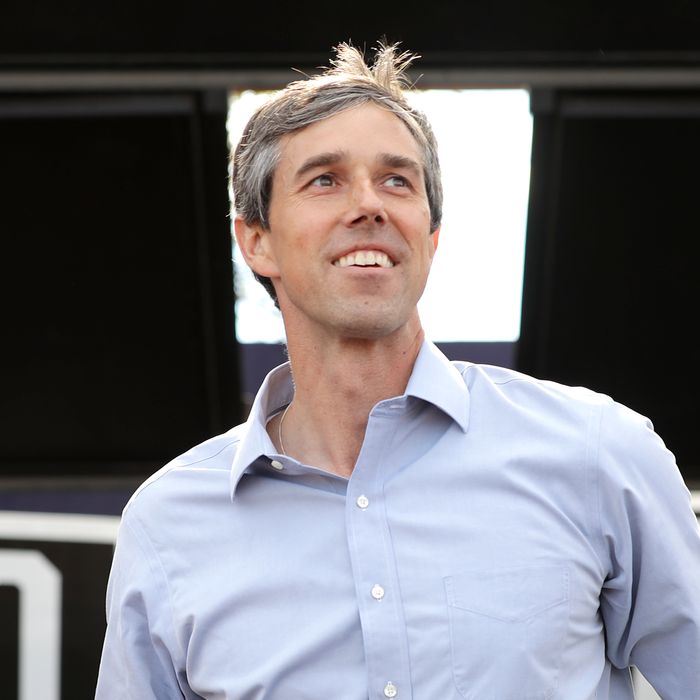 So far, the former president is not discouraging chatter about Beto being "the next Obama."
Photo: Chip Somodevilla/Getty Images
From the beginning, the audacious idea of Texas congressman Beto O'Rourke running for president in 2020 has been given vital heft by its indirect association with Barack Obama. Multiple former Obama aides have waxed enthusiastic about the idea, not showing any reluctance to make comparisons between the young and inexperienced senator who jumped into a presidential race in February of 2007 and the equally young and inexperienced near-senator of 2018, as the Hill reported last week:
In many ways, say the Obama supporters, O'Rourke is a 2020 version of their former boss.




"That ability to make people feel invested in his campaign and his story does remind me of Obama '08," said David Litt, who served as a speechwriter in the Obama White House. "You see the crowds and the enthusiasm, the kind of movement that isn't about me but about us … "




Another former Obama aide said O'Rourke, even after losing his Senate bid, has energized the party like no one since the former president. 




"The party hasn't seen this kind of enthusiasm since Obama," the aide said. "There isn't one other potential candidate out there that has people buzzing. And that's exactly why people supported Obama and why they'll support Beto." 
Former Obama adviser Dan Pfeiffer made a more practical pitch for Beto:
Our nominee needs to be able to excite first-time and periodic voters to turn out AND win over independent voters, particularly in the exurban and rural counties that turned Florida, Ohio, Wisconsin, and Pennsylvania from Obama blue to Trump red. This was the formula Beto used to do better than any Democrat has done in Texas in decades. According to exit polls, first time voters made up one-fifth of the electorate and went for Beto by 14 points. Beto's successful progressive appeal to the base didn't turn off the middle — he did 12 points better with independents than Hillary Clinton did in 2016.
And now, it transpires that Barack Obama himself has done more than just say nice things about O'Rourke, according to the Washington Post:
Beto O'Rourke, weighing whether to mount a 2020 presidential bid, met recently with Barack Obama at his post-

presidency offices in Washington …




The meeting was the first sign of Obama getting personally involved in conversations with O'Rourke, who despite his November loss in a U.S. Senate race in Texas has triggered more recent discussion and speculation than any other candidate in the burgeoning 2020 field.
Presumably Obama, like most everyone else in Democratic politics, was impressed by O'Rourke's phenomenal small-dollar fundraising and his ability to draw progressive activists everywhere into an uphill fight in a red state against incumbent Ted Cruz, the runner-up for the 2016 GOP presidential nomination. He's very unlikely to endorse Beto or anyone else before the 2020 primaries are fully underway, certainly so long as his two-term vice-president Joe Biden, his close friend Deval Patrick, and potentially multiple members of his Cabinet are still considering campaigns.
But the association with Obama, however informal, is worth its weight in gold to O'Rourke. It provides him cover for his short résumé in elected office; Obama had been in the Senate for just three years when he announced for president while the Texan had six years of service in the House. And perhaps even more important, it helps O'Rourke overcome his lack of a clear ideological or racial/ethnic advantage in what looks to be an incredibly diverse field. Being thought of as potentially "the next Obama" is particularly potent in Iowa, where Democrats are still proud of their role in lifting the 44th president into contention in 2008. If he runs and can get through the initial contests, the Texas primary on March 3 (the same day as California and seven other states) could give him a big lift.
We'll have to see if the flirtation of ObamaWorld with Beto O'Rourke waxes or wanes. But if it continues, you could definitely imagine early canvassers for the fluent Spanish-speaking Beto holding signs with United Farm Workers slogan adopted by Obama '08: Si Se Puede!