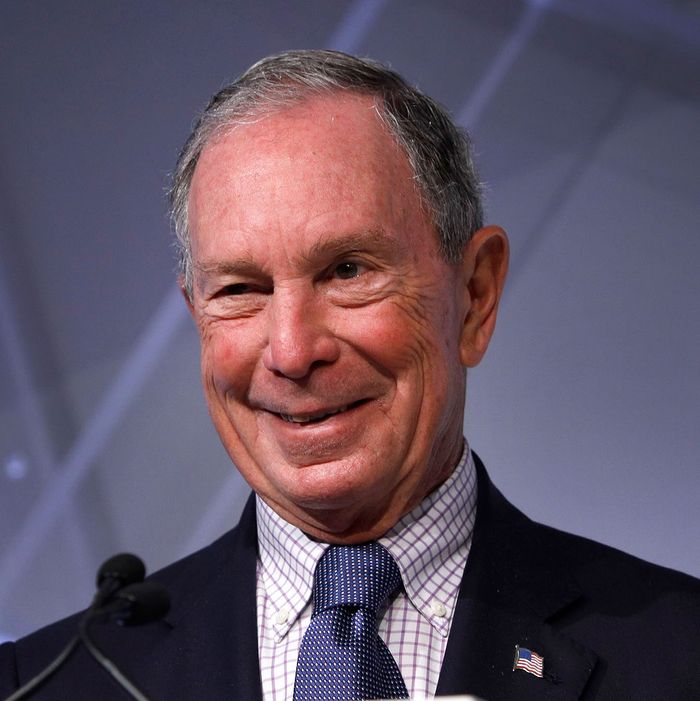 Money will be the least of Bloomberg's problems if he runs for president.
Photo: Bill Pugliano/Getty Images
Former New York mayor and freshly minted Democrat Michael Bloomberg wants people to know he's serious about running for president in 2020. In his business career, seriousness is usually monetized. So he's opening up the checkbook, CNBC reports:
Howard Wolfson, Bloomberg's top political advisor, in an email hinted at how much his boss would look to invest into his own potential campaign for president.




"Mike spent more than $100 million in his last mayor's race. Last time I looked, NYC is a fraction of the size of the country as a whole," he explained. The last time he ran for public office was in 2009, when he ran for re-election as mayor for a third term and pulled off a victory as an independent.
While $100 million in the campaign coffers would instantly make Bloomberg credible, he should be smart enough to know it's hardly a guarantee of real success. In 2016 Jeb Bush raised and basically wasted $130 million. And unlike Bloomberg, he had universal name ID, a record of holding high public office, lifelong service to the party whose nomination he was seeking, and a lot of endorsements from elected officials and party leaders. Bush's issue positions, moreover, were squarely in the mainstream of GOP opinion in a way that Bloomberg's are most definitely not (particularly with respect to criminal justice) squarely in the mainstream of Democratic opinion.
Bloomberg's estimated net worth of over $40 billion means that he could in theory spend far, far more than $100 million on a presidential campaign. But given his initial handicaps, and relatively high unfavorability numbers among Democrats and independents, it would take a shocking amount of money spent well to lift him into serious contention, and that in turn would become a campaign issue. None of the early caucus and primary states, with the possible exception of New Hampshire, look much like Bloomberg country. He'd definitely look out of place and perhaps awkward in the African-American churches of South Carolina. And at the age of 78 (by February of 2020), his won't be the face of some new and diverse Democratic Party.
If Bloomberg wants to influence the 2020 election, he should probably repeat what he did in 2018 when he backed candidates who shared his agenda, and did quite well, as the New York Times observed last month:
Records filed so far show that organizations controlled and funded by Mr. Bloomberg spent more than $41 million on 24 House races, much of it on eye-catching ads rolled out on social media and broadcast on television in the crucial final days of the campaign.




And while it's impossible to conclude that any one factor tipped the balance in a race, Mr. Bloomberg appears to have reaped the benefits of his millions in giving. Democrats won 21 of the 24 races he sought to influence. Of those, 12 had been considered either tossups or in Republican districts.
That's not enough to make him a presidential player in 2020. But he could definitely make a difference for candidates other than himself.