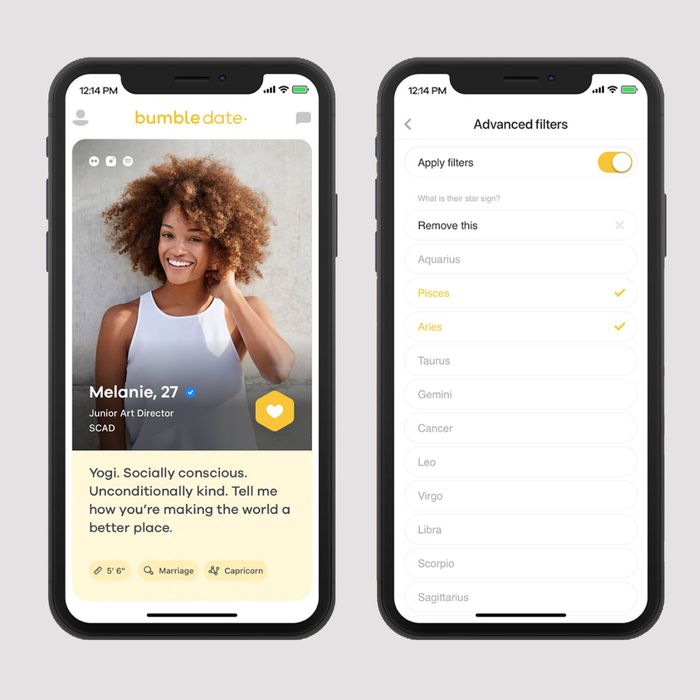 Part of the exhaustion of dating apps is that it's harder to suss out if a person is a good fit for whatever you're seeking (a relationship, casual sex, somebody to rent the DVD of the 2011 production of Company from the local library with and then spend the afternoon comparing Neil Patrick Harris's performance to Raúl Esparza's while eating brie). Bumble, the dating app founded by an ex-Tinder employee and best known for its "women make the first move" schtick, is trying to make things a little easier. On Monday, the app rolled out a new feature called filters which will let its 46 million users, as the name indicates, filter for exactly what they are looking for. The feature will be available in all three sections of the app: Bumble Date (for, duh, dating), BumbleBFF (for friend finding), and Bumble Bizz (for networking).
Users will be able to access two filters for free. After that, they'll have to pay for any further filtering. "Whether you're looking for a new job in media, a new mom friend or a date with a Sagittarius who loves live music, Bumble Filters enable you to tailor your experience," Alexandra Williamson, Bumble's chief of brand, said in a release. Bumble showed Intelligencer the full list of filterable options. For dating, those options are height, astrological sign, education level, political leaning, what you're looking for in a relationship, religion, and smoking, drinking, and exercise habits. (The lists, obviously, vary for BFF and Biz.)
Some of these are useful as hell. If you're sober and want to be with a sober person, here's an easy way to facilitate that. A hard-core leftist who would no sooner date a Republican than eat their own toes? You can avoid that, too. Some are harmless, if you really feel like you need to be with a water sign to be happy — which you should, us Pisces are damn delightful — so be it, but others are openly elitist and problematic. Like opting out of seeing anybody who doesn't have an undergraduate degree. The religion choices are limited to agnostic, atheist, Buddhist, Christian, and Hindu; Jewish stands out among the many omitted options. And for the love of whatever Bumble-approved deity your worship could we please stop caring about how tall our dates are?
Bumble's new filters seem to take a page from more old-school online dating sites, like OKCupid, where filtering users by highly specific interests and traits has long been the norm. But Bumble's filters, by comparison, don't seem to dig in deep enough. The expectations options are a relationship, something casual, "don't know yet," and "marriage." As a gay woman who has been on and off dating apps for years, a "looking for a third" or "unicorn" (dating-app speak for a bisexual woman who will have casual sex with a couple) would have been my first ask. Not having to swipe through hundreds of people who aren't actually interested in what you're interested in and also aren't even who you're interested in — profiles of "women" who are actually heterosexual couples — sounds convenient. But as of now, Bumble doesn't seem to fully grasp the range of just who is using its app and what they are using it for. But hey, you'll never have to swipe left on a short Capricorn ever again.