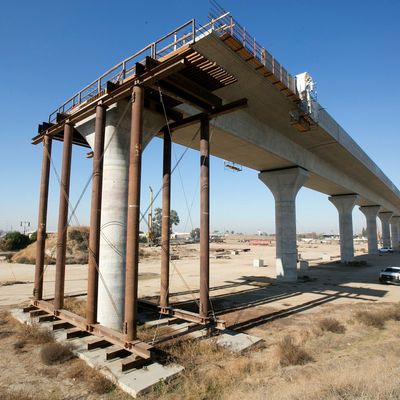 Construction of high-speed rail tracks in California's San Joachin Valley has been slow and expensive.
Photo: Rich Pedroncelli/AP/REX/Shutterstock
As Jerry Brown prepares to leave office after his second eight-year stint as Governor of California, he's leaving his chosen successor Gavin Newsom a strong legacy, including a state with renewed economic and fiscal health and a Democratic super-majority in both chambers of the state legislature.
But there is at least one thing Brown's leaving behind that will likely be a major headache for Newsom: a much-delayed and extremely expensive high-speed rail project that has bled public support as rapidly as dollars. Veteran California journalist Dan Walters succinctly describes the problem:
The messiest bit of unfinished business Govenor Jerry Brown will bequeath to successor Gavin Newsom is one of the outgoing governor's pet projects, a north-south bullet train project.




One could even say it's a hot mess, given the revelations of a new audit of the multi-billion-dollar project's first phase.




That initial segment — 100-plus miles of track in the mostly flat, sparsely populated San Joaquin Valley, from Chowchilla to an orchard near Shafter, north of Bakersfield — was supposed to be the easiest to design and build.




State Auditor Elaine Howle told the Legislature that the High-Speed Rail Authority's "flawed decision making regarding the start of high-speed rail system construction in the Central Valley and its ongoing poor contract management for a wide range of high-value contracts have contributed to billions of dollars in cost overruns for completing the system."
The San Joaquin segment was supposed to be finished by 2022, and the whole enchilada by 2029. But it's not looking good, and if that first deadline is missed, the state could be exposed to the clawback of up to 3.5 billion in federal funds awarded the project in 2010 as part of the Obama administration's economic stimulus program. And the project is already looking at an estimated total cost (expected to continue to go higher) of 77 billion dollars. Things have steadily gone south since California voters authorized the initiative in 2008, as Los Angeles Times columnist Steve Lopez recently observed:
In 2008, voters approved what was supposed to be a $33-billion railroad completed by 2020. Today — and check back tomorrow, because these numbers could change — the cost has exploded to an estimated $77 billion and the current completion date estimate is 2033.




Of the three funding sources, state money isn't nearly adequate, federal money is no guarantee and private investment is nonexistent.




Hundreds of lawsuits over environmental concerns and the rail authority's condemnations have jammed court dockets for years.
Even if the very first phase of the project in the San Joaquin Valley is finished, the next phase northwards will involve tunneling through mountains. And even if the line under construction is linked to existing rail lines running up to San Francisco and down to Los Angeles, the passenger service won't be "high-speed," and that could endanger some state-issued bonds requiring big improvements in speed.
With vocal opposition to the project ranging from fiscal hawks to farm and environmental groups, public support has flagged considerably. A new PPIC statewide survey shows that nearly three-fourths of Californians oppose making high-speed rail a major fiscal priority for the state. And that sour opinion is held pretty consistently across party and regional lines.
Gavin Newsom has long been on record supporting Brown's bullet train, but as he approaches the governorship, he seems to be sending signals that he might reconsider it all, as indicated in remarks last week during an appearance in Fresno, which will be served by the first phase of the project if it's ever completed:
I've been a long time supporter and I continue to support the Valley to Valley segment but I also think it's time for a fresh start its time to take a more sober, honest assessment of what it is and what it isn't and that's what I intend to do. And frankly I've been critical of some of the financing plans over the past few years but I hope to get it done but with a lot more transparency and a lot more accountability.
"Fresh start" is one of those euphemisms politicians use at the beginning of a U-turn. But for all the obstacles that exist to completing anything like the original scheme, there remain boosters with enduring dreams if not fantasies:
Congressman Jim Costa, a long time high speed rail supporter, applauds Newsom's call for a fresh start and believes congress and the President will get behind an infrastructure spending bill that will provide money for high speed rail projects around the country.
Costa is the rare Democrat who still thinks Donald Trump is going to wind up backing a big bipartisan infrastructure program — one, moreover, that includes a big public transit component. Meanwhile, Trump's California Republican friends are always gathering petitions for a 2020 ballot initiative that would kill the bulletin train altogether.
Newsom has a tricky problem to solve. This project was not just the fond aspiration of train geeks like Cal Tech's fictional scientist Sheldon Cooper. It has become integral to the state's overall transportation, economic development, and environmental plans (those trains would take a lot of carbon out of the atmosphere). But getting passengers into seats and showing tangible benefits has to happen fairly soon before the missed deadlines and soaring costs make it all a legendary train wreck.