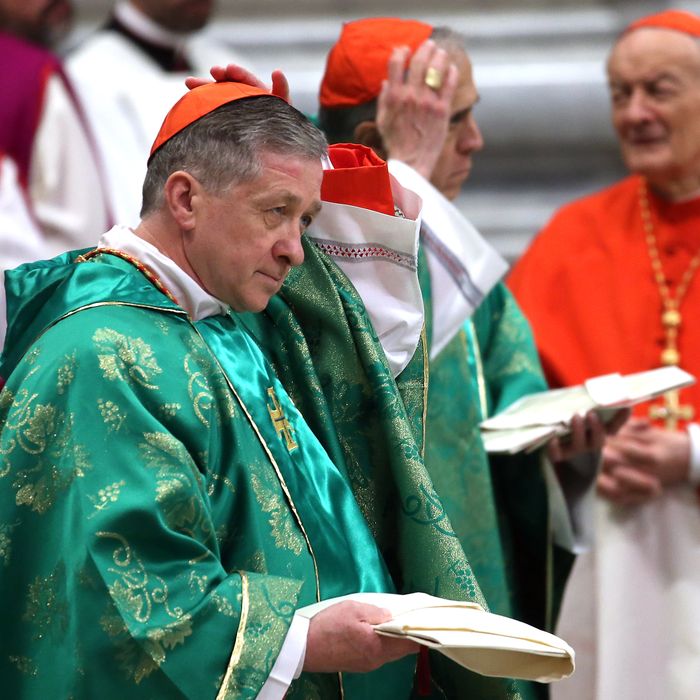 Cardinal Blase Cupich, archbishop of Chicago, attends mass at St. Peter's Basilica on October 28, 2018, in Vatican City.
Photo: Franco Origlia/Getty Images
One week after an Australian court convicted Cardinal George Pell of sex-abuse charges, Illinois attorney general Lisa Madigan announced that "six dioceses have failed to disclose accusations of sexual abuse against at least 500 priests and clergy members," according to CNN. The Catholic Church had previously released the names of 185 priests accused of abuse in Illinois, but Madigan's own investigation uncovered hundreds more cases that the church had withheld:
In many cases, the accusations have "not been adequately investigated by the dioceses or not investigated at all," Madigan's office said in a statement Wednesday. What's more, the statement added, the church often failed to notify law enforcement authorities or state Department of Children and Family Services about the allegations.




"By choosing not to thoroughly investigate allegations, the Catholic Church has failed in its moral obligation to provide survivors, parishioners and the public a complete and accurate accounting of all sexually inappropriate behavior involving priests in Illinois," Madigan said in the statement.
Cardinal Blase Cupich of Chicago said the church has reported every allegation to authorities since 2002.
Illinois isn't the only state to investigate the church's response to sexual abuse in its parishes. After a Pennsylvania grand jury released a haunting report in August that documented at least 1,000 victims of clergy sexual abuse, law enforcement officials in 45 states have launched their own investigations, a number that includes 14 state attorneys general. "Like so many Americans … I felt sick," Virginia attorney general Mark Herring said in October, to explain his decision to investigate both of his state's dioceses. Some officials have taken especially drastic action. In November, the Montgomery County, Texas, district attorney's office raided the offices of the archdiocese of Galveston-Houston, with assistance from the Texas Rangers and Conroe police department, in order to retrieve files from a secret diocesan archive. Sources told KHOU 11 that investigators found "multiple files" that detailed sex-abuse allegations against local priests.
As the scale of the church's abuse problem becomes more widely known, its secrecy repeatedly impedes attempts to levy any sort of secular justice. The Pennsylvania dioceses also kept abuse complaints in a secret archive, as I previously reported for The New Republic, and the bishop had the only key. A recent Reveal investigation found that Jesuits housed abusive priests in a privately owned facility on the campus of Gonzaga University for decades, without the knowledge of the student body or Gonzaga administrators. At least 20 of those priests had sexually abused Native Alaskans for decades, shuffled from isolated village to isolated village until the volume of complaints became too loud to ignore. And while some dioceses have voluntarily released the names of some credibly accused priests, in Illinois, at least, they apparently kept most accusations hidden from public view. None of this is very surprising — secrecy is rather integral to a cover-up — but it does call the church's commitment to reform into question.
On Tuesday, the Vatican itself admitted that both the scandal, and the church's response to it, threaten to undermine the credibility of the church. Pope Francis, meanwhile, is scheduled to convene an abuse prevention summit in February, but some survivors told the Associated Press that they lack confidence in the church's commitment to justice. "They're just now getting around to this? Good Lord, where've you been?" one survivor, Barbara Dorris, said in an interview with the AP.