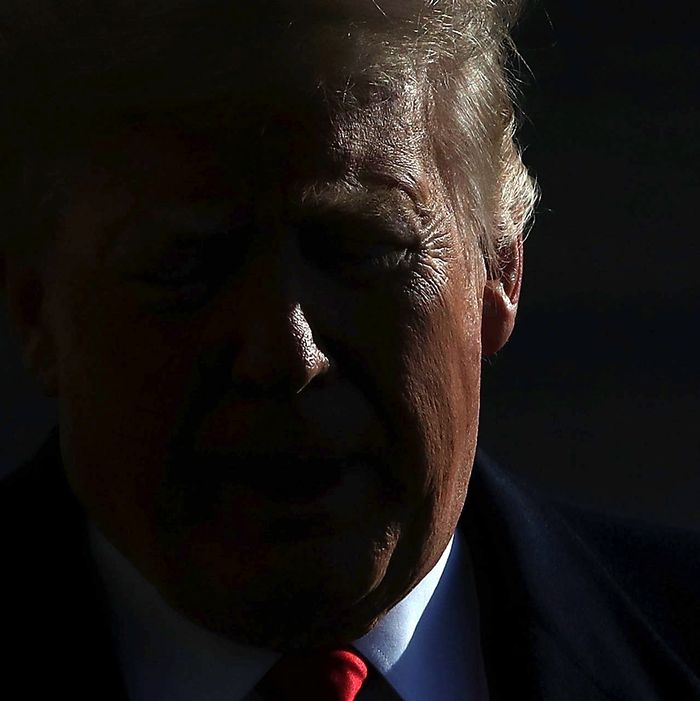 And then there was light.
Photo: Mark Wilson/Getty Images
On Friday, federal prosecutors filed sentencing memos for Michael Cohen and Paul Manafort detailing their cooperation in the investigations into Russia's meddling in the 2016 presidential election and alleged campaign finance crimes by members of the Trump campaign. The three briefs — two for Cohen and one for Manafort — don't just make recommendations about how much prison time the former Trump insiders should get, but point to new details about what prosecutors know and the ramifications to come.
Trump himself quickly asserted that the new information "totally clears" him of wrongdoing, and added on Saturday that "we're very happy with what we are reading because there was no collusion whatsoever."
We don't know what Trump and his advisers are reading, but here is a running roundup of the most insightful commentary and analysis we've read on the memos — from experts and pundits who actually understand them:
The Porn-Star Payout Path Not Taken
Eric Columbus explained in a Twitter thread that Cohen and Trump didn't even have to break any campaign finance laws when sending out the hush money:
One odd wrinkle about the Cohen campaign finance case: Trump could have legally paid off Stormy Daniels and Karen McDougal as long as he used campaign funds and reported the expenditure. And Trump wouldn't have had to report the expenditure as "hush money to mistresses" or anything so damning. Campaign finance law experts have said he could have reported it as "legal services" or "litigation settlement."




Indeed, they wouldn't have needed to report the October 27 payment to Stormy (in contrast to the earlier McDougal payment) until after Election Day under Federal Election Commission rules.




So Cohen and Trump could have gone the legal route and quite possibly gotten away with it. Why didn't they? Perhaps they were too ignorant to know this was an option, or they were paranoid that the underlying facts would somehow leak before the election.




The lessons here are to hire competent lawyers and listen to them, don't have mistresses, and don't pay them off. It's good to have a lawyer, bad to have a mistress, and perilous to hush either.
How Many of Mueller's Puzzle Pieces Have We Already Seen?
Marcy Wheeler argued in a Washington Post op-ed on Friday that the special counsel may have already started making his report:
Speculation has been building for months about the report that special counsel Robert S. Mueller III is obligated to write under the regulation governing his appointment. When will it come out? Will Rudolph W. Giuliani really write a "rebuttal" on President Trump's behalf? Can the acting attorney general — whom Trump seems to have named to the job in a bid to exert more control over Mueller — or his replacement prevent the report from being made public, effectively burying whatever the investigation has found?




But Mueller has already been submitting his report, piece by piece, in indictments and other charging documents. He has hidden it in plain sight in the court dockets of individuals and organizations he has prosecuted. Many of those court papers have included far more detail than necessary to prove the culpability of defendants who have agreed to plead guilty. This isn't just legal overkill on Mueller's part — it's the outlines of a sweeping narrative about the 2016 election.



Exacerbating Trump's Talent Shortage
Writing at the Daily Beast about the ceaseless turnover at the White House, Obama administration veteran Samantha Vinograd identified what might be the worst job perk in Washington:
Incoming and outgoing officials have more than Trump in common. Each American that works for this president does so knowing that there is a big chance they'll end up implicated, perhaps inadvertently, in ongoing investigations. Every decision that the president has made, and will make, on Russia policy could be tainted by his other interests which should lead the special counsel (and perhaps the new Congress) to question officials about whether these conflicts of interests impacted policy decisions. Officials who served with Trump on the campaign, or are administration officials referenced in the Mueller filing on Manafort or as part of the work on Russia-related matters Mueller mentioned in his separate Cohen filing, likely have information pertinent to criminal proceedings.




Coupled with the legal concerns associated with being invited to the president's holiday staff party, the president's penchant for lambasting his former staff doesn't bode well for attracting the best talent during these transition searches.
Do New York Prosecutors Have the Goods?
An important point from former federal prosecutor Renato Mariotti, after the New York Times reported on Sunday that Southern District of New York prosecutors have considered indicting Trump if he leaves office in 2020:
Reelection or Incarceration
Intelligencer's Eric Levitz on how crazy it could get in 2020 if Trump isn't just fighting for his presidency, but to avoid a post-presidency indictment for campaign finance crimes:
[Trump had little personal stake in this year's midterms, and] yet, to boost his party's 2018 prospects, the president proved willing to fabricate an impending "invasion" by migrant terrorists and gangsters; suggest that said invasion was being organized by the Democratic Party as part of an elaborate bid to steal the midterm elections; persist in fomenting such incendiary conspiracy theories even after they inspired one of his supporters to attempt the assassination of many leading Democrats; and deploy thousands of U.S. troops to the southern border, so as to give his big lie an extra measure of credibility.




Even before Mueller's latest revelations, this behavior was sufficient to prompt widespread anxiety about what Trump would be willing to do to win reelection, and/or what he might incite "Second Amendment people" to do should he lose it. If the president's personal freedom ends up on the ballot in 2020, a lot of worse-case-scenarios become more plausible.
Intent and Timing
Just Security's Ryan Goodman and Andy Wright zero in on how, if Trump is going to be charged with a felony after leaving office, the smoking gun will need to be evidence of his intent (Rick Hasen makes a similar point at the bottom of this roundup):
[B]efore being able to say the Justice Department actually crossed the line of accusing the President of committing a felony. That's the element of a knowing violation of the law.




Cohen had been charged with "knowingly and willfully" causing excessive campaign contributions to a candidate for President of the United States in violation of 52 U.S.C. §§ 30118(a) & 30109(d)(l)(A), and 18 U.S.C. § 2(b). However, a willful violation requires knowing wrongdoing, so prosecutors would have to demonstrate that someone in Trump's shoes, like Cohen, knew what he was doing was illegal.




Notwithstanding the legal debate about a sitting president's indictability, it won't happen as a practical matter. Nonetheless, after these filings, Trump faces meaningful criminal exposure upon the end of his term in office. What's more, the fact that these alleged crimes related to his election to office, they would clear a potential hurdle for impeachment purposes. That is, some impeachment scholars, like Cass Sunstein, take the view that the Impeachment Clause applies only to acts committed in office or in the course of getting elected. These allegations meet the Sunstein test for what falls inside the scope of impeachment, were the question ever to be considered by Congress.



A Turn of the Screw
If Trump thought the Russia investigation was bad before, he's really not going to love what comes next, contends former federal prosecutor Ken White at the Atlantic:
Manafort and Cohen are in trouble, and so is Trump. The special counsel's confidence in his ability to prove Manafort a liar appears justified, which leaves Manafort facing what amounts to a life sentence without any cooperation credit. The Southern District's brief suggests that Cohen's dreams of probation are not likely to come true. All three briefs show the special counsel and the Southern District closing in on President Trump and his administration. They're looking into campaign contact with Russia, campaign-finance fraud in connection with paying off an adult actress, and participation in lying to Congress. A Democratic House of Representatives, just days away, strains at the leash to help. The game's afoot.
Trump Tower Moscow and the Kind of Leverage That Can Turn a President Into an Asset
Barry Berke, Noah Bookbinder, and Norman Eisen highlight the Trump Tower Moscow angle in a New York Times op-ed:
The special counsel also advanced the president's potential exposure under the Foreign Corrupt Practices Act for activities relating to a potential Trump Tower Moscow. Mr. Mueller noted that the Moscow project was a lucrative business opportunity that actively sought Russian government approval, and that the unnamed Russian told Mr. Cohen that there was "no bigger warranty in any project than the consent" of Mr. Putin.




If recent reports that Mr. Cohen floated the idea of giving Mr. Putin a $50 million luxury apartment in a future Trump Tower Moscow prove true, both the president and his company could face substantial jeopardy.
Meanwhile, two Russia experts at the liberal Center for American Progress think tank, Max Bergmann and Sam Berger, remind us how all the Trump team's lies about Russia links would have been plainly obvious — and tempting — to Moscow:
Russia not only knew that Trump was lying, but when investigators first started looking into this deal, the Kremlin helped Trump cover up what really happened. That made Trump doubly compromised: first, because he was eager to get the financial payout and second because Russia had evidence he was lying to the American people — evidence they could have held over Trump by threatening to reveal at any time.




Since the president's embarrassing performance at the Helsinki summit with Vladimir Putin — when he kowtowed to a foreign adversary rather than stand up for American interests — there has been open speculation about what leverage the Kremlin has over him. Now we know at least part of the picture, raising the specter of what other information Putin has, and how he is using it to influence Trump's policy decisions.
Married to the Mob Mentality
The Guardian spoke with former prosecutors about the new filings and Robert Mueller's tactics, and ended up having to include this telling disclaimer:
All the former prosecutors the Guardian spoke with cautioned that they did not mean by their analysis to say that Trump is a mob boss, or that the Mueller investigation is strictly an organized crime investigation. But the similarities kept coming up.
To wit, from the former deputy chief of the organized crime unit in the Southern District of New York:
"To play the mafia analogy out a little further," [Daniel] Goldman said, "mob bosses hold sway over their soldiers because they hold the purse strings for their soldiers and their soldiers' families, particularly when they go to jail, and they sort of rule with an implicit iron fist that reacts to cooperation with violence up to, potentially, death.




"Trump holds sway over his associates through his presidential pardon power and he's not afraid to explicitly reference that power in connection to individuals who may have information about his own criminal activity. And so the parallels are very strong."
White Collaring the Trump Organization?
In an op-ed for the New York Times, Barry Berke (a white-collar criminal defense attorney), Noah Bookbinder (a former federal corruption prosecutor) and Norman Eisen (a Brookings fellow) point out that more shoes may drop on the Trump family's business — and that Trump could conceivably face charges on January 21, 2021:
The Trump Organization's reimbursements to Mr. Cohen for payments were fraudulently disguised as legal fees — and, according to the memo, were approved by senior executives at the organization. The New York prosecutors also disclosed that they are investigating additional unspecified matters involving Mr. Cohen and, presumably, the Trump Organization. In light of these disclosures, the likelihood that the company and the Trump campaign face charges is now high.




Although President Trump may avoid a similar fate because the Justice Department is unlikely to indict a sitting president, he could be named as an unindicted co-conspirator, as was President Richard Nixon, or charged if he leaves office before the statute of limitations runs out (most likely in 2022).
Tip of the Mueller Investigation Iceberg
Detailing how the Mueller investigation is nearing "the worst case scenario" at Wired, Garrett M. Graff elaborated on several takeaways from the memos, including how key sentences "hint at much more to come — and that the Trump campaign, the Trump Organization, and even the White House likely face serious jeopardy in the continuing investigation":
As Mueller writes, "Cohen provided the [Southern District of New York] with useful information concerning certain discrete Russia-related matters core to its investigation that he obtained by virtue of his regular contact with Company executives during the campaign." What precisely those "discrete Russia-related matters" are, we don't know —yet — but the known behavior of the Trump campaign associates and family members appears damning.
And the truth may have been taped, as "surreptitious recordings made by the Cohen and quoted in the document remind us that it's possible that prosecutors even have recordings of Trump ordering his fixer to commit a felony":
Mueller doesn't say precisely what he has, but the new documents are littered with breadcrumbs — mentions of travel records, testimonial evidence, emails, draft documents, recordings, and more. And he has both a very helpful Cohen and, to at least some extent, Manafort. While the former campaign chair wasn't cooperative, he did, according to the new filing, testify twice to a grand jury in recent weeks, meaning that his testimony is being used as part of a criminal case targeting someone else.




Put together all the clues, and Occam's razor comes to mind: The most obvious scenario is the most likely scenario. And the most likely scenario now is that there was no division between the apparent Trump-Russian collusion on business matters and in the election. The coincidences are piling up. The conversations are piling up. And Mueller's evidence is clearly piling up as well.
Speaking with the Guardian, Patrick Cotter, a former federal prosecutor who was helped take down mobster John Gotti, also suggested that the current phase of Mueller's strategy is more midgame than endgame:
I think these past couple weeks have shown us that we're not really in the ninth inning as some people had said … that Mueller's still got a lot of information that he's processing and dealing with that's turning into potentially criminal charges — and I think that the bigger picture is sort of starting to come into focus.




We're in stage two. We're hearing the indictments and the pleas, people cooperating. Then there's going to be a stage three, where people who are not cooperating, just — the hammer falls. And I don't know if it's going to be Don Jr., or [Jared] Kushner, or who knows. But I think it's going to happen, and I can't tell you when. But I think it's going to happen.
Yo, Collusion
It also seems clear that Russia must have been overjoyed with the success of their meddling, as Garrett M. Graff sums up for Wired:
What intelligence professionals would call [the Kremlin's] assessment and recruitment phases seems to have unfolded with almost textbook precision, with few stumbling blocks and plenty of encouragement from the Trump side. Mueller's court filings, when coupled with other investigative reporting, paint a picture of how the Russian government, through various trusted-but-deniable intermediaries, conducted a series of "approaches" over the course of the spring of 2016 to determine, as [Lawfare's Benjamin] Wittes says, whether "this is a guy you can do business with."




The answer, from everyone in Trumpland— from Michael Cohen in January 2016, from George Papadopoulos in spring 2016, from Donald Trump Jr. in June 2016, from Michael Flynn in December 2016 —appears to have been an unequivocal "yes."
At the New Yorker, Adam Davidson tries to put the memos in perspective, especially focusing on Mueller's Cohen sentencing statement and what it says about Trump's least favorite word:
The filing comes close to suggesting collusion without actually making that case. Mueller notes that Cohen's effort to engage Russia with Trump's knowledge and consent "occurred at a time of sustained efforts by the Russian government to interfere with the U.S. presidential election." Mueller provided another hint by praising Cohen for providing the special counsel's office "with useful information concerning certain Russia-related matters core to its investigation." There is arguably only one matter core to the Mueller investigation, as defined by Mueller's appointment as special counsel: "to ensure a full and thorough investigation of the Russian government's efforts to interfere in the 2016 presidential election … [and] any links and/or coordination between the Russian government and individuals associated with the campaign of President Donald Trump." If Cohen's information is core to the Mueller investigation, it is reasonable to conclude that Mueller does, indeed, believe he can prove that there was collusion between the Trump campaign and the Russian government.




However — perhaps maddeningly for people who have been waiting for clarity on Mueller's investigation — he does not, in the sentencing memo, lay out the details of possible collusion. But the document tells another damning story: Cohen repeatedly lied about his work, on behalf of Trump, to make money and develop political ties with the Kremlin. His lies were "a deliberate effort" intended "to set the tone and shape the course of the hearings in an effort to stymie the inquiries."
Campaign Finance Firestorm
In their comprehensive review of the court filings and their meaning, the team at Lawfare explained that while much of the information implicating Trump which was contained in the Southern District of New York's sentencing memo for Cohen was not new, it still painted an extraordinary and damning picture:
In short, the Department of Justice, speaking through the acting U.S. attorney for the Southern District of New York, is alleging that the president of the United States coordinated and directed a surrogate to commit a campaign finance violation punishable with time in prison. While the filing does not specify that the president "knowingly and willfully" violated the law, as is required by the statute, this is the first time that the government has alleged in its own voice that President Trump is personally involved in what it considers to be federal offenses.




And it does not hold back in describing the magnitude of those offenses. The memo states that Cohen's actions, "struck a blow to one of the core goals of the federal campaign finance laws: transparency. While many Americans who desired a particular outcome to the election knocked on doors, toiled at phone banks, or found any number of other legal ways to make their voices heard, Cohen sought to influence the election from the shadows." His sentence "should reflect the seriousness of Cohen's brazen violations of the election laws and attempt to counter the public cynicism that may arise when individuals like Cohen act as if the political process belongs to the rich and powerful."




One struggles to see how a document that alleges that such conduct took place at the direction of Individual-1 "totally clears the president."
Two Out of Three Presidents Have Found That Doing This Will Get You Impeached
At the National Review, David French called the documents "ominous" for Trump, emphasizing that, in particular, the memo regarding Cohen's cooperation with the Mueller investigation "may well outline the roadmap for an impeachment count against the president":
The Bill Clinton and Richard Nixon articles of impeachment (Nixon resigned before he was impeached) contain common obstruction-of-justice claims — namely that the president participated in an effort to provide false testimony to investigators. …




[I]it is highly likely that senior Trump officials reviewed Cohen's prepared, false testimony before he lied to Congress. This raises two important questions. Was Trump aware of the substance of Cohen's testimony? If so, was Trump aware that Cohen's testimony was false?




As much as Trump's defenders may want to minimize "process crimes," it remains a fact that the last two articles of impeachment drafted against American presidents featured clear evidence of, yes, process crimes. Process crimes are still crimes. It is an enduring feature of political corruption that politicians will lie about things that aren't illegal but are politically or personally embarrassing — and when they lie under oath or cause others to lie under oath they violate the law.




We do not know if Trump is guilty of the same kind of misconduct that ended the Nixon presidency or that resulted in Clinton's impeachment, but the special counsel's filing provides a roadmap for continued investigation. It also strongly hints at potential presidential jeopardy for misconduct that has clear echoes in recent presidential scandals.
But What if the Personal Is Not Political?
Rick Hasen, who teaches law and political science at University of California, Irvine, has made another important point about the campaign finance crimes which may come as cold water for those expecting Trump to end up with a matching orange jumpsuit. Speaking with the Washington Post, Hasen explained that Cohen's campaign finance lawbreaking may not stick to Trump:
Cohen's pleading guilty to campaign finance crimes does not make Trump automatically guilty as well. If it ever came to a trial, Trump could claim he intended to keep the payments to mistresses secret for personal, not campaign, reasons, and it would be up to a jury to determine the credibility of such an argument.
This post has been continuously updated to include more commentary, with the newest additions appearing at the top.