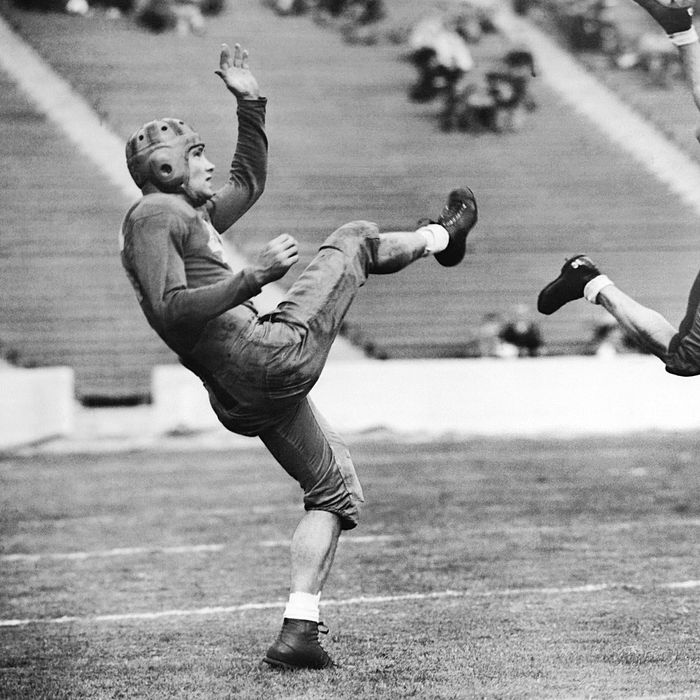 In Congress, when in doubt, you punt!
Photo: Underwood Archives/Getty Images
It looks like Christmas will be safe from the Government Shutdown Grinch. It's possible but unlikely the two parties will reach a general agreement on appropriations before the current stopgap funding bill runs out on Friday. But assuming that does not happen, Congress is already moving toward enactment of a somewhat longer stopgap measure that will delay the day of reckoning until February, according to the Hill:
Senate Majority Leader Mitch McConnell (R-Ky.) said Wednesday he will move a stopgap measure funding the government until early February. 




The measure if passed by Congress and signed into law by President Trump would prevent a partial shutdown set to begin Saturday and would fund government departments and agencies through Feb. 8.
This contingency moved quickly into view yesterday when the White House unmistakably backed away from the president's chest-beating boast during an Oval Office photo op that he could and would shut down the government if his border wall funding demands were not met. He's now almost certainly going to sign the stopgap bill if that's what comes to his desk by Friday. Congressional Democrats do not appear inclined to give Trump any sort of face-saving concessions on his precious wall, as Politico notes:
Schumer and House Minority Leader Nancy Pelosi (D-Calif.) rejected an offer from McConnell on Tuesday because it provided $1 billion more than they were willing to accept for border security, deeming it a "slush fund." With effective veto power over any deal and no appetite to hand Trump a political win, Democrats have not budged in recent days in their demands that Homeland Security funding stay flat and they will give no more than $1.3 billion for border fencing.
Presumably Democrats will have even more leverage in February, when they will be in control of the House. By then perhaps Trump will have backed all the way down, rationalizing the move by suggesting (as he already has) that the Pentagon can pay for the wall, or that Mexico is paying for it "indirectly," or indeed, that it's more or less already in place. Time will tell.
Stopgap spending bills are traditionally an object for controversial amendments or "riders," but it seems McConnell's version is pretty clean:
The bill will not include any emergency disaster relief for communities ravaged by wildfires in California or struck by Hurricane Michael in Florida, according to multiple aides.
But it will extend funding for some programs whose future is uncertain:
The short-term funding bill will also postpone a months-long fight over reauthorizing the Violence Against Women Act into the next Congress. The domestic violence law will be renewed until Feb. 8, without the dramatic overhaul that many House Democrats have sought.




The National Flood Insurance Program — the debt-ridden program drained by a string of natural disasters in recent years — will also be extended through that date.
Those opposing government shutdowns will be relieved, but to be safe, a 24-hour watch should be posted to the president and his Twitter account between now and Friday night.