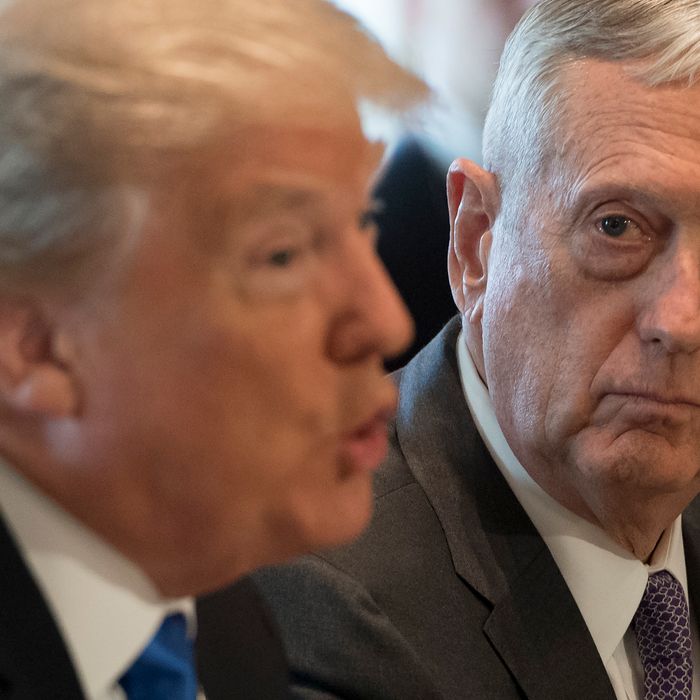 President Trump and Secretary of Defense Jim Mattis.
Photo: SAUL LOEB/AFP/Getty Images
Defense Secretary Jim Mattis announced his resignation Thursday, writing in a letter to President Trump that the leader of the Pentagon should be someone who is "better aligned" with the president's objectives. That's an apparent reference to disagreements between Trump and Mattis over the withdrawal of American troops from Syria.
According to the Times, Mattis went to the White House Thursday in an attempt to convince Trump not to remove the 2,000 Americans currently in Syria. "He was rebuffed, and told the president that he was resigning as a result," the Times reports.
In his resignation letter, Mattis criticized Trump without using his name:
"One core belief I have always held is that our strength as a nation is inextricably linked to the strength of our unique and comprehensive system of alliances and partnerships. While the US remains the indispensable nation in the free world, we cannot protect our interests or serve that role effectively without maintaining strong alliances and showing respect to those allies."
Just moments before the release of Mattis's resignation letter, Trump tweeted that the Defense Secretary would be retiring at the end of February.
With the announcement of Mattis's departure, the Trump administration will soon be without him, Rex Tillerson, John Kelly, and H.R. McMaster, a quartet once described as the White House's "adults in the room."