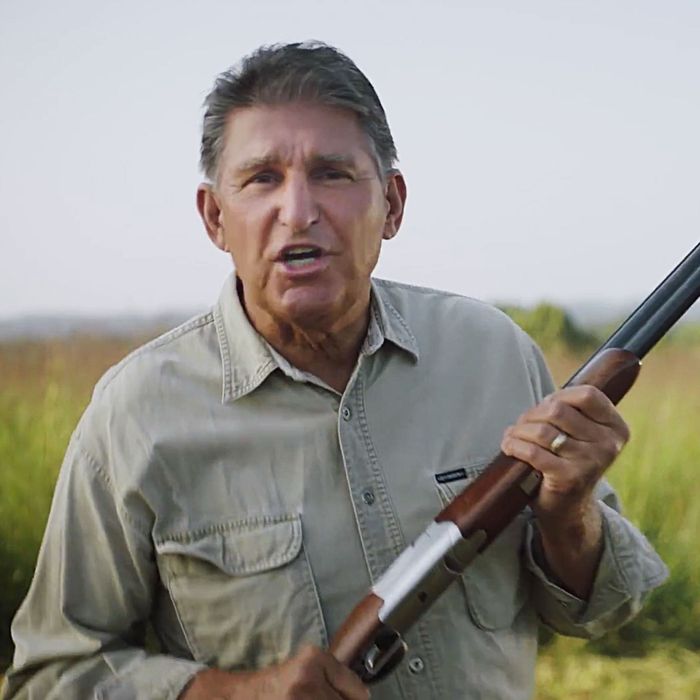 Mixed messages.
Photo: Joe Manchin via YouTube
Senator Joe Manchin of West Virginia, like most coal-state Democrats, is a friend of coal. Manchin's tolerance for the industry is at odds with his party's public commitment to clean energy, however, and that incongruity may soon become newly salient. As Politico reported on Thursday, Manchin is expected to become the Democrat's ranking member of the Senate's Energy and Natural Resources Committee. That promotion would give him a role in shaping the Senate's climate-change policy, even though coal made Manchin a wealthy man. As the New York Times reported in 2011, Manchin earned over $1.3 million from a coal brokerage Enersystems, Inc., in the 19 months before he first entered the U.S. Senate. At the time, Manchin said the income would not influence his votes, and that his earnings were in a blind trust.
But as Emily Atkin noted early on Thursday in The New Republic, Manchin has been a pro-coal senator. During his 2010 Senate run, Manchin infamously filmed himself shooting a copy of the cap-and-trade bill, which established a cap on greenhouse emissions. In 2013, Manchin slammed President Barack Obama for allegedly declaring a "war on coal" via environmental regulatory reforms. "After Pope Francis released an encyclical on the need to fight climate change, Manchin responded with a statement about the importance of coal for America's future," Atkin wrote. Manchin has also earned a mediocre 45 percent lifetime score from the League of Conservation Voters, and while the senator has steadfastly maintained that climate change is real, he also voted in favor of a 2015 "resolution of disapproval" that would, as Vice put it, "nullify the Environmental Protection Agency's Clean Power Plan — the first nation-wide limit on greenhouse gas emissions from power plants, and key climate change policy."
But some Senate Democrats aren't fazed by Manchin's record. "He may be the ranking member, but he's part of a team when it comes to issues of climate change, issues of the environment," Senator Cory Booker told Politico. "I have a lot of confidence I can work with him to fight for a far more aggressive agenda for dealing with the planetary crisis of global warming." Senator Chris Murphy concurred, telling Politico that Democrats are "going to make decisions collectively as a caucus."
Environmentalists disagree. Stephen O'Hanlon, an organizer for the Sunrise Movement, told Bloomberg News that Senate Minority Leader Chuck Schumer "needs to make sure the Senate isn't a roadblock to" the group's Green New Deal, which recently received the backing of Representative-elect Alexandria Ocasio-Cortez and a number of other freshman Democrats. Manchin himself appears to be trying to make himself more palatable. Though he previously supported Bernard McNamee, Trump's nominee for an open seat on the Federal Energy Regulatory Committee, as Atkin notes, Manchin has since changed his mind. Manchin attributed his shift to McNamee's climate denialism; McNamee, a lawyer, has represented the coal and gas industries.
Manchin's branding effort likely won't be enough to sway green activists like O'Hanlon, or their allies in Congress. Senators may view Manchin's promotion as a necessary evil, an incentive for Manchin to both stay in the Senate and the Democratic Party, in light of his previous complaints about the culture of the Senate and his party's leftward tilt. But the party's shift is real, if gradual, and the conflict spurred by Manchin's promotion may presage battles to come. For a growing number of grassroots activists and elected Democrats, compromise on the issue of climate change is no longer a rote fact of political life.