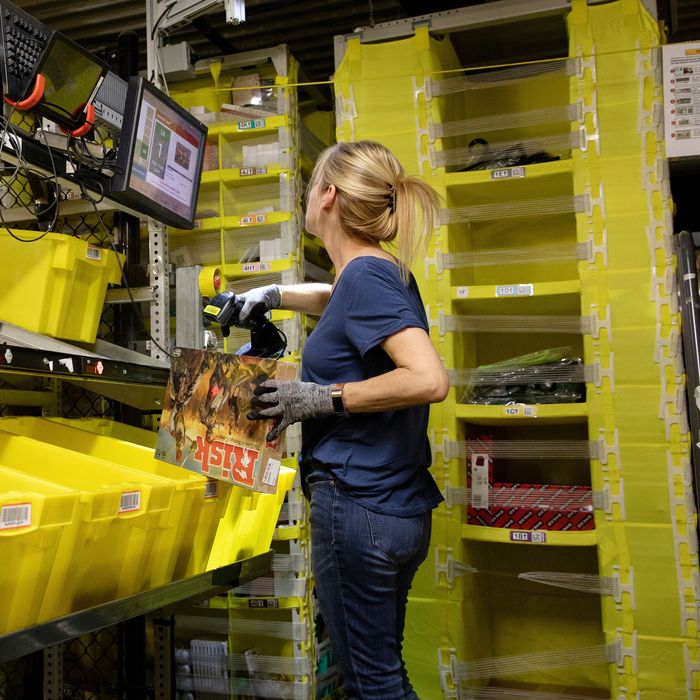 Religion was an even bigger factor than class or gender in 2018.
Photo: Bess Adler/Bloomberg via Getty Images
It's well-known that white working-class voters are a central part of the GOP's and Donald Trump's electoral base. It's also well-known that white evangelical voters are even more prone to go MAGA. The fact that these two groups significantly overlap, especially in the South, has created some confusion in understanding the nature of these Trumpian allegiances. And it suggests that it might be a good idea to disentangle class, gender, and religion in analyzing these groups.
Back before the elections, the Cook Political Report's Amy Walter drew attention to this issue, noting research showing a bigger gap in Trump approval ratings between evangelicals and non-evangelicals than between groups divided by gender or class (defined as education levels). She suggested that fact should point Democrats towards some largely undiscussed opportunities:
White evangelical women without a college degree give Trump a 68 percent job approval rating, while those with a degree give him a much lower, though still positive 51 percent approval rating. Meanwhile, Trump's approval among white, non-evangelical women without a college degree is 35 percent, just five points higher than the 30 percent approval rating he gets from white, non-evangelical college-educated women …




First, stop assuming that all white, non-college voters are core Trump supporters. Trump's base is evangelical white voters, regardless of education level. Second, white non-evangelical, non-college women are the ultimate swing voters.
Now with the benefit of exit polls, we can check to see if Walter's hypothesis checked out. Ron Brownstein demonstrates that it did:
Democrats … ran particularly well this year among white working-class women who are not evangelicals, a group that also displayed substantial disenchantment in the exit poll with Trump's performance. Those women could be a key constituency for Democrats in 2020 in pivotal Rust Belt states such as Michigan, Wisconsin and Pennsylvania, where relatively fewer blue-collar whites are also evangelical Christians.




Nationwide, nearly three-fifths of blue-collar white women who are not evangelicals voted Democratic in last month's House races, while an equal number said they disapproved of Trump's performance in office, the analysis of exit poll results found. That was well over double the Democratic share of the vote among non-college white women who are evangelical Christians.
To be specific about it, Democrats led among non-evangelical white non-college-educated women by a robust 57/41 margin. Republicans won evangelical white non-college-educated women by a huge 71/22 margin. Despite a gender gap among white working-class voters, Democrats won the overall non-evangelical white working-class demographic by a 52/46 margin.
The implications for 2020 are already sinking in, notes Brownstein:
This bubbling private debate has given rise to a new and improbable acronym that some Democrats see as a potentially pivotal group for 2020: WNCNEW, as in white non-college, non-evangelical women.




"WNCNEW is the group Democrats should care about," one Democratic strategist insisted in an email. Those women represented about one in nine voters nationally this year and an even larger share in key Rust Belt battlegrounds.
This realization should at least supplement the excitement Democrats are expressing about their gains among college-educated suburban voters in 2018, and the expectation that growing non-white populations will eventually tip the balance against lily-white elephants. There is an opening among certain categories of white working-class voters, and taking advantage of it does not require evading or disguising progressive cultural positions. And it just so happens the most promising of these voters disproportionately live in some of the most essential states. It could be a very big deal in 2020.