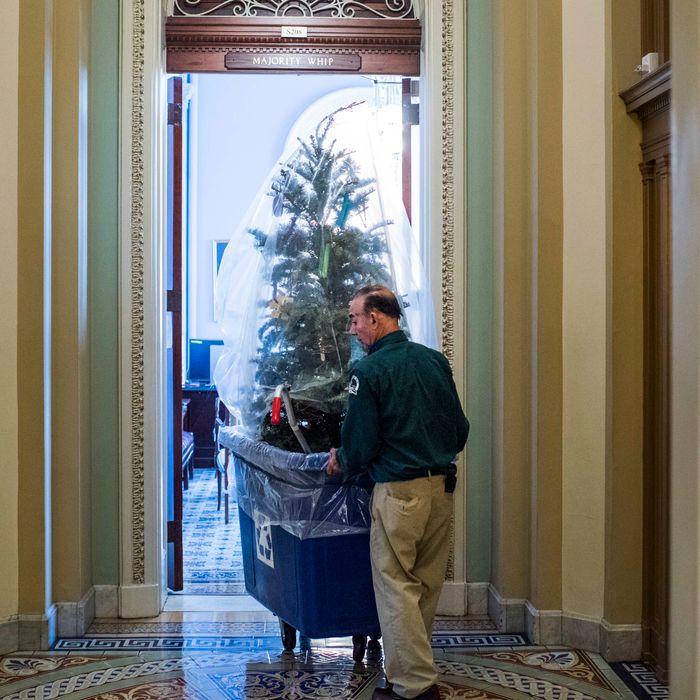 Put it all in the garbage.
Photo: Tom Williams/Tom Williams/CQ Roll Call
There are four days until Christmas, and the White House is very busy. Secretary of Defense Jim Mattis resigned on Thursday, in what seems to be a protest of President Trump's decision to remove troops from Syria and slash our presence in Afghanistan by half. Chaos followed, as Trump initially tweeted that Mattis planned to retire only for photos of the secretary's resignation letter to appear in the press. On Friday, the Guardian provided some background. Trump made those decisions after a phone call with Turkish president Recep Tayyip Erdoğan, and seemingly took Erdoğan's advice over Mattis's. This, it turns out, was Mattis's red line, of all the red lines he could have possibly decided upon during his tenure in the Trump administration.
As the Mattis saga shambled into Friday, the Trump administration seemed to lean into the mayhem. The government may shut down because Trump has decided that he will not sign a bill to keep matters funded unless that bill gives him money for a border fence made from metal slats. On Friday afternoon, he tweeted a preview of the fence. Each slat tapers to a sharp point, updating the legend of Vlad the Impaler for hungry, frightened people fleeing violence and deprivation in their home countries:
If Trump doesn't get his slat money and a shutdown goes forward, 800,000 federal workers will go without pay over the holidays. But there's a silver lining! NORAD announced on Friday that the agency will stay open, so they'll still be able to track Santa's progress as he makes his trip around the world. Which is good news, because Seema Verma, administrator of the Centers for Medicare and Medicaid Services, has tasked Saint Nick with an extra-special delivery:
Work requirements, of course, mean that people lose Medicaid, and when people lose Medicaid, they can't afford to go to the doctor. Not only will these punitive measures complicate the lives of people in extreme poverty, they also create a real problem for several new governors. In Kansas, Michigan and Maine, Republican governors applied for waivers that would allow them to attach strict work requirements to Medicaid. In November, those three states elected Democratic governors, and at least one, Maine governor-elect Janet Mills, has said she'll "review" the work requirements once she takes office in January. In Wisconsin, where Verma had already approved work requirements for Medicaid, incoming Democratic governor Tony Evers has said he'll try to withdraw them altogether. It's not yet clear, though, what legal options exist for Evers, Mills, and their Democratic peers; whether they'll be able to revoke these new regulations swiftly, whether the process will take time, or whether they'll be able to do it at all. It's a fitting parting gift to these newly-elected Democrats from the Trump administration, which vehemently supports work requirements despite — or perhaps because — they just deepen poverty.
Meanwhile, the stock market plummeted another 7 points, ending what the Associated Press says is its worst week since 2011. And Congress still hasn't extended a tax on coal production which pays for the Black Lung Disability Trust Fund, despite a series of protests organized by sufferers of the terminal disease. One told the Bristol Herald-Courier on Thursday that his "black lung and cancer medications cost nearly $22,000 a month." If the fund loses money, he may have to bear much of that cost on his own. There are only ten days before the current tax rate expires.
But relax! It's a time for families and cheer and…giving thanks for the miracle of salvation, according to our embassy in the Holy See. Here's Callista Gingrich, ambassador to the Vatican, in a video that almost definitely violates the Establishment Clause of the First Amendment:
Happy holidays.