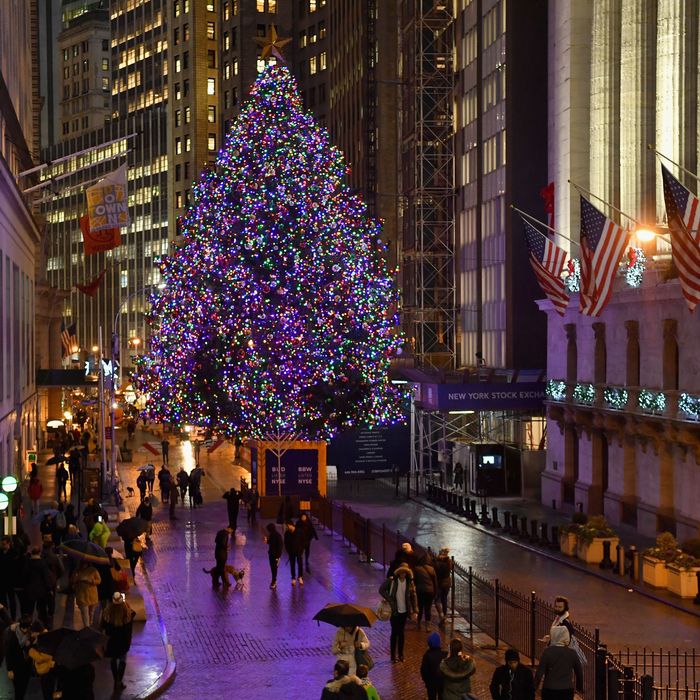 It was a brutal Christmas Eve at the New York Stock Exchange.
Photo: ANGELA WEISS/AFP/Getty Images
The Dow dropped more than 650 points Monday in a short session of trading, the worst Christmas Eve market plunge ever. The Nasdaq was down 140 points and the S&P 500 fell 65 points, as stocks continued to set a pace for the worst December since the Great Depression.
Monday's decline comes just one day after Treasury Secretary Steven Mnuchin announced that he called executives at the country's largest banks to help calm the markets. The calls left the CEOs "totally baffled," one source told CNN, and the markets reacted negatively early Monday. A midday recovery followed, but President Trump ended that with a tweet that continued his recent attacks on the Fed.
According to multiple reports, Trump has flirted in recent days with firing Fed chairman Jerome Powell over interest rate hikes that the president believes are slowing down the "greatest" recovery of all time.
In a statement after markets closed Monday, Democratic leaders Nancy Pelosi and Chuck Schumer released a joint statement blaming the "chaos" on Trump.
"It's Christmas Eve and President Trump is plunging the country into chaos. The stock market is tanking and the president is waging a personal war on the Federal Reserve — after he just fired the Secretary of Defense," the statement said. "Instead of bringing certainty into people's lives, he's continuing the Trump Shutdown just to please right-wing radio and TV hosts," Schumer and Pelosi said in their joint statement.