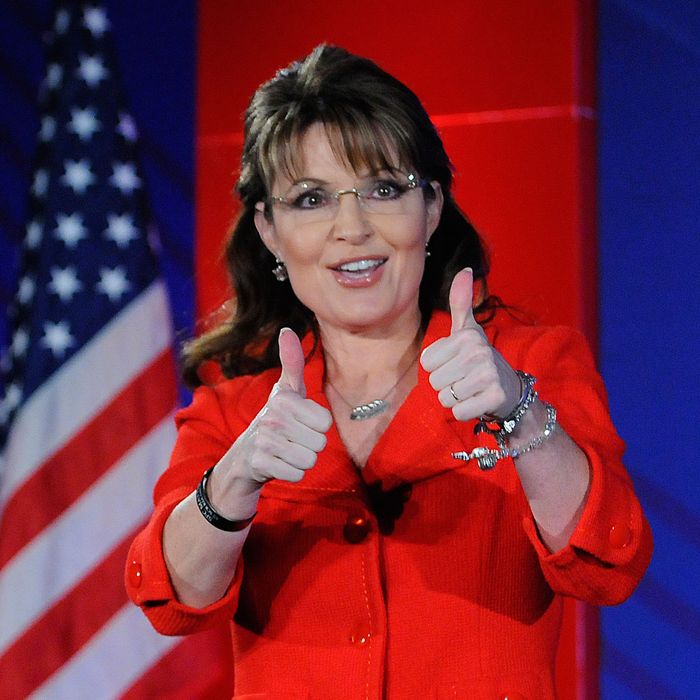 There was a Beto-size buzz about Sarah Palin early in the 2012 presidential cycle.
Photo: Cheryl Gerber/Getty Images
Beto-mania ratcheted up another few notches this week when the left-activist group MoveOn published a 2020 presidential straw poll of its membership. O'Rourke finished first, with 15.6 percent, just ahead of Joe Biden at 14.95 percent, followed then by Bernie Sanders at 13.15 percent, Kamala Harris at 10.02 percent, and Elizabeth Warren at 6.42 percent.
It's a very early measurement of popularity in a very limited audience, featuring a vast field that produced scattered results. But still, a previously obscure West Texas congressman beating all these famous names in the vibrant left corner of the Democratic universe is impressive. Between them, after all, Biden and Sanders have four national campaigns and 64 years on Capitol Hill.
But it's as good a time as any to keep in mind that very early presidential front-runners don't always succeed or even formally become candidates. In 2007, Pew did an assessment of this phenomenon:
In seven open Republican contests since 1960, the early front-runners held on to win the party nod six times. By contrast, early Democratic poll leaders won four out of eight open contests between 1960 and 2004. In early 2003, Sen. John Kerry was tied with Sen. Joseph Lieberman, but fell behind Gen. Wesley Clark and Vermont Gov. Howard Dean at different times later in the year before eventually getting the final nod from Democrats.
As Pew noted, the very early Democratic front-runner in the 1992 cycle was Mario Cuomo; in the 1988 cycle it was Gary Hart. In 1976, George Wallace (!) and Ted Kennedy led in early polls; and back in 1972, Big Ed Muskie was the early favorite. That's all before Hillary Clinton's early prominence in 2008.
The greater deference to front-runners, Pew noted, among Republicans definitely changed in the most recent years. Early 2008 polling gave Rudy Giuliani a consistent lead over the GOP field. Later on, the immensely more obscure Herman Cain led in the polls for a bit. Early in the 2012 cycle, two proto-candidates who didn't make it to the starting gate, Mike Huckabee and Sarah Palin, led Mitt Romney in the polls. Both had the sort of populist buzz that characterizes Beto-mania. So, too, did Michele Bachmann, the zany extremist who briefly led in polls after winning the August 2011 Ames Straw Poll, croaking the candidacy of another early favorite, Tim Pawlenty.
In 2016, most obviously, the early betting on the GOP nomination never took into account the potential (or in many cases, even the existence) of the eventual winner, Donald Trump. A December 2014 CNN poll didn't test the mogul, but instead showed Jeb Bush and Chris Christie leading the field with 23 percent and 13 percent, respectively.
None of this means that Beto O'Rourke will flame out or fail to even run in 2020. He's not at all like some of the early polling sensations whose popularity was based on leftover name ID from past national races (e.g., Ed Muskie, Gary Hart, Joe Lieberman, and Sarah Palin). He also doesn't have a famous name (unlike Ted Kennedy, Mario Cuomo, or Jeb Bush), or an ideologically narrow following that would be difficult to expand (unlike Michele Bachmann).
But for the moment, Beto O'Rourke remains an instant political celebrity whose rise has been so sudden that an equally sudden fall cannot be ruled out. If he does run, he'll need to show steady momentum and staying power, lest he be dismissed as a footnote in a race that moved on to other candidates.