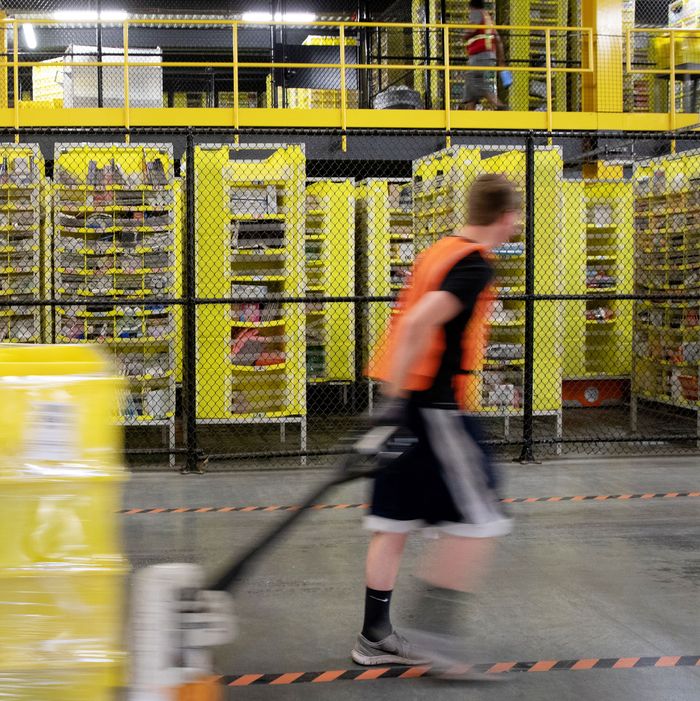 Photo: Bess Adler/Bloomberg via Getty Images
Government expenditures on regular commercial goods — stuff like pens, and stationery, and office chairs — is a $53-billion market. It stands to reason that if someone were to, let's say, create an online portal that concentrated that purchasing under one large online retailer, that retailer could rake in a lot of money. Maybe it's a retailer already operating at considerable size and scale across the country and functioning as the default online marketplace for most American consumers — something like Amazon.
Last year's National Defense Authorization Act said Defense Department purchases must be moved to "online marketplaces," and stipulated that the program be designed "to enable Government-wide use of such marketplaces," the Intercept reported. That stipulation has been referred to pejoratively as the "Amazon amendment."
Prior to the NDAA's passage, according to the Guardian, emails show that a top Amazon executive privately advised the federal government as it worked on creating a new internet portal for procurement. Correspondence the publication obtained through a FOIA request shows Mary Davie, a deputy commissioner at the General Services Administration, setting up meetings with Anne Rung, a former Obama official who started at Amazon in late 2016 and who now runs the company's push to win government contracts.
A September 2017-email exchange shows Rung asking for clarity on what the GSA's goals were, in order to "design a discussion/agenda for our meeting next month." Later casual exchanges followed:
When Rung asked Davie if they should wait until after the legislation is passed to discuss it, Davie responded that the administration was planning on moving ahead regardless of the outcome of the bill on Capitol Hill.




Later, in January, the pair exchanged more friendly messages, with Davie asking for Rung's suggestions on "awesome" candidates to fill a government position, and Rung (using her hotmail account) asking in turn whether Davie knew anyone who could run Amazon Business's federal government business.
The emails probably don't amount to an ethics violation by either party, but they point to an increasingly cozy relationship between Amazon and the government. Combined with Amazon's recent selection of a new headquarters in the D.C. area, and its push for government cloud-computing contracts, the company's ambitions are clear. While Amazon has captured a lot of online retail due to its unrivaled infrastructure and scale, cracking government procurement would create a new, lucrative revenue stream.