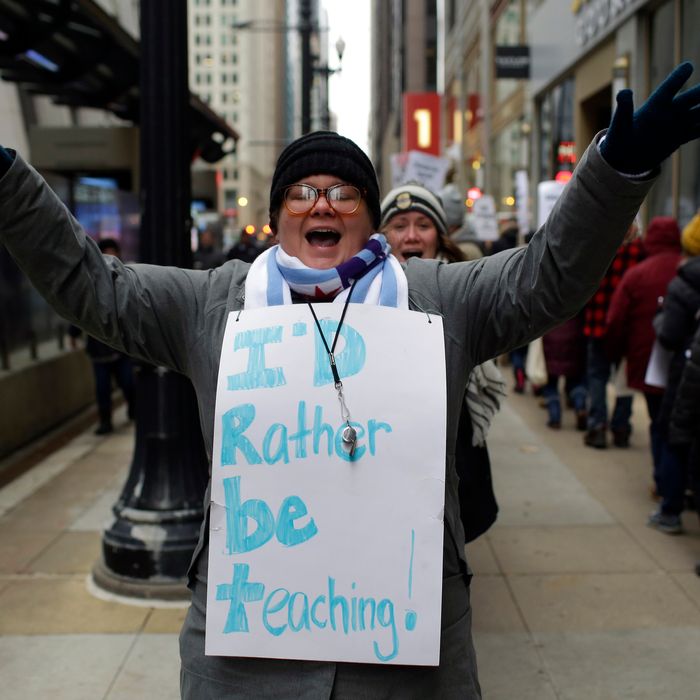 Teachers protest outside Chicago Public Schools headquarters on December 5, 2018.
Photo: Joshua Lott/Getty Images
The 7,500 students enrolled in the Acero network of charter schools are back in class today after the Chicago Teachers Union reached a tentative agreement with management. In a statement, CTU confirmed that the strike is suspended, barring another impasse at a later date. Five-hundred-and-fifty teachers, paraprofessionals, and staff had walked out on December 4 after the charter network failed to renegotiate their contract by an appointed strike date. Unionized Acero educators will still need to formally vote to accept or reject management's terms.
The agreement looks mostly like a victory for the union, with Acero giving in on several of the educators' key demands. The union says Acero has agreed to align "pay for educators and paraprofessionals with pay scales in CPS schools over the course of the agreement, reduce class size and include language in the contract that sets terms for sanctuary schools for students and families."
In its own statement, Acero further details its concessions to striking teachers. The charter network will reduce the length of its academic year and teacher workdays, which are both longer than is average for Chicago Public Schools, and will raise teacher and staff pay annually over the next four years. "Thanks to hard work and very long hours from both bargaining teams, we were able to reach an agreement that values teachers and staff for the hard work they do, while still maintaining the attributes of our network that help produce strong educational outcomes for our students," said Acero CEO Richard Rodriguez in the statement. The union had harshly criticized Rodriguez for failing to come to bargaining sessions. After Acero filed an unfair labor practices charge, Latinx elected officials held a press conference in conjunction with union leaders to urge Rodriguez to reach a contract agreement or resign from his position.
Acero teachers might be back at work, but in other school districts, teachers continue to organize. In California's Oakland Unified School District, teachers launched a wildcat strike on Monday morning — meaning that the strike isn't sanctioned by the Oakland Educators Association. In comments to KQED News, Oakland educators said "they were inspired by the statewide strikes in West Virginia, Kentucky and Oklahoma earlier this year." Teachers took action after contract renegotiations with the school district faltered, with teachers complaining of large class sizes and low pay in one of the nation's most expensive housing markets. "Now is the time for this movement to happen, and the union is moving too slow. They need to be supporting the grassroots movement of their members," a special-education teacher told KQED.