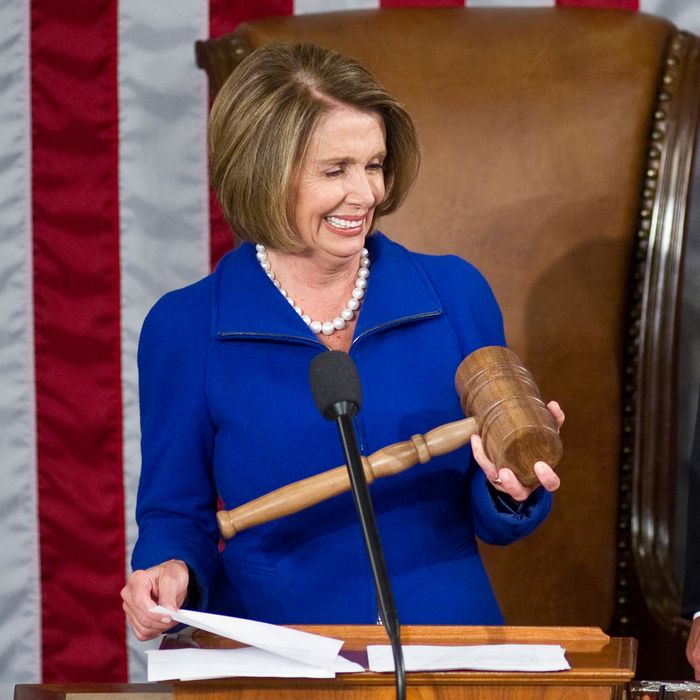 The odds are pretty good that Nancy Pelosi or a Democratic successor will still hold the House gavel even if Trump is reelected in 2020.
Photo: Scott J. Ferrell/CQ-Roll Call,Inc.
The upcoming collision of the Trump administration and a Democratic-controlled House is generally being treated as a two-year drama which will end when the president is reelected or ejected in 2020. But as Kyle Kondik recently explained, that's not necessarily the case. Even if Trump wins a second time, the historical odds aren't great that his party will pick up the 18 net House seats they'd need to regain control of the House:
Since World War II, six presidents have been reelected to second full terms: Dwight Eisenhower (1956), Richard Nixon (1972), Ronald Reagan (1984), Bill Clinton (1996), George W. Bush (2004), and Barack Obama (2012). Trump hopes to become the seventh. On average, the parties of those six presidents elected to second terms netted only an average of seven House seats in those successful reelection bids. Even in landslides, Nixon (+12) and Reagan (+16) didn't net quite the number of seats the GOP would need in 2020 to win the House back.
Kondik adds another relevant historical tidbit: The last time the House changed hands in a presidential year was in 1952. Midterms are typically when the big sea-changes in House seats occur. And to the extent swing voters are likely to want to keep some restraints on Trump even if they want him to stick around, the odds of straight ticket voting might be reduced a bit despite partisan polarization.
The odds of Republicans defying precedent and retaking the House mostly depend on the fact that while Republican districts carried by Clinton were all but wiped out this year (just three of them remain), Democrats now hold 31 seats in districts Trump carried. Nine of them, however, were won by Democrats in 2016 and thus can presumably withstand another Trump victory. And another 12 were in districts Trump won by a plurality, not a majority. These aren't MAGA hotbeds.
So in case Trump gets lucky again and draws an unpopular Democratic opponent, making his own chronic unpopularity less of a deal-killer, it's not clear he's going to have any coattails at all. Whatever strategy he has for dealing with a hostile House of Representatives needs a Plan B component running until 2022 — at least. The down-ballot record of presidents in their second midterm election isn't too hot, either.