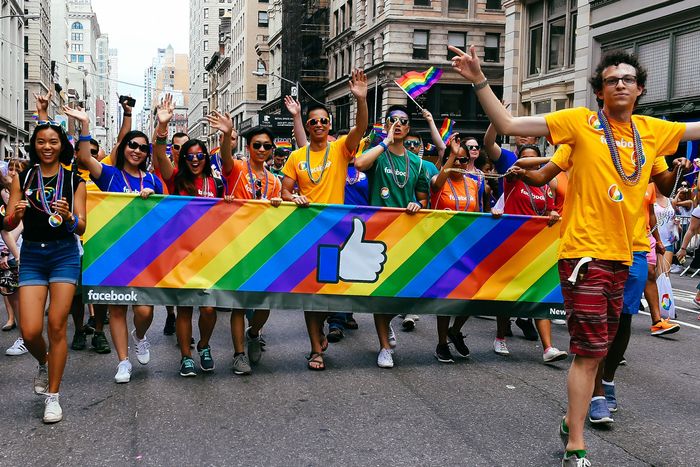 The irony here speaks for itself.
Photo: Hunter Abrams/BFA/REX/Shutterstock
Facebook tries really hard to seem like a queer-friendly company — when it's convenient for Facebook, at any rate. In June 2017, the company rolled out limited-edition reaction emoji in honor of pride month. (Sort of.) This year, it gave users the option to add "Came Out" as a life event on their timelines. (A weird, but well-intended, function.) Facebook gets a 100 out of 100 on the Human Rights Campaign's Corporate Equality Index, the "national benchmarking tool on corporate policies and practices pertinent to lesbian, gay, bisexual, transgender and queer employees."
Earlier this year, following an investigation into how young users were being targeted with conversion therapy ads, Facebook announced it would no longer allow such ads on its platform. "We do not allow ads that promote gay conversion therapy or that imply personal attributes about people, like their sexual orientation."
Which is all to say it seems more than a little off-brand that Facebook donated thousands of dollars during the 2018 election to candidates that backed conversion therapy.
The company, according to a report from the Daily Beast, gave $7,000 to Republican Mimi Walters, who lost reelection for state senate in California, and another $2,000 to Republican Darin LaHood, who won election to the Illinois state senate. In 2012, Walters voted against a ban on conversion therapy. LaHood did the same in 2015. (Both bans eventually became law despite their votes.)
Conversion therapy, so-called "medical treatments" to "change" or "fix" a person's sexual orientation or gender identity or gender expression, has largely been discredited for being both ineffective and dangerous. Facebook is demonstrating with its ad ban it in no way wants to support this horrible practice. Except in the way that involves financially supporting politicians who are absolutely in favor of bunk science that has deadly consequences for LGBTQ people. And then begging out by saying the company giving money to such candidates isn't an endorsement of their every belief and vote. Which, don't be conned, is exactly what it is.
"A contribution to a candidate for office does not mean that we agree with every policy or position that candidate may espouse," Facebook told the Daily Beast, via a statement from 2017 on the company's political giving. (Facebook typically makes donations to candidates on both sides of the aisle, "$216,000 to Democrats in the 2018 cycle and a comparable $211,500 to Republicans," the Daily Beast reports.) Can't wait for next June when Facebook will almost certainly roll out something flashy and rainbow-branded for Pride. I'm sure it'll feel genuine as always.