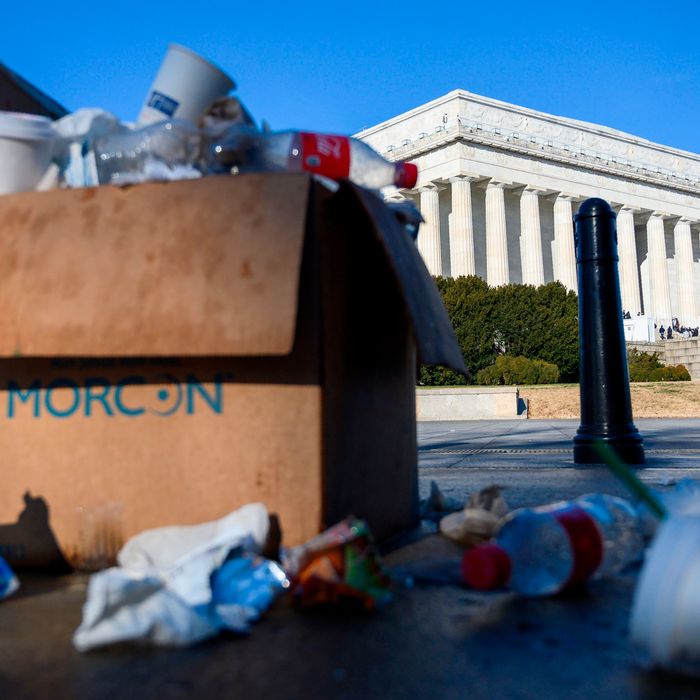 The government shutdown shows no sign of ending.
Photo: ANDREW CABALLERO-REYNOLDS/AFP/Getty Images
Thursday marked the sixth day of the partial government shutdown. With no end in sight, the Office of Personnel Management, which manages federal workers, sought to impart some advice to furloughed workers worried about looming financial troubles.
OPM's tweet linked to a series of templates that furloughed federal workers could use to try to stave off creditors. "As we discussed, I am a Federal employee who has recently been furloughed due to a lack of funding of my agency," one letter reads. "Because of this, my income has been severely cut and I am unable to pay the entire cost of my mortgage, along with my other expenses."
Another letter suggests workers try to barter their labor for a break in rent. "I will keep in touch with you to keep you informed about my income status and I would like to discuss with you the possibility of trading my services to perform maintenance (e.g. painting, carpentry work) in exchange for partial rent payments," the letter reads.
Prior to the shutdown, Senate Democratic staffers estimated that 420,000 employees would have to work without pay and another 380,000 would be sent home during the shutdown. These workers will still be paid for the pay period that ended on December 22, but the picture is much foggier when it comes to future pay. While Congress will likely approve back pay for most workers, that can't happen until the shutdown ends. And when that will happen, no one knows.
There's also the issue of contract workers, including janitors and security guards, who are unlikely to receive any back pay at all. But hey, maybe they can fix a few clogged sinks for their landlord.