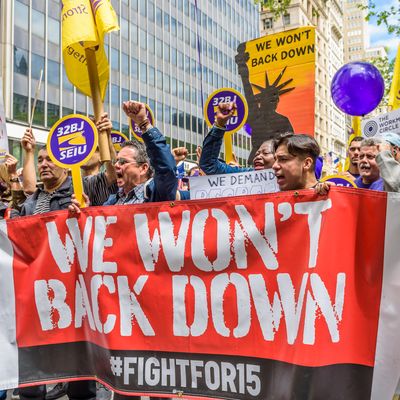 Fast-food workers, cashiers, cooks, delivery people and their supporters rally outside New York City Hall on May 24, 2017.
Photo: Pacific Press/LightRocket via Getty Images
The Fight for 15 movement to raise minimum wages directly led to a collective $68 billion raise for 22 million low-wage workers in both the public and private sectors. That's the conclusion of new analysis published by the National Employment Law Center, which backs a higher minimum wage. "Of the $68 billion in additional income, the overwhelming share (70 percent, or $47 billion) is the result of $15 minimum wage laws that the Fight for $15 won in California, New York, Massachusetts, Flagstaff, Los Angeles, San Jose, San Francisco, the District of Columbia, Montgomery County, the Twin Cities, Seattle, and SeaTac over the past few years," NELP researchers reported. NELP further found that the $68 billion figure is "more than 14 times larger than the total raise under the last federal minimum wage increase, approved in 2007."
Since Fight for 15 launched in 2012, the idea of a $15 minimum wage has become a popular cause for progressive activists, and an increasingly popular talking point for Democrats occupying or seeking elected office. The party's official platform now includes a commitment to a $15 minimum wage and in 2017, Minority Leader Nancy Pelosi announced that the party would introduce a bill reflecting that commitment if Democrats took back the House. They're now poised to make good on that promise in January, though with Republicans in charge of the Senate and the White House, the federal minimum wage probably won't budge for years.
At the state and city levels, however, voters have begun to take matters into their own hands. As NELP notes, a number of cities and states have already passed minimum wage increases – some to $15 an hour, some to $12 or lower. On November 6, voters in Missouri and Arkansas voted to raise their minimum wages to $12 by 2023 and $11 by 2021 respectively. But even when voters support minimum wage hikes, they can be less popular with their elected officials. The Washington, D.C. city council repealed a minimum wage increase for tipped workers even though voters resoundingly approved it at the ballot box; the city's Democratic mayor, Muriel Bowser, even backed a challenger to Council member Elissa Silverman, who had opposed the repeal. In Michigan, the Detroit News reports, Republican state legislators have already moved to scale back a minimum wage increase, which the legislature passed in September in order to keep it off November's ballot.
Opponents of minimum wage increases – like the D.C. restaurateurs who campaigned against higher wages for tipped workers – typically argue that extra expenses will force fire workers or even close, harming employers and employees alike. More research is necessary, but right now there's no conclusive proof that a higher minimum wage leads to significant job losses. After Ontario, Canada passed a steep minimum wage hike, the state did initially lose jobs. But as Bloomberg News reported in February 2018, economists aren't convinced that the losses are related to a higher minimum wage. Experts interviewed by the website pointed to market corrections as a possible factor, and noted that some low-wage industries affected by the hike actually added jobs, making the law's impact difficult to gauge.
In the U.S., the University of Washington's latest publication in its ongoing study of Seattle's minimum wage hike urges a more nuanced conclusion. As Noam Scheiber explained in a piece for the New York Times, researchers found that for low-wage employees who worked at least 600 to 700 hours per year prior to the minimum wage increase received a consisted pay bump after the increase took effect. In other words, the wage hike didn't cost them enough hours to offset the intended pay increase. Workers the researchers defined as "new entrants," who weren't working but might at some later date, may have suffered some negative consequences. "They note that, at the time of the first increase, the growth rate in new workers in Seattle making less than $15 an hour flattened out and was lagging behind the growth rate in new workers making less than $15 outside Seattle's county. This suggests that the minimum wage had priced some workers out of the labor market, according to the authors," Scheiber wrote. Even so, other market factors may contribute to that lagging growth rate for new entrants – Seattle is, after all, an increasingly expensive place to live, and on its own, a higher minimum wage may not be enough to offset rising rents.
While a higher minimum wage only addresses one aspect of America's ever-growing inequality problem, it does rectify an on-going injustice. Because of inflation and rising costs of living, the current federal minimum wage counts for less than it did when it was established in 2007. NELP's analysis seems to reinforce what activists have claimed all along – that higher minimum wages will make positive differences in the lives of America's lowest-paid workers.