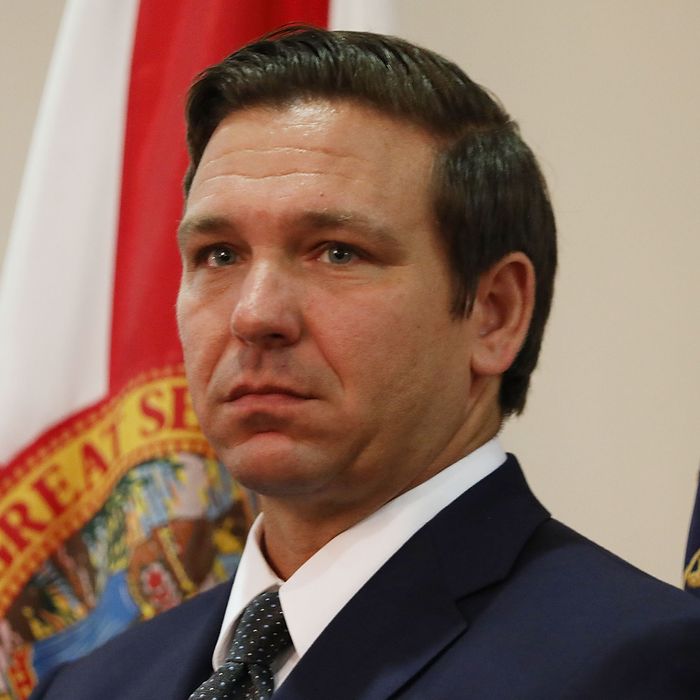 Photo: Joe Raedle/Getty Images
In November, Florida voters decisively moved to restore voting rights to 1.5 million individuals convicted of felonies. But the state's new Republican governor seems ready to drag his feet. Ron DeSantis told the Palm Beach Post on Wednesday that Amendment 4, which enfranchised non-violent felons in the state and is intended to be self-implementing, "should not take effect" until the legislature devises "implementing language" when it convenes in 2019. "They're going to be able to do that in March," he added. "There's no way you can go through this session without implementing it." The amendment, which 65 percent of voters approved on November 6, ends the state's practice of forcing people with non-violent felony convictions to go before the governor to plead for enfranchisement. By the time voters went to the polls in 2018, the state had a backlog of 10,000 such cases to resolve; very few individuals had their voting rights restored.
Even if legislators do pass implementation language in March, the implementation of Amendment 4 will be delayed by at least two months. As the Tampa Bay Times reported on Wednesday, voting rights activists worry that conservative legislators will weaken the amendment by inserting obstacles in the path to enfranchisement. Legislator comments previously reported by the Times on December 4 seem to support those fears. "How do you evaluate eligibility?" a Republican state senator, Dennis Baxley said. "I still have some questions … What were the terms of their sentence? Do they have to meet probation? Did they complete their debt to society or not?" Baxley will chair the Senate Ethics and Elections Committee when the legislature meets in March.
As a candidate, DeSantis opposed Amendment 4. In a September interview with the Times, DeSantis asserted, unprompted, that he doesn't "support automatic restoration of voting rights (for felons). I'm going to be very tough on crime, and I'm never going to budge on that." His position has relatively transparent origins. On the campaign trail, the former prosecutor modeled himself after Donald Trump, both in his tough-on-crime stance and in the delivery of bombastic dog-whistles directed at his Democratic opponent, Andrew Gillum. As the Washington Post outlined in October, DeSantis called Gillum "articulate" and, referring to Gillum's left-wing policy platform, told voters that "the last thing we need to do is to monkey this up by trying to embrace a socialist agenda with huge tax increases and bankrupting the state." DeSantis also repeatedly spoke at conferences organized by David Horowitz, who has spoken of a race war and once asked why black Americans don't emigrate elsewhere if they're truly oppressed.
The Republican has other reasons to fear Amendment 4. He barely scraped to victory over Gillum; a mere four-tenths of a point separated the two in the end. Enfranchising Florida's convicted non-violent felons will mostly restore voting rights to men of color, who are overrepresented in the demographic. They aren't likely to vote for DeSantis, or for another Republican candidate, and that puts the incoming governor and his party in a precarious position. DeSantis probably can't get out of implementing Amendment 4 entirely, and if he intends to try anyway, he might want to speak to Maine's outgoing Republican governor Paul LePage about the legal ramifications to blocking the implementation of a successful ballot measure. But as Baxley's comments may foreshadow, DeSantis and other Republicans could still weaken enfranchisement, short of stopping it outright. Florida voting rights advocates are probably in for a fight.