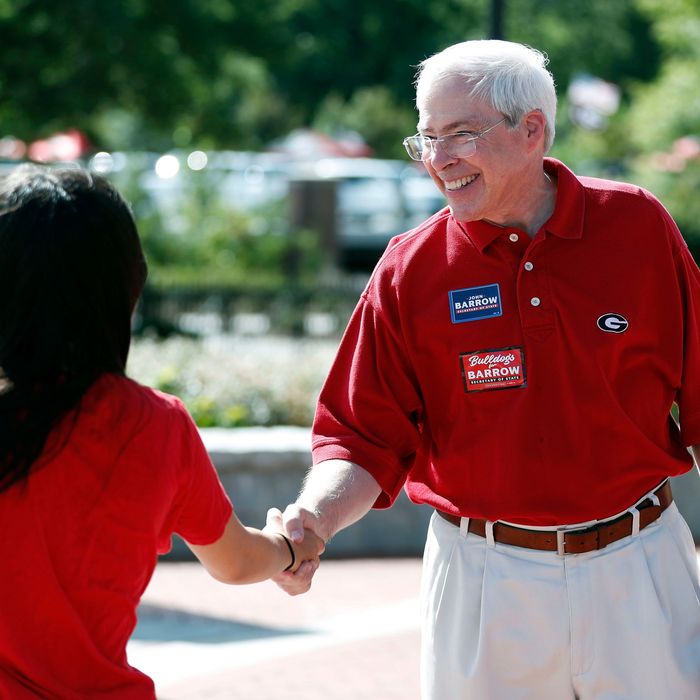 Democrat John Barrow campaigns outside a Georgia football game.
Photo: John Bazemore/AP/REX/Shutterstock
Nobody in Georgia who voted for Stacey Abrams on November 6 could have predicted that John Barrow would be their last hope for consolation. Nor were they, most likely, thrilled about the eventuality in which they found themselves. Where Abrams rode a wave of black and progressive energy to a narrow loss in the gubernatorial race, Barrow eked his way into a December 4 runoff on appeals to moderates and conservatives. "Yeah, I'm a Democrat, but I won't bite you," the secretary of state candidate said in an October campaign ad. "Democrats who can't compromise are as much of a problem as Republicans who can't," he told the Atlanta Journal-Constitution in 2017. Abrams dedicated her career as a state representative to expanding voting rights and access. Barrow's time in the U.S. House of Representatives — where he served Georgia's 12th district for ten years — was marked by a centrist record that included opposition to his own party's banner legislation, the Affordable Care Act.
Barrow's brand, simply put, was to excite nobody — including those who might constitute something resembling a base. If Tuesday's runoff was a referendum on this approach — whether the white moderate could build a winning coalition out of demoralized black Democratic stalwarts, progressives, and right-of-center whites in a kind of election where, historically, only a sliver of the electorate shows up — it failed. By a healthy margin, Barrow ceded the secretary of state's office to Republican Brad Raffensperger, who has vowed to prolong the same racist and suppressive practices that Brian Kemp used to thwart opposing voters en route to the governor's mansion (Barrow had not conceded as of Wednesday morning). At stake was the Democrats' last chance to rebuke Kempian voter disenfranchisement this cycle, and the integrity of the state's electoral system, which had become an embarrassment. Barrow's run may have been uninspiring. But his victory would have at least stanched the bleeding caused by the office's previous occupant.
Instead, Georgia will continue its status as a trailblazer in innovating ways to make voting a miserable and labyrinthine endeavor for black people, young people, and poor people. Kemp mastered this mandate. Between the start of his tenure in 2010 and today, he purged over a million people from voter rolls, advised Georgia counties on closing hundreds of polling locations, and, per the Associated Press, placed 53,000 voter registration applications on hold due to bureaucratic irregularities, like failing to exactly match information on file with Georgia's Department of Driver Services — including, for instance, dropped hyphens in last names. About 70 percent of these applications had been filed by black people. "I don't know a single black person in Georgia that doesn't believe that race was stolen," LaTosha Brown, co-founder of the get-out-the-vote organization Black Voters Matter, told Mother Jones. The brazen partisanship of such efforts extends well beyond Georgia. In Wisconsin, the lame-duck Republican legislature is rushing to disempower incoming Democrats and their constituencies by cutting early voting, blocking Governor-elect Tony Evers from rolling back the state's voter ID law, and rescheduling 2020 primaries in a transparent effort to reduce turnout for lower-profile races, like state Supreme Court.
Secretary of state is a traditionally unexciting position. Only when Republicans started using the office to accelerate suppression efforts — especially after the U.S. Supreme Court gutted the Voting Rights Act in 2013 — did it become a point of acute national interest among progressives. This interest seems to have reached an apex during the most recent midterms. Outrage at GOP attempts to cherry-pick their desired electorate by erecting barriers to opposing constituencies has materialized across media outlets and in public statements made by elected officials. As New York's Sarah Jones has written, voters are starting to get the picture. In Michigan, Colorado, Missouri, and Florida, they passed a range of resolutions appointing independent bipartisan commissions to draw non-gerrymandered districts and expanding voting rights to people with felony convictions, to name just two. There is perhaps no better time than now for a national Democrat-led voting rights push, New York's Ed Kilgore argues — even if it ends up being largely symbolic. "[Over] time, perhaps more and more Americans will be outraged to discover that voting is not a fundamental right in this country, and insist that politicians like Brian Kemp become as generally abhorred as the open racists whose legacy they have inherited," he writes.
But one casualty of such a push would be the low profile of the office. Secretary of state races like Barrow versus Raffensperger would become sites of intense national interest, with messaging campaigns focused on Republicans' anti-democratic practices seeking to drive progressives to the polls in ever-larger numbers. Barrow's tendency to stay low-key and court conservatives may have served him well in the past. As a congressman, he survived several Republican efforts to redraw his district and reduce black influence in favor of white conservatives'. Until his defeat in 2014, he was "the last white Democrat in the U.S. House from a Deep South state." But the same voter energy that drove record turnout on November 6 disappeared this runoff. This was to be expected — runoff elections after high-turnout races often fail to sustain their predecessors' energy. It happened in 2008, when Georgia voters showed up in force to vote in Barack Obama's first presidential election, but did not lift Democrat Jim Martin to victory in the U.S. Senate after he pushed Saxby Chambliss to a runoff the next month.
But it is increasingly clear that, in red states especially, Democratic runoff candidates must generate their own sense of excitement if they hope to win — especially with GOP policies blocking so many of their voters. For secretary of state hopefuls, that should arise from an aggressive voting-rights expansion push. Barrow has vowed to protect voters' rights not to vote — a pretense used by Kemp to purge them from the rolls. But in a pro-Barrow mailer I received at my Atlanta home on Monday, his campaign touted his commitment to ensuring "no one can commit fraud," a common right-wing canard heralding a functionally nonexistent problem. Barrow favors maintaining Georgia's voter identification law. Both are unnecessary concessions in a state where both measures were designed to discourage the black vote. When I went to cast my ballot in the almost-entirely black Collier Heights neighborhood on Tuesday, I was the only voter at the precinct. This will not get it done. The depressed nature of runoff turnout was already working against the Democrats. But the future of the secretary of state's office — and voting rights in Georgia — will hinge on whether they can convince a critical mass of their party and constituents that this is as worthy a fight as any.