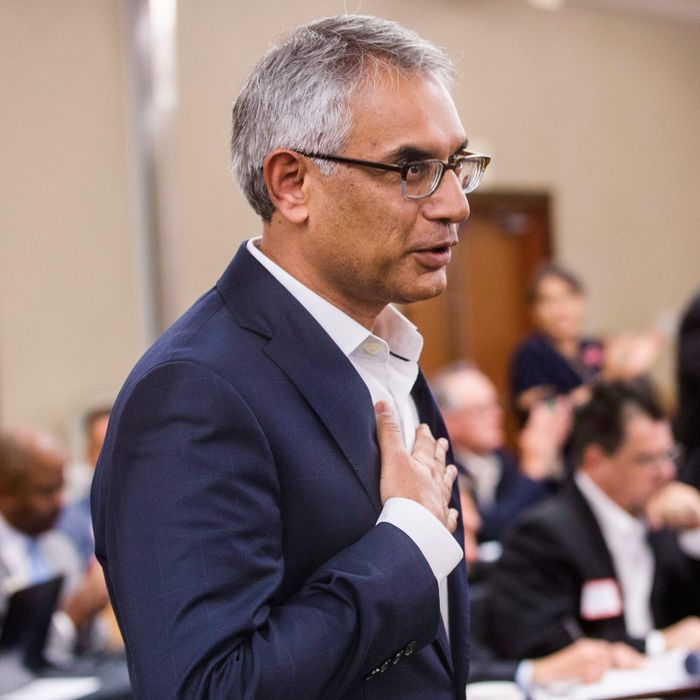 Shahid Shafi, the Fort Worth city councilman and practicing Muslim whose religion has spurred an effort to purge him from a local party post.
Photo: Amanda Voisard/Austin American-Statesman via AP
The existence of anti-Muslim prejudice in a party whose leader once proposed stopping Muslims from entering the country isn't especially surprising. But most Republicans have sense enough to pay at least lip service to the First Amendment and to the religious liberty principles they profess when trying to defend the rights of conservative Evangelicals to discriminate against gay people. A noisy intra-Republican dispute down in Texas suggests there are significant exceptions, as the Los Angeles Times explains:
Members of the Tarrant County Republican Party will vote Jan. 10 on whether Shahid Shafi, a 53-year-old trauma surgeon and city councilman in the Fort Worth suburb of Southlake since 2014, should be removed as a vice chairman.




A precinct chairwoman forced the vote after making unproven claims that Shafi, who has served as a delegate to several GOP state conventions, has ties to the Muslim Brotherhood and terrorism and wants to impose sharia law. Other precinct chairs have joined in the calls to remove Shafi.
There is zero evidence that Shafi, a Pakistani immigrant and a naturalized citizen, has been anything other than a loyal American, though the ringleader of the effort to oust him, one Dorrie O'Brien, claims he's not a true conservative and insufficiently supports Israel, which are apparently litmus tests for Texas Republicans these days. O'Brien has made it clear she doesn't think Islam is an actual religion:
This is not a case of religious bigotry, nor a personal attack on one man for his protected religious beliefs. Islam is primarily a political ideology that has advanced historically under its shield of religion.
The breathtaking ignorance of that assertion appears to have embarrassed many Republicans nationally and in Texas, who, all things considered, would prefer that their share of the Muslim vote (once a GOP stronghold) not drop to zero. The putative move against Shafi has now been condemned by Senator Ted Cruz, Land Commissioner George P. Bush, and Texas House Speaker Joe Straus. A recent meeting of the state GOP's executive committee generated a unanimous resolution reaffirming the party's commitment to religious freedom.
So in reporting this saga, are the media seizing on an unrepresentative and minor spasm of bigotry in an obscure place? Not exactly. For one thing, Tarrant County isn't some tiny primitive backwater in Yahooland; population-wise it is third largest county in Texas and the 16th largest in the U.S.
More importantly, this incident reflects bullshit anti-Muslim memes that have been rampant in conservative media and political circles for a long time. The idea that Islam is not a legitimate religion has been promoted by plenty of conservative Christian leaders (including Pat Robertson), by Trump ally Frank Gaffney, and by onetime Trump national security adviser Michael Flynn, among others. And the bizarre claim that all Muslims are beavering away in secret to impose Sharia law on poor unsuspecting infidels has been popping up in Republican circles all over, with a major assist from nationally renowned demagogues like Newt Gingrich (who in 2016 proposed that all U.S. Muslims be quizzed about Sharia law and then expelled from the country if their answers weren't satisfactory). It's hardly even newsworthy any more:
There have been legislative efforts in 43 states to ban the practice of Islamic religious law, or Shariah law; 24 bills were introduced in 2017 alone, according to the Haas Institute at the University of California, Berkeley. This year, Idaho introduced an anti-Shariah bill, bringing the number of measures introduced since 2010 to at least 217. Of those, 20 have been enacted.




The laws' backers seem to see them as necessary stopgaps to protect against their imagined Muslim takeover of America.
Add in Christian nationalist thinking, which is also common among conservatives, and you quickly get to the kind of remark made by one of O'Brien's supporters in the drive to expel Shafi: "We're patriots who don't allow jihadists to play in the fields of the lord."
If the more respectable Republicans don't want to be linked to this sort of anti-American bigotry, they really need to go beyond deploring it and debunk the fraudulent memes behind it, including those beloved by Trump's "base." You can't feed hate to people day in and day out and act surprised when they turn hateful.