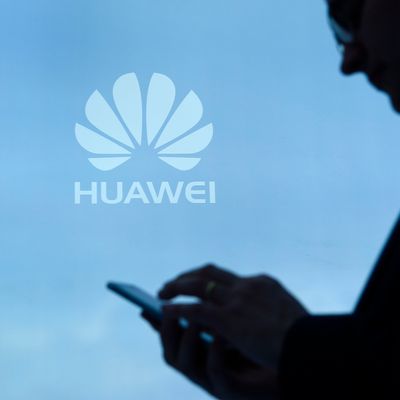 A visitor uses his mobile phone at the Huawei stand on the second day of the Mobile World Congress in Barcelona.
Photo: LLUIS GENE/AFP/Getty Images
News broke late on Wednesday that Meng Wanzhou, CFO of Chinese telecom giant Huawei and daughter Ren Zhengfei, the founder of the company, was arrested by Canadian officials during a stopover in Vancouver in order for Meng to be extradited to the United States.
The Department of Justice has so far remained mum about the case, but Republican senator Ben Sasse said the arrest was linked to Huawei's doing business with Iran. "Americans are grateful that our Canadian partners have arrested the chief financial officer of a giant Chinese telecom company for breaking U.S. sanctions against Iran," he said in a statement on Wednesday evening.
It's hard to overstate the size and importance of Huawei both within and outside of China, and how shocking this arrest is. The top-line stat you'll read about Huawei (pronounced "wah-way") is that it recently surpassed Apple to become the number-two manufacturer of mobile phones in the world, second only to Samsung.
But casting Huawei as the Chinese equivalent of Apple understates its reach and importance — Huawei also manufacturers a tremendous amount of the equipment used by phone and internet companies, as well as providing IT consulting services both in China and around the globe. Combine Apple, Cisco, and Booz Allen, and then imagine this company working very closely with the U.S. government, and you're getting closer to the true significance of the company to China.
Meng, beyond being Huawei's CFO, is seen as the heir apparent to the company. Think what would happen if Facebook COO Sheryl Sandberg was arrested by Chinese authorities for unclear reasons, and you start to get a sense of the uncertainty rippling across global markets right now.
The Chinese government has demanded that Meng be released. "The detention without giving any reason violates a person's human rights," said a Chinese foreign ministry spokesperson. "We have made solemn representations to Canada and the U.S., demanding that both parties immediately clarify the reasons for the detention, and immediately release the detainee to protect the person's legal rights."
"There has been very little information provided to Huawei on the specific allegations. Huawei is not aware of any misconduct by Ms. Meng," said Huawei's CEO in a statement posted to WeChat, China's most popular communications app.
Huawei, along with many other Chinese phone manufacturers and telecom equipment makers, is viewed with significant suspicion by the "Five Eyes" intelligence alliance, comprised of Australia, Canada, New Zealand, the United Kingdom, and the United States. All countries have agreed not to use Huawei while rolling out 5G networks, fearing that the company — founded by a former People's Liberation Army officer — would allow Chinese intelligence operatives to spy on other nations. The U.S. has also banned all governmental agencies from buying or using Huawei phones or equipment.
The arrest came shortly after news broke that China and the U.S. had agreed to a 90-day suspension of their ongoing trade war. Stocks of most major chip manufacturers fell after news of the arrest broke, with chipmaker stocks usually serving as a bellwether for investor confidence in U.S.-China relations. As of this morning, that relationship appears very, very rocky.