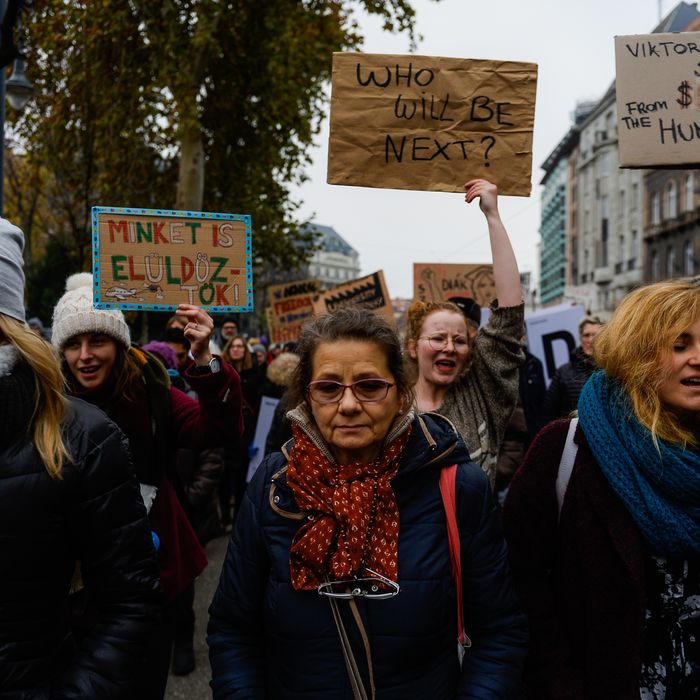 Students and citizens protest in Budapest on December 1, the deadline for the Hungarian government to sign an agreement allowing the Central European University to remain in the country.
Photo: SOPA Images/LightRocket via Getty Images
Central European University announced on Monday that it is being forced to close down its campus in Budapest after the Hungarian government declined to certify it to continue operating in the country. CEU will live on with a new campus in Austria, but its departure from Hungary represents both a material and a symbolic blow to the European liberal order.
CEU was founded by Hungarian-American philanthropist George Soros in the aftermath of the fall of Communism to educate a new generation of leaders and champion freedom and democracy in a society that had never experienced it. Offering U.S.-accredited degree programs, it has earned a reputation over the past quarter-century as the best university in Hungary and one of the top graduate schools in all of Europe.
In recent years, however, it attracted the ire of Hungary's right-wing prime minister, Viktor Orbán, who has steadily cracked down on independent institutions since coming to power in 2010. Orbán, an unapologetic nativist and nationalist who champions a vision of what he calls "illiberal democracy," despises Soros, whom he accuses of perpetrating a conspiracy to undermine Hungary's cultural identity through mass immigration from Muslim countries. Soros's Open Society Foundations fled the country earlier this year, after Orbán was handily elected to a third term with a campaign message that consisted largely of attacks on the billionaire financier.
As Orbán continued to consolidate power over the past several years, the shuttering of CEU was really only a matter of time: The government began its campaign against the university last year by passing a law that would bar foreign-registered universities from operating in Hungary unless they also provided courses in their home country. CEU attempted to comply with that law by starting a program at Bard College, but Orbán's government said that wasn't good enough. Of course, nothing would have been good enough.
The university's effective eviction from Hungary is first and foremost an injury to academic freedom in Hungary and to the students who won't get to study there anymore. Its bigger-picture significance, however, is even more troubling.
CEU is the first university to be driven out of a European Union member state in the history of the bloc. As European Parliament member Guy Verhofstadt remarked, it's also the first government closure of a university in Europe since 1943, when the Nazi occupation government in Norway shut down the University of Oslo. The E.U. had warned Orbán against driving CEU out, but the warning was not heeded.
The closure is also the latest in a series of steps Orbán has taken to silence any voices in Hungary that might challenge or speak up against his government or its nationalist ideology. In May, shortly after Orbán's reelection, a suspicious number of judges stepped down in quick succession from the National Judicial Council, a key institution of Hungary's independent judiciary. Just last week, the owners of hundreds of private news outlets simultaneously donated them to a holding company controlled by close allies of Orbán, further cementing his control over the media.
Orbán has been careful not to make Soros's Jewish heritage the explicit focus of his bromides against him, but his attacks on the philanthropist carry distinctly anti-Semitic overtones (other world leaders who engage in Soros-bashing are less subtle about it). Anti-Semitism is hardly a vanishing minority view in Hungary; an MP from the extreme right-wing Jobbik party, which came in second to Orbán's Fidesz party in April's elections, resigned on Monday following the leak of a recording in which he bragged about verbally and physically assaulting a Jewish woman and made a series of anti-Semitic comments. Jobbik's discomfort with such invective has only emerged in the past few years as it has attempted to rebrand as a mainstream party and distance itself from its more overtly xenophobic and anti-Semitic roots.
The Hungarian government recently gave $1.7 million to a civil society group dedicated to combating anti-Semitism in Europe, but pro-government media still engage in inflammatory depictions of Jewish leaders. Orbán's diatribes against Soros for attempting to destroy "Christian culture," his rehabilitation of Hungarian Nazi collaborators, and his promotion of a nationalist ideology strikingly resonant of the 1930s are unmistakable in their effect of inciting and legitimizing hatred and suspicion of Jews.
So far, the E.U. has shown itself completely powerless to stop Orbán's assault on democratic institutions. The European Commission is suing Hungary in the European Court of Justice over the higher education law passed last year, but the damage of that law is already done, and if it is overturned, Orbán's party will simply find another excuse to keep CEU out. In September, the European Parliament voted to censure Hungary under Article 7 of the Treaty on European Union, which allows the union to revoke certain rights from a member state in breach of its core principles. That could lead to punitive measures including the suspension of Hungary's voting rights, but Poland would probably veto such a move.
Orbán, sometimes described as a European analogue of U.S. president Donald Trump, is a hero of the European far right (and American fellow travelers like Steve Bannon) for his unapologetic stance against immigration, Islam, and liberalism. As right-wing parties take power in a growing number of E.U. member states, Orban envisions the neo-nationalist right taking control of the bloc in next year's elections to the European Parliament, thereby overturning the cultural primacy liberalism and pluralism have enjoyed in Europe since 1968.
From our vantage point on this side of the Atlantic, perhaps the most disquieting detail of this story is that the U.S. was unable to stop Hungary from driving CEU into exile, which the State Department formally opposed. U.S. ambassador to Hungary David Cornstein, who was appointed to that post earlier this year, had said as recently as October that keeping the university open "remains a priority for the U.S. government and has overwhelming bipartisan support in the United States." In an interview with the Washington Post last week, however, Cornstein blamed CEU for its own fate: "The university is in another country. It would pay to work with the government." He also claimed the closure had "nothing to do with academic freedom" but was merely the result of a personal conflict between Orbán, whom he described as a "friend," and Soros.
The demise of CEU in Hungary is being reported as a failure of the Trump administration's honey-over-vinegar approach to influencing Orbán, but it looks just as likely that the administration simply didn't try very hard to stop this from happening. After all, why would Trump, who is counts Orbán as a friend and Soros as an enemy, take Soros's side in this fight? The State Department's response to Monday's announcement was muted and noncombative, saying merely that the U.S. was "disappointed" that the government and CEU had failed to reach an agreement.
That the Trump administration could not muster a more forceful response to a NATO ally driving out a U.S.-accredited university in a transparent attack on academic freedom and democratic principles is hardly surprising at this point, but speaks to the degree to which Trump has torn the U.S. away from the Western liberal consensus. The E.U. may be incapable of stopping the reactionary forces currently sweeping the continent from taking over its institutions and destroying them or using them to illiberal ends. Furthermore, for at least the next two years, it can expect no help from Washington in that fight. If the new Democratic majority in the House of Representatives wants to mitigate the damage Trump is doing to our relationships with the rest of the world, Europe would be an excellent place to start.