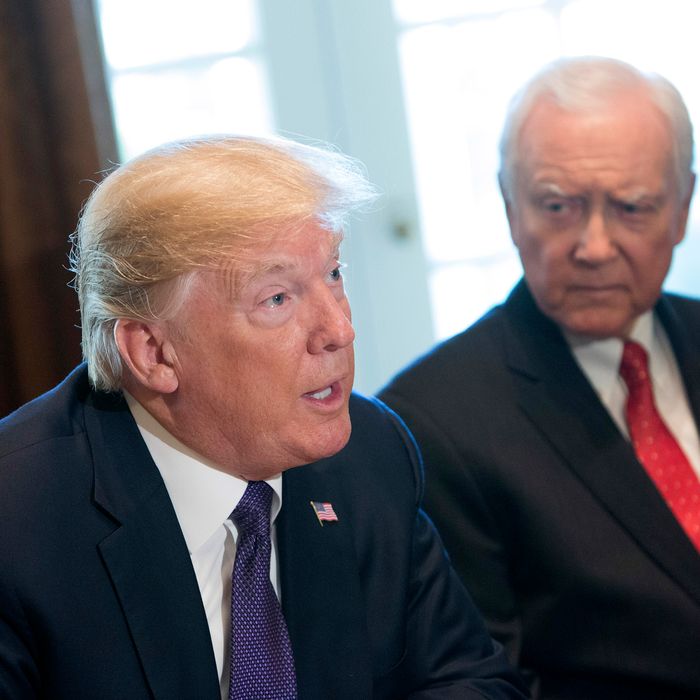 Orrin Hatch just doesn't care about Trump's alleged crimes.
Photo: Pool/Getty Images
On Friday, the Department of Justice called Donald Trump a felon. The extraordinary claim came in a sentencing memo about his former lawyer, Michael Cohen, who helped Trump commit suspected campaign-finance violations by paying off two women who claim to have had affairs with the now-president.
On Monday, Senate Republicans had their chance to weigh in on Friday's bombshell. Would they condemn Trump, now an unindicted co-conspirator in Cohen's crimes? Would they turn a critical eye toward his extramarital affairs? Or would they find a way to blame it on anyone but the president? Yeah, that's the one.
"The Democrats will do anything to hurt this president," Utah Senator Orrin Hatch told CNN when asked if he was concerned about the allegations. When reporter Manu Raju reminded Hatch that it is not the Democrats, but the Southern District of New York, making the allegations, Hatch said, "I don't care, all I can say is he's doing a good job as president."
That's quite an evolution for Hatch, as the Post notes:
Earlier in his congressional career, during Bill Clinton's impeachment trial in 1999, Hatch voted to convict the president, saying in a statement at the time that "committing crimes of moral turpitude such as perjury and obstruction of justice go to the heart of qualification for public office."




"This great nation can tolerate a president who makes mistakes," Hatch said then. "But it cannot tolerate one who makes a mistake and then breaks the law to cover it up. Any other citizen would be prosecuted for these crimes."
South Dakota Senator John Thune's argument, made to the Times, is that campaign finance violations are not a big deal, especially for political neophytes like Trump and Cohen. "These guys were all new to this at the time," he said Monday. "Most of us have made mistakes when it comes to campaign finance issues. In many cases, campaigns end up paying fines and penalties."
Senator Chuck Grassley meanwhile questioned if the allegations against Trump can even be believed. "As long as Cohen's a liar, I shouldn't give much credibility to what he says," Grassley said.
Louisiana Senator John Kennedy echoed that argument, impugning Cohen and questioning the willingness of prosecutors to believe him. "Jesus loves him, but everybody else thinks he's an idiot," Kennedy said. "He's obviously a sleazeoid grifter. And if I were a prosecutor, I wouldn't base a prosecution on evidence given to me by Mr. Cohen."
As former federal prosecutor Renato Mariotti pointed out on Twitter though, this is a bad argument. The Feds have by now undoubtedly obtained "corroborating evidence above and beyond Cohen's testimony," Mariotti wrote. Meaning that Cohen's status as as a "sleazeoid grifter" isn't exactly relevant.