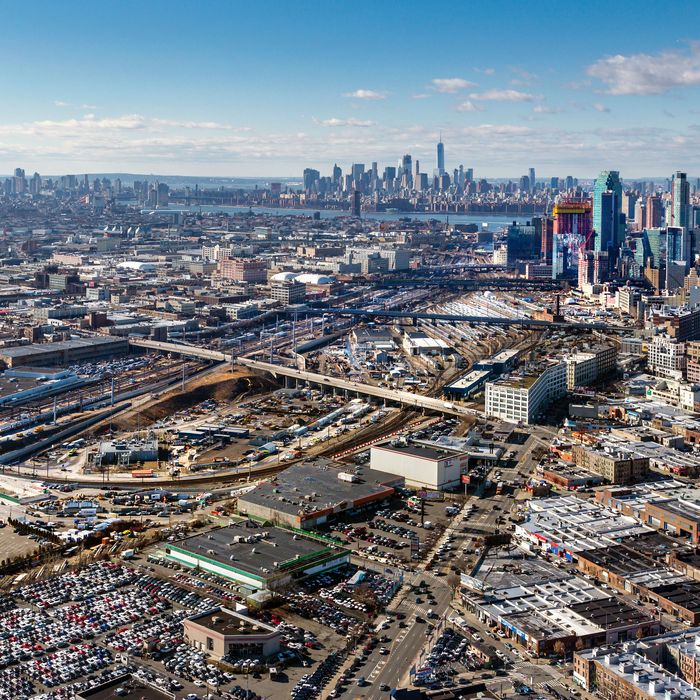 Watch this very, very large space.
Photo: David Sundberg/Esto/Courtesy of NYCEDC
I suspect that plenty of New Yorkers who can easily pick out Mogadishu or Vladivostok on a map couldn't find their way to Sunnyside Yard. It's a grayed-out zone in the heart of western Queens, a walled-off, whale-shaped expanse with its tail in Long Island City and its snout nuzzling Woodside, 180 acres in all. This is a busy place — Amtrak, LIRR, and New Jersey Transit come to maneuver, switch directions, and submit to repairs — but it could be much, much busier. Hudson Yards, too, was once a big blank nothing that nobody knew, and look at it now, a bristle of fresh new towers packed with elevators that glide frictionlessly up into the clouds. But that monster project is puny by comparison; Sunnyside Yard is seven times bigger.
On a brisk winter morning, Deputy Mayor Alicia Glen escorted me to the roof of a building in Long Island City to look out over this hectic blank slate and visualize the neighborhood it could become. The biggest surprise is that it will be a hilltop town, because of what lies beneath. Streets and parks will arch over the thicket of trains, tracks, and sheds, meet the few automobile bridges that now span the site, then puff up between them like a quilted comforter. A 30-foot drop separates the edge from some surrounding streets, a topographical given that, depending on how it's handled, can yield dead ends and forbidding walls or moments of stunning drama.
Last spring, the city hired Vishaan Chakrabarti's Practice for Architecture and Urbanism (PAU) to figure out how to fill that acreage — to imagine what New York's next iteration might be like. That was an odd choice, in a way. As Manhattan director of city planning during the Bloomberg years, Chakrabarti helped lay the groundwork for the megadevelopment at Hudson Yards, which the de Blasio administration is treating as the negative model for Sunnyside. The mayor is insisting on plentiful affordable housing rather than mostly ultra-deluxe condos. Instead of a forest of glass, the city is hoping for what Glen calls a "chunky and funky" texture: a mixture of heights, types, and densities. Instead of turning the whole project over to a single developer, the city expects to pay for a platform over the tracks and then distribute the lots atop it like fancy chocolates, one at a time.
But Chakrabarti comes to the project with an encouraging mixture of realism and imagination. The plan is a year away from submission, so for now he and his team are still tossing around ideas and trying to estimate out how many thousands of affordable apartments the site can accommodate without resorting to the usual phalanx of towers standing shoulder to shoulder like riot cops waiting for trouble. Instead, Chakrabarti is mulling a kind of Little Berlin, with low-rise apartment buildings snaking around linked courtyards and abundant open space apportioned into squares, ball fields, playgrounds, and linear parks. The current bridges carry heavy traffic, and avenues at the edge of the zone would link new commercial areas to Northern Boulevard and Queens Boulevard, but tucked within could be curbless, largely carless streets where slow-moving, driverless vehicles navigate around pedestrians (if the technology ever manages to make such interactions safe).
This all sounds like the plan is heading towards an appealingly complex, grainy neighborhood — in fact, it sounds suspiciously like an architect's pleasant fantasy. It's hard not to worry. When stakes are high and intentions are pure, the system tends to respond with a mixture of venality, hype, and habit. (Brooklyn offers another case study in what to avoid: the perpetually troubled 22-acre development that started out 15 years ago as Atlantic Yards and, with only five of 16 towers now done, has since been rebaptized Pacific Park. The latest, more or less meaningless deadline for completing the rest is 2035, by which time they may have renamed it after yet another ocean.)
Open land in New York is like sunken treasure: It offers irresistible rewards, but reaping them is slow, costly, and parlous. The site's immensity makes it virtually impossible for any one private developer to swallow the whole site, or even for a consortium to take on the risk of building the massive platform. Only government can shoulder that multibillion-dollar burden when the revenue to offset might be decades away. That's good news because it means the city will set the table before developers sit down to eat. In some places — the Greenpoint-Williamsburg waterfront, for instance — developers build parcels of parkland piecemeal, designing them as amenities for the people who pay the rent. At Sunnyside Yard, all the virtuous but unprofitable parts of the project — transit connections, streets, parks, infrastructure, and affordable housing — will take precedence over glossy towers. Or that's the hope, anyway.
Construction is slow, but time moves quickly, even when you're looking into the distant future. A decade ago, it might have seemed prudent to include another high-end shopping mall or a convention center. No longer. Tech companies weren't yet gobbling up urban real estate. Automated vehicles were still a crackpot concept. By the time the first backhoe shows up in Sunnyside, conditions will have shifted again. You can hedge against that outcome by leaving room for change, but flexibility has its limits. Urban planning is like any other kind; you reason your way to difficult decisions that the next generation will look back on as blinkered and foolish, while the gods chortle away.
The de Blasio administration is aiming to set the plan irreversibly in motion, but not build a thing, before its term ends in 2021. Check back in a couple of decades to see how it all worked out.