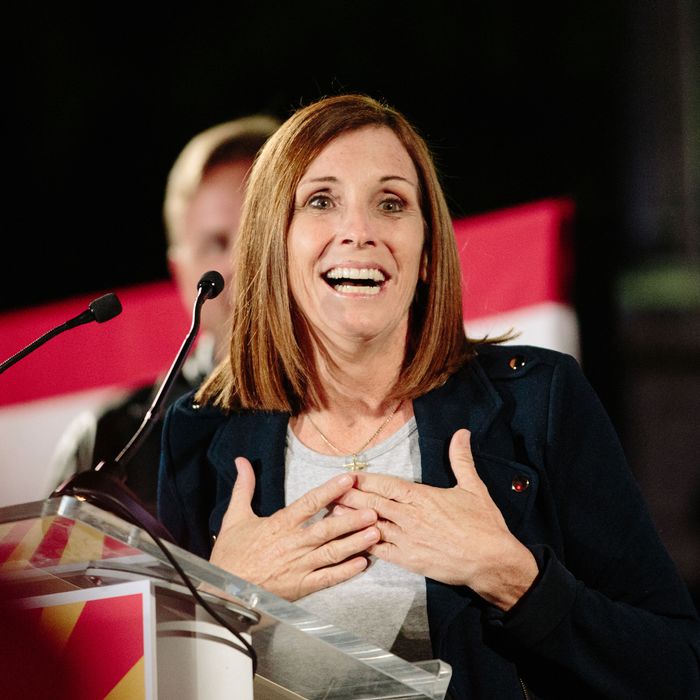 Arizona's Martha McSally lost one Senate seat last month, but has just been appointed to another.
Photo: Caitlin O'Hara/Bloomberg via Getty Images
Arizona governor Doug Ducey announced that outgoing U.S. Rep. Martha McSally will succeed placeholder Jon Kyl in the Senate seat vacated earlier this year by the death of John McCain. This musical-chairs maneuver means that McSally, who lost the state's other Senate seat to Democrat Kyrsten Sinema in November, will face voters again in a 2020 special election. If she wins that, she'll have to run yet again in 2022, when McCain's term is finally up. There's also an outside chance the seat could come up even earlier, in 2019, if a lawsuit challenging Ducey's scheduling of the special election succeeds.
Ducey's choice of McSally may be underwhelming politically, but makes sense given the possibility of intra-GOP dissension if someone else had gotten the seat, as conservative columnist Tiana Lowe argues:
McSally beat out a primary field of loons like Joe Arpaio, a birther once convicted of criminal contempt of court, and Kelli Ward, who went on tour with Pizzagate conspiracy theorists and received the favor of Steve Bannon and Rep. Steve King, R-Crazytown. Ducey wanted to appoint another Republican to fill and hold the McCain seat, and no Republican in the state had a comparable electoral mandate to take a vacant Senate seat.
McSally obviously has a campaign apparatus that won't take long to put back up, and strong name ID. Senate Republican Leader Mitch McConnell, who will play an important role in helping finance the 2020 Arizona race, was reportedly lobbying hard for her appointment.
Most interestingly, Sinema's election and McSally's appointment makes Arizona the sixth state that will be represented in the Senate by two women in 2019, joining Minnesota (Amy Klobuchar and Tina Smith) and New Hampshire (Jeanne Shaheen and Maggie Hassan), along with the three other Western states that have taken this dual step: California (Dianne Feinstein and Kamala Harris), Nevada (Catherine Cortez Masto and Jacky Rosen) and Washington (Patty Murray and Maria Cantwell). Gender equality is in the air out West. And with 13 other women in the Senate beyond these 12, one quarter of the Senate will be composed of women in 2019.