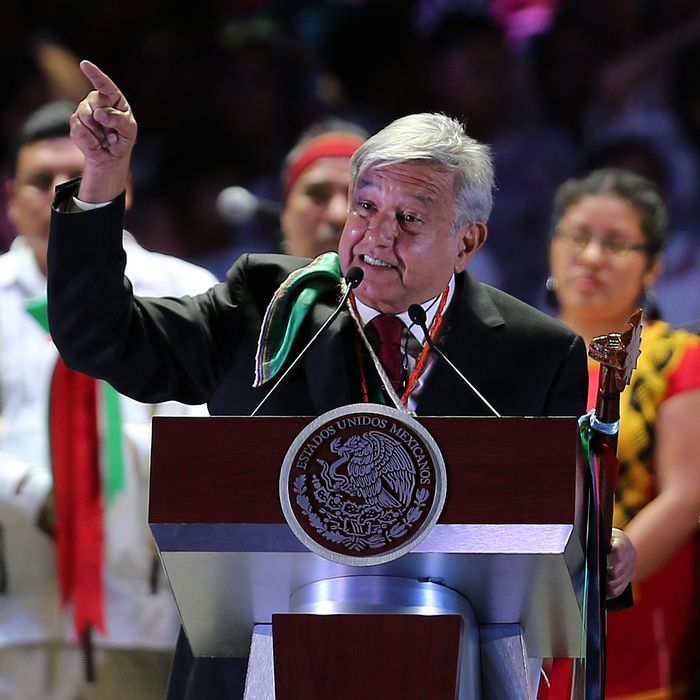 Andrés Manuel López Obrador, the new president of Mexico, at an inaugural event on Saturday.
Photo: Manuel Velasquez/Getty Images
Taking the oath of office in Mexico City on Saturday, Mexico's new president Andrés Manuel López Obrador reiterated his campaign vows to rein in violence and corruption, to create new opportunities for the country's youth and indigenous community, and to put an end to neoliberal policies of privatization that he had denounced as contributing to graft and inequality.
Before he does any of that, however, he has to contend with the crisis mounting in the border city of Tijuana, where several thousand Central American migrants have been gathering in the hope of seeking asylum in the U.S. The bottleneck at the border is largely a product of the U.S. government being deliberately unprepared to process thousands of asylum-seekers, and of President Donald Trump's insistence that these migrants not be allowed to enter the U.S. Rather than deploy more judges and caseworkers to the border and develop a coherent refugee policy for the Hondurans, Salvadorans, and Guatemalans fleeing state and gang-related violence in their home countries, the Trump administration has opted to play chicken with the migrant caravan at the border, with predictably chaotic results.
This tragic and largely avoidable spectacle has been a tremendous propaganda victory for Trump: Count on seeing endlessly looping footage of migrants rushing the border on Fox News for the next two years and in campaign ads for Trump and other Republicans in 2020. For López Obrador, however, it's quite the opposite. While he wasn't responsible for the caravan entering and traversing Mexico — the deeply unpopular lame duck president Enrique Peña Nieto was — solving the problem has just become his government's responsibility.
The political pressure on López Obrador is high and still growing, as Mexicans are none too happy to be hosting these migrants, especially in Tijuana, where Mayor Juan Manuel Gastélum has stoked nativist sentiment among residents, echoed Trump in demonizing the migrants, and said the Mexican federal government, not the city, must take responsibility for housing them. The humanitarian situation there has been deteriorating, meanwhile, and the local government is working to relocate the caravan members from a filthy, overcrowded encampment to a slightly more organized shelter farther from the border.
The government in Mexico City has been hindered by a lengthy presidential transition: Since López Obrador was elected all the way back in July, the outgoing Peña Nieto administration has had no mandate to make any big policy decisions, while the incoming government did not yet have its hands fully on the reins. Last week, the Trump administration reportedly reached a deal with incoming interior minister Olga Sánchez Cordero on a "Remain in Mexico" policy that will force migrants stay in that country while U.S. immigration authorities process their asylum applications (Sánchez Cordero quickly denied that any formal deal was struck).
Immigration experts say this deal would effectively make it impossible for Central American migrants to actually complete the process of seeking U.S. asylum, which may well be the whole point. Trump has encouraged the caravan members to turn around and go home, which indeed some of them are doing. The administration itself is divided on how to implement the policy, while there's a good chance it will be challenged in court.
South of the border, meanwhile, the prospect of turning Tijuana into a holding pen for Central American asylum seekers, for months or even years, is not about to garner much public support. López Obrador takes office with a high approval rating, but a new poll shows his popularity has dropped nine points since August, to 56 percent. He still has some political capital to spend, but the migrant crisis is probably not where he'd most prefer to spend it. The new president has an exceedingly ambitious agenda that his supporters hail as a badly needed revitalization program for Mexico, while his detractors wonder how he's going to pay for it all.
Unfortunately, López Obrador really has no good options here. Let the migrants wait in Mexico, and he looks like a Trump toady; stand up to Trump, and he risks inviting retaliation and doing damage to the U.S.-Mexico relationship which his country can ill afford. He has attempted to square this circle in two ways, first by eschewing any formal agreements in favor of simply recognizing the facts on the ground, and second, by asking the U.S. to chip in on a new economic development program for Central America and southern Mexico.
Foreign Minister Marcelo Ebrard has described that program "like the Marshall Plan, in terms of the size of the effort that is needed," and has suggested a $20 billion contribution by the U.S. Even a normal administration would laugh at that number, much less one as averse to foreign aid as this one, so that's not happening. Still, Mexico might be able to convince Trump to put some American money behind an effort to cut off the northward flow of Central American migrants at its source.
The left-populist López Obrador, who once described Trump as a "neo-fascist" on the campaign trail, has a taken a much more cordial tone toward his now-U.S. counterpart since his election, observant of the fact that it is much easier to do business with the Trump administration when Trump likes you personally. He has signed off on Trump's NAFTA replacement rather than pick a fight, despite his stated skepticism of free trade.
The negotiations that began during the transition, meanwhile, are continuing now that the new president has been sworn in; key members of his cabinet are have traveled to Washington for talks Sunday and Monday with Secretary of State Mike Pompeo and Homeland Security Secretary Kirstjen Nielsen. Mexican officials have indicated that they are prepared to find jobs for Central American migrants at factories near the border and on infrastructure projects in the south. However, they have ruled out the "Safe Third Country" arrangement the Department of Homeland Security prefers, which would require migrants to seek asylum in Mexico instead of the U.S. (This is no more appealing to the migrants than to the Mexican government, as Mexico is not, in fact, particularly safe.)
Even if López Obrador manages to navigate the immediate crisis in Tijuana, the broader migrant crisis will continue to weigh heavily on his administration's agenda. His strategy of pegging the short-term solution to a longer-term development plan is more than just a face-saving measure; it recognizes the fact that desperate people will continue to flow out of Central America, into Mexico, and onward toward the U.S. border as long as the economic and security conditions in their countries are intolerable. Central America won't be stabilized overnight, however, so he will still need a plan for the next caravan, and the one after that. Nearly 700 recent arrivals have been granted humanitarian visas to stay and work in Mexico, while around 11,000 Central Americans have been repatriated in recent weeks, the Wall Street Journal reported on Friday, citing the Mexican interior ministry.
Mexico will continue to offer refuge to Central American migrants who want it and are eligible, but those who want to try to enter the U.S. can't be forced to seek asylum south of the border instead. Unfortunately, Mexican immigration authorities and refugee agency have been ill-equipped to handle the spike in migration that has occurred over the past several years. López Obrador's ability to control this situation will depend on getting these agencies in order, as well as on the overall success of his security plan.
On top of its humanitarian and economic consequences, the migrant crisis ranks among the new Mexican president's greatest political challenges as he begins his term. As of now, López Obrador and his big-tent MORENA party have complete control of the legislature and lots of public enthusiasm for their agenda. Mexicans are looking to his administration to fulfill its promises of cracking down on corruption, fighting drug cartel violence, and fattening working-class wallets. Public anger over uncontrolled immigration, however, can quickly turn an electorate sideways — just ask Donald Trump.