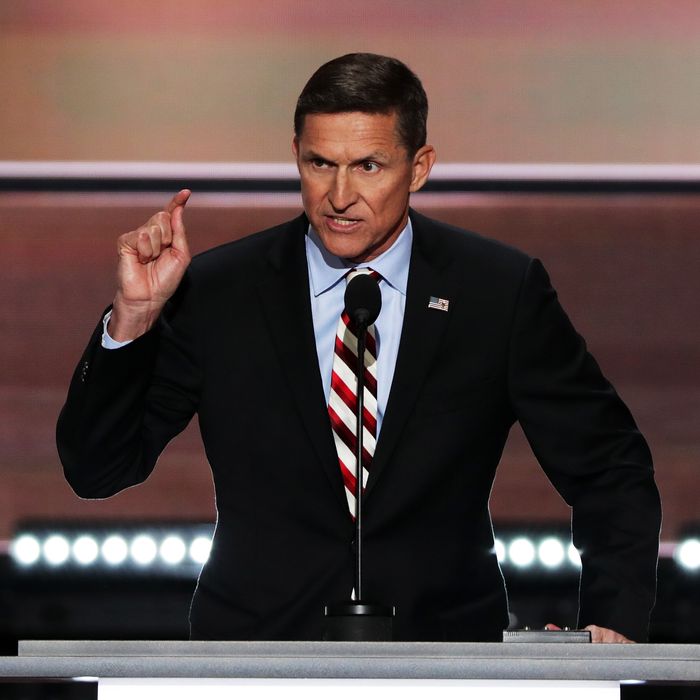 Michael Flynn at the 2016 RNC.
Photo: Alex Wong/Getty Images
Michael Flynn, the former Trump national security adviser who famously led a chant of "lock her up" at the 2016 Republican National Convention, has asked a federal judge to spare him jail time after he pleaded guilty to lying to the FBI last year.
In a sentencing memo, Flynn's lawyers argue that the retired Army general's eagerness to cooperate with Special Counsel Robert Mueller, along with his military service and "genuine contrition," should allow him to avoid the six months in prison he faces. Instead, they're asking for 200 hours of community service.
The request from Flynn's lawyers aligns with the recommendation of Mueller's team, which said last week that Flynn has given "substantial assistance" to "several ongoing investigations." The highly redacted document didn't reveal much of anything about what Flynn has told prosecutors, but what it did make clear is that he's spilling his guts. The memo from prosecutors mentioned that Flynn has met with Mueller's team 19 times and Tuesday's memo from Flynn's lawyers expanded on the extent of his cooperation.
Flynn, it says, has spent 62 hours and 45 minutes meeting with prosecutors and he's "produced thousands of documents to the Department of Justice. Even before his voluntary pre-plea proffer sessions, he had chosen to produce sweeping categories of documents … and facilitated the production of electronic devices."
"On the day he entered his guilty plea, he said he was 'working to set things right.' He has done so," the memo says.
But Flynn's lawyers couldn't help but offer a few excuses for their client, either. Flynn, they write, was not warned prior to the interview that lying to the FBI is a crime. In fact, the agents explicitly decided not to give Flynn this warning. That's not because they were trying to trap him, but "because they wanted Flynn to be relaxed, and they were concerned that giving the warnings might adversely affect the rapport," the lawyers wrote, citing "one of the agents."
The lawyers also sought to differentiate Flynn from George Papadopoulos, the former Trump aide who served 14 days in jail for lying to the FBI. Unlike their client, the memo says, Papadopoulos was warned that "lying to investigators was a 'federal offense' that could get him 'in trouble.'" Flynn, they're suggesting, did not know this.