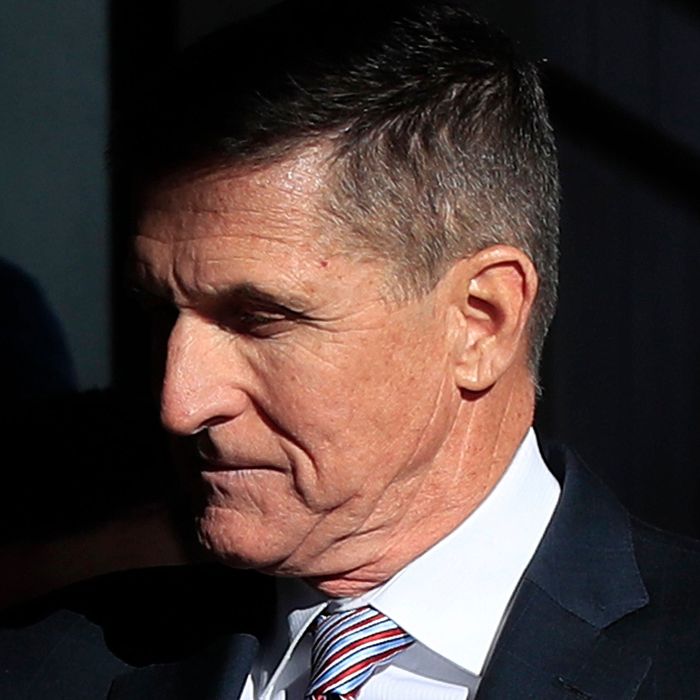 Former Trump national security adviser Michael Flynn
Photo: Manuel Balce Ceneta/AP/REX/Shutterstock
Donald Trump and his allies have spent two years spinning elaborate conspiracy theories about an alleged deep state conspiracy to frame the president and his campaign for imagined crimes revolving around cooperation with Russia. The most recent iteration of these theories have centered around Michael Flynn, Trump's former national security adviser, who has already pleaded guilty to federal charges. Flynn, Trump's supporters claim, had done nothing wrong and was trapped into telling an inconsequential lie to FBI agents desperate to use him against Trump.
Flynn's sentencing hearing today showed that this theory, like every previous exculpatory theory devised on Trump's behalf, is an absurd fantasy.
The precise extent of Flynn's crimes remains largely redacted. But the response of the judge, Emmet G. Sullivan, gives some indication of their severity. Sullivan lectured Flynn, "Arguably you sold your country out … I'm not hiding my disgust, my disdain for this criminal offense." He mused that Flynn may have committed treason, before later acknowledging that treason only applies to assisting foreign enemies that are in a state of war with the United States (which Russia and Turkey were not.)
What makes this turn of events so devastating is that conservatives have held out Sullivan as the judicial hero who would vindicate their theories. Fox News legal pundit Jeanine Pirro called him "a jurist unafraid of the swamp, a judge who has a track record of calling out prosecutorial misconduct, a man who does not tolerate injustice or abuse of power." Wall Street Journal columnist Kimberley Strassel praised Sullivan as "a judge who is wise to the tricks of prosecutors and investigators … His reputation is for being no-nonsense, a straight shooter, an advocate of government transparency."
Anticipating just such a triumph, Eli Lake published a column this morning speculating that Flynn had been entrapped and was owed an apology.
Instead, Flynn's judge reeled in shock at the severity of his crimes, hinting that he might hand down prison time despite Robert Mueller's recommendation that Flynn go free due to his cooperation. For this reason, Sullivan offered, and Flynn accepted, a 90-day delay, so that Flynn might have more cooperation to show in order to bargain down his sentence. In the meantime, Sullivan dealt a death blow to the theory that Flynn's crimes were minor, let alone that he had been mistreated by prosecutors.
Two more mysteries remain. The first is just what crimes by Flynn Mueller's prosecutors found. The second, even larger, is what Flynn gave them on Trump. If his offenses were as serious as Sullivan indicated, and Mueller still suggested he skip prison, it stands to reason that the evidence he turned over concerning other figures is devastating.
Flynn was not set up. He was charged for committing serious crimes. And he is probably going to escape prison because the crimes committed by the people he worked with and for are even more serious.