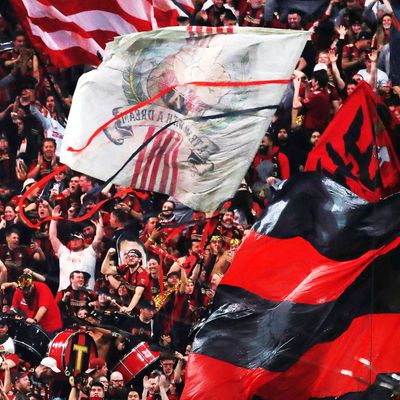 Atlanta United fans during the MLS Cup.
Photo: Todd Kirkland/AP/REX/Shutterstock
In the press box at Mercedes-Benz Stadium on Saturday night, a longtime American soccer reporter, one who has seen every false dawn of America's soccer breakthrough, who once sat through an MLS Cup played in front of 21,000 bored Torontonians between two teams nobody cared about in a freezing stadium, with a telecast that received lower ratings than your average Hee Haw rerun, looked around in wonder. "It's like a Super Bowl in here," he said. "I've never seen anything like it."
The MLS having anything resembling a Super Bowl atmosphere would have been ridiculous as recently as, oh, last year. The MLS's history of trying to gain traction in the U.S. market has been a tortured one, from the early days of dumb attempt to "Americanize" the sport — including a countdown clock that paused during stoppages in play, the soccer equivalent of the glowing puck, or maybe Poochie on The Simpsons — to near-fatal contraction in 2002 to a resurgence in 2007, thanks to the additions of both Toronto FC and David Beckham, two international entities bigger than anything else the MLS had going at the time. But the league has still felt, particularly compared to European leagues and other American sports, small time: a niche of a niche sport. But it sure didn't feel like that Saturday night. It really did feel like a Super Bowl.
Considering the Super Bowl will be held in that same building in two months, we'll have a chance to check the math on that statement. But there was no question that this year's MLS Cup, which featured second-year expansion sensation Atlanta United (the team had larger crowds this summer than most World Cup games) beating the Portland Timbers 2-0 in front of 73,000 lunatic supporters, including this one, marked a clear next rung in the evolution of American soccer.
And, ironically, "MLS 3.0," as has been the long-standing shorthand, may have arrived by, at last, taking a step backward — or what would have seemed like an unconscionable step backward to earlier iterations of the league and its fans. To put in the words of MLS commissioner Don Garber: "We need to be more of a selling league." By this he means: a league that develops young talent, then sells it to the top clubs in Europe. The MLS is finally getting there. And it's doing so by stopping trying to be so damned American — by which I mean so deluded about its place in the international pecking order.
The MLS has had all sorts of fits and starts in its 20-plus years of existence, but one aspect has been consistent: European leagues and fans all see it as a bit of a joke. (A Brit I ran into after the game Saturday wouldn't stop making fun of how happy we Atlanta United fans all were. "You'd all lose to Bury," a lower-tier League 2 team in Greater Manchester.). In addition to the gleeful mockery of American soccer in general — aided by the recent struggles of the men's national team — Europeans have lambasted the MLS for its refusal to admit that it is a middle-tier league, most famously in its tendency to bring in older, fading, past-their-prime Euro stars in a desperate attempt to sell tickets for otherwise insignificant teams. (D.C. United's Wayne Rooney being only the most recent example of the MLS being England's retirement home.) Most leagues in MLS's position spend their time grooming young players and then selling them to the larger European leagues as a way to boost finances and expand their profile, but the MLS, being so steadfastly American, has always resisted that: It is as if the MLS had decided because this is America, we have to pretend that we are the best at everything, and not beholden or inferior to anyone, even if that's not remotely the case. And it has held the league back, for decades now, this illusion that the MLS is a league on the par with MLB, NFL, and NBA — leagues that do truly feature the best players in the world — rather than, in size, scale, and fan base, clearly a development league. It takes itself so seriously that neither Europeans nor Americans can.
But that has begun to change, and the irony is that it's changing because of the team that has brought in its biggest crowds in the league's history. After years of skepticism that soccer could work in the famously fickle sports city of Atlanta, the expansion franchise came in with an explicit plan to do the opposite of what MLS teams usually do in running their businesses. They avoided big-name older players, instead investing in their youth academy and spending their designated player money on young, up-and-coming international players like Josef Martinez and Miguel Almirón. They didn't hire a coaching retread from the American's discard pile, instead hiring former Argentina coach Tata Martino. And they didn't try to try sell their team as anything other than a soccer-first franchise — unlike, say, NYCFC, which basically has half of the Yankees logo and half of Manchester City's, in a stadium that is terrible for soccer — in a diverse urban area that was starved for a team to call its own. Add in owner Arthur Blank, the Falcons owner who may be the most likable NFL owner on the planet (which still puts him in the bottom quarter of humanity in total), who was willing to both spend and provide the training facilities needed to make the team a long-term play rather than a short-term vanity project. The result: the best team in MLS in their first two years, attendance records set essentially every week (Atlanta United is outdrawing every other team in town) and, in year two, an MLS title and a parade through the streets of Atlanta.
But it's what comes next that is going to revolutionize the MLS. Because those players who led them to this title, league MVP Josef Martinez and Almirón (who is widely considered the best talent in the league), they're about … to be sold. Almirón's impending transfer to England's Newscastle United is an open secret, and Martinez, despite his claims of wanting to stay, will be highly sought-after as well. Martino has already announced he is leaving, likely to coach the Mexico national team. In most American sports leagues, when you have young players who just won you a championship, you hang onto them to win you more. But Atlanta United, constrained by the MLS's salary-cap structure and understanding the long-term play here, knows that's not how soccer leagues work, particularly leagues at the MLS's level. So they are rebuilding. This was the plan all along.
And, as described by noted soccer writer Paul Tenorio in The Athletic, this is the direction the league is going. As long as there is a salary-cap structure in the MLS — and considering revenues, that's unlikely to change anytime soon — the league must accept its status as a feeder league. And that is a long-term good, because, it turns out, the best way to increase the profile of your league internationally isn't to bring in older Euro players; it's to show that you have young talent that other countries and leagues would want. As MLS teams have invested in their training academies, they're realizing that having that talent simply play solely for their teams isn't necessarily the best way to maximize their investment. As Tenorio put it:
[Selling] helps to close the perception gap between the current level of MLS and the way the world thinks about the league. While international TV deals have put MLS on a bigger stage globally, there is no quicker way to change minds than for fans to see the effectiveness of players developed in the league. In that way, a [young player] is far more valuable to MLS as a successful Bundesliga starter than he is as a homegrown star in Harrison, New Jersey. The league's ability to sell players on to bigger stages opens it up to a different market when it goes to buy players. By selling a player like Miguel Almirón this winter, MLS will have sent a message to players in South America and other countries that you can use MLS to develop and grow, and use it to make the jump to the top European leagues This isn't something that would be unique to MLS. It happens in Liga MX and in countries like the Netherlands and Belgium. While there is something positive to being a destination—"A league of choice," as MLS likes to bill itself—it's also important to show that MLS isn't a dead end.
In this way, Atlanta United has allowed the league to have its proverbial cake and eat it too: a team that is enormously popular in the moment and set up in a way that allows it to contend in the years moving forward. (With a massive fan base to build around.) Success breeds imitators, and Atlanta United taking the league by storm its first two years is already inspiring other teams, including expansion teams in Miami (which hired Atlanta United exec Paul McDonough to help start their franchise) and Cincinnati, to follow their lead. And there's a long-term gain for the national team as well: Of all the problems former coach Jürgen Klinsmann had during his team in charge of the USMNT, encouraging star players like Christian Pulisic and Bobby Wood to peddle their wares in Europe rather than the MLS was one of his smarter moves.
The point, really, is that the MLS is finally ready to stop pretending that it is, like MLB and the NBA, the premier sports league for the world's best players. It isn't. It's second-tier. Maybe someday it will be first-tier, or closer to it: This is a step toward that, though it's unlikely the league will ever truly make it all the way until the salary-cap issues are resolved. But it has now achieved its highest level by no longer being so stereotypically American. It has joined the rest of the world now, rather than trying to stand alone, and is finding all sorts of success as a result. It feels like there is a lesson there.