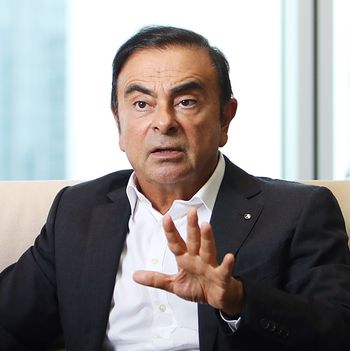 Carlos Ghosn is in trouble.
Photo: Junko Kimura-Matsumoto/Bloomberg via Getty Images
As I have read about the criminal charges against former Nissan chairman and CEO Carlos Ghosn, I have been confused about the nature of those charges: that he had been lying about how much Nissan was paying him.
The context of the charges made clear that he had kept not just the Japanese government (and the public) in the dark about the size of his compensation package, but also much of Nissan's board. How was this possible? How could a company be unaware of how much it was paying its own CEO?
A remarkable, in-depth Wall Street Journal report fills in some details, and reflects the importance of having a board that always monitors a CEO's practices, not just when his management strategy falls out of favor. This is especially remarkable:
Only a handful of people at the company knew what was going on, Nissan says. There was no compensation committee of the board to oversee executive pay, and Mr. Ghosn had almost sole authority to decide how much money top officials made.
This is a very bad way for a major corporation to oversee executive pay. One of the key functions of a board of directors is to set the terms of the CEO's employment. There should be a compensation committee of independent directors that does this.
As the Journal describes, Ghosn's scheme to underreport his pay involved deferring much of his compensation, and then deciding that compensation that was deferred didn't have to be reported yet. The Journal says he had accrued over $80 million in deferred compensation through this strategy, over the objection of auditors from Ernst & Young.
I am still confused about how this scheme was supposed to work in the long run. At some point, Ghosn was going to retire, and then presumably he would seek to collect the $80 million in deferred payments that "only a handful" of people at the company knew about. How was that going to work?
The Journal story also describes a second abuse, for which Ghosn has not yet been indicted:
At the end of 2010, Nissan created a company named Zi-A Capital BV in the Netherlands, which [Ghosn associate Greg Kelly, who has also been indicted] told Nissan's board would be used to make venture investments, according to company filings and people familiar with the matter. Zi-A, which eventually got $82.8 million in funding, became the vehicle through which Nissan would buy additional homes, including the one in Beirut, through multiple layers of shell companies registered in offshore locations.
Additional homes, that is, for the use of Ghosn and his family, including a "four-bedroom, beachfront apartment in Rio de Janeiro's Copacabana neighborhood." Beirut and Rio are not major operation centers for Nissan, but they are places where Ghosn has extensive personal ties.
The Journal describes how junior and senior employees at Nissan grew increasingly discontented in recent years with the strategic choices Ghosn has made. Their view was that Nissan was being used to prop up its less-profitable corporate cousin, the French automaker Renault. This grievance motivated Nissan managers to look more deeply into Ghosn's financial management practices; for example, figuring out what on earth that Zi-A Capital subsidiary was doing, a question the Journal says E&Y had been asking annually. A group of managers, including the board's compliance auditor, only discovered earlier this year that the Ghosn family house in Beirut was owned and paid for by Zi-A.
It's good that they eventually figured out what was going on, but this timeline demonstrates the importance of formalized and independent corporate governance structures that monitor a CEO's actions and how he is compensated, whether he is in or out of favor within the company.
Ghosn was once a legend, widely credited with saving Nissan from bankruptcy in the 1990s. So long as he was revered, he could disregard the advice of Nissan's accountants and do what he wanted. You're not supposed to become subject to board oversight and the law only after you've fallen into disfavor because of your strategic choices.