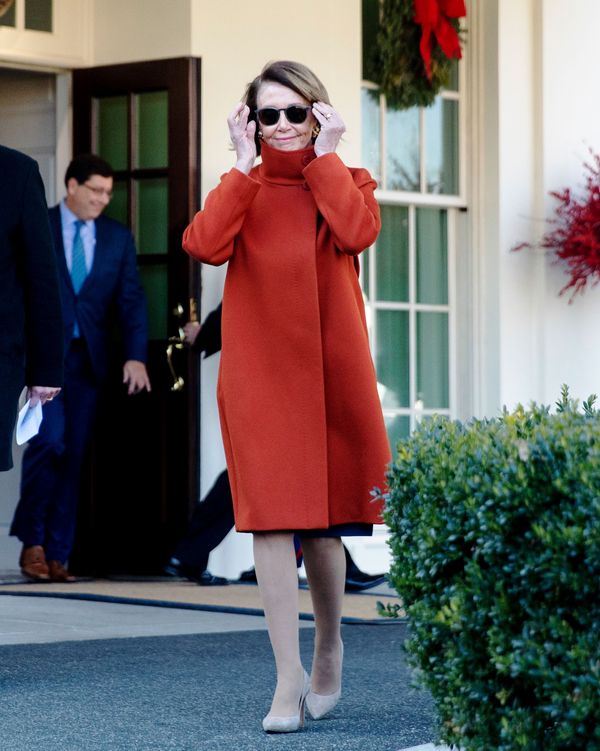 After a rough few weeks, the once and future Speaker is looking good.
Photo: Andrew Harnik/AP
It's finally a done deal: A sufficient number of Democratic holdouts have now agreed to back Nancy Pelosi's speakership bid, enough that she can safely look forward to taking the gavel when the new House convenes on January 3, as Politico reports:
The California Democrat has agreed to limit her time as speaker to four years at most. In return, a critical number of lawmakers who vowed to oppose Pelosi will support her in a crucial Jan. 3 House floor vote.




The proposal also limits the time her two deputies, Minority Whip Steny Hoyer (D-Md.) and Assistant Democratic Leader Jim Clyburn (D-S.C.), can stay in their posts, although those changes will likely have to be ratified by the full caucus.
This was the deal anti-Pelosi rebels floated as part of an effort to ensure an evolution of leadership in the next few years. Pelosi signaled she might go along with it yesterday.
Following her announcement of the agreement seven of her critics released a joint-statement endorsing her for speaker.




"We wish to thank Nancy Pelosi for her willingness to work with us to reach this agreement," the seven lawmakers wrote. "We are proud that our agreement will make lasting institutional change that will strengthen our caucus and will help develop the next generation of Democratic leaders. We will support and vote for Nancy Pelosi for Speaker of the House in the 116th Congress."
The new term limits still have to be formally endorsed by the House Democratic Caucus. But Pelosi has indicated she'll comply with them in any event. That means she is entitled to another term as Speaker and can win one more if she obtains a two-thirds vote of the Caucus at the beginning of the next Congress. In theory, if Democrats lose the House in 2020, she could serve beyond 2022 as Speaker if her party claws back control later, but it's unlikely she could survive another Republican win.
She's already made a lot of history, as the Washington Post notes:
Already the first woman to serve as speaker, Pelosi would cement her place in history by joining a small group of lawmakers who regained the speakership after losing it. She would be the first speaker to do so since Texas Democrat Sam Rayburn took the gavel back in 1955. No other two-time speaker has taken the gavel back after more than four years out of power.
What was not in Pelosi's agreement with the rebels was pretty important, too:
The term limits would not extend to committee chairmen, a proposal that has been deeply controversial among House Democrats.
She'll still lose some Democratic votes in the formal speakership elections, but she's promised not to retaliate against opponents. She'll have real opposition soon enough from House Republicans and the Trump administration.