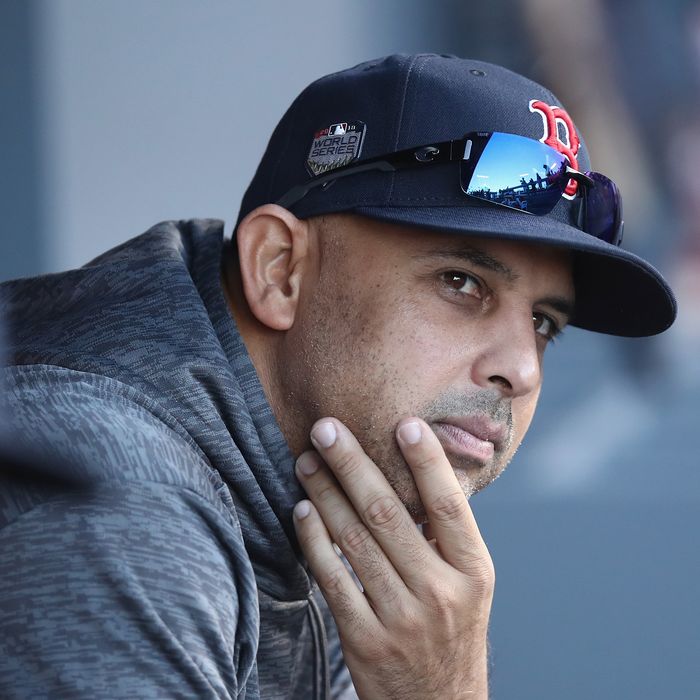 Red Sox manager Alex Cora said he will visit the White House.
Photo: Ezra Shaw/Getty Images
The White House put the Boston Red Sox in a tough spot by inviting them to celebrate their World Series title with President Trump. Turn it down and Republican fans, along with right-wing outrage merchants, including Trump himself, would have an aneurysm. Or accept the invitation and incur the wrath of a fan base in one of the most anti-Trump states in the union.
As team president Sam Kennedy revealed Monday, the Red Sox went with the latter. "It's a great opportunity for the players, an invitation for the players and ownership. It's a great opportunity for those guys to go to the White House and get the behind-the-scenes tour and get the recognition they deserve for the world championship," Kennedy said.
There's not a date yet for the visit, and it's unclear who will represent the team. Manager Alex Cora said he'll be there, which comes as a bit of a surprise. The 43-year-old Puerto Rican has spoken out against Trump before, calling him "disrespectful" for pushing conspiracy theories about the Hurricane Maria death toll.
"I respect him. He's the president of the United States. But I don't agree with a lot of stuff that he says about us," Cora said in September.
On Monday, Cora said he plans to use his "platform the right way" when he visits the White House. If that means attempting to enlighten Trump on the lasting damage done by Maria, well, good luck with that.
"I'm not going to embarrass anybody," Cora said Monday. "Actually I'm going to represent probably 4 million people from back home the right way when we go there. Yes, I will go."
Red Sox fans across New England, and especially in Boston, are sure to be annoyed by the team's decision. The city voted against Trump by one of the biggest margins in the country in 2016, and an October 2018 survey found that 61 percent of people in Massachusetts disapprove of him, behind only D.C. and Hawaii.
Given the level of antipathy for Trump in the team's own backyard, it would have been understandable if the Red Sox turned down the invite, especially after the team worked hard this spring to change the name of a street that once honored former owner Tom Yawkey, who was "racist even by the hideous standards of his era."
In February, the Red Sox filed a petition to change the name of Yawkey Way outside of Fenway Park. The request was granted in April, despite criticism of the team, and Yawkey Way was renamed Jersey Street. Hard to imagine why a team that just fought to distance itself from a dead racist would accept an invitation from a living one.