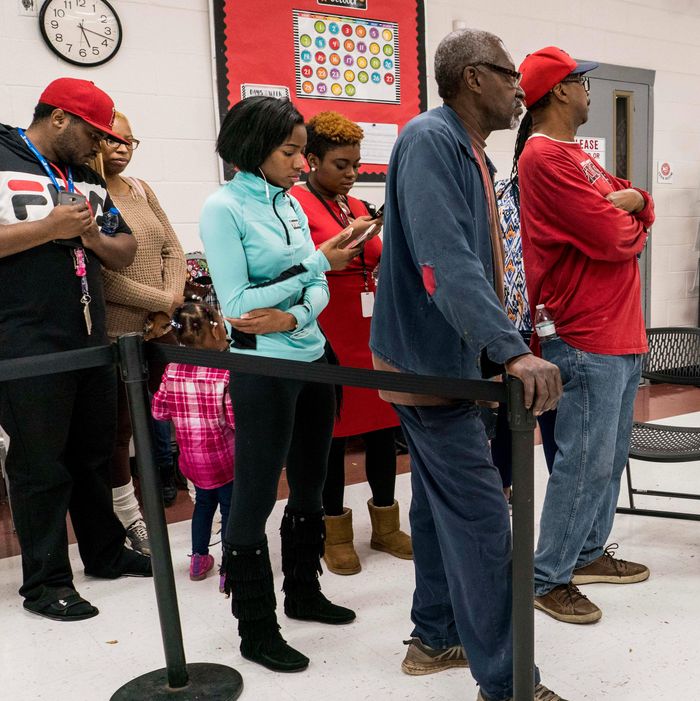 In the midterms African-American voters gave another decided thumbs-down to the president and his party.
Photo: Melina Mara/The Washington Post/Getty Images
Donald Trump said a lot of preposterous things while running for president in 2016. But for my money, this was the most preposterous thing of all:
Speaking before another largely-white audience in a town whose population is 93 percent white, Trump said, "And at the end of four years, I guarantee you that I will get over 95 percent of the African-American vote. I promise you. Because I will produce."
He's going to have to kick it in gear if he's to fulfill that promise. Because as of 2018, he and his party are as unpopular as they were in 2016, when he lost the African-American vote to Hillary Clinton by a 8- to 89-percent margin. According to midterm exit polls, the GOP lost the black vote this year by a 9-to-90 margin. An election eve poll of African-American voters, moreover, showed that 83 percent said Trump made them feel "disrespected," and 79 percent "angry." In the same poll 48 percent of African-Americans labeled Trump a racist who is deliberately trying to hurt minorities. These are the sort of benchmarks that represent quite the challenge to the many conservatives who have claimed that Trump is slowly winning over this community (though no one has been foolish enough to embrace his "95 percent" prophecy).
At FiveThirtyEight Perry Bacon Jr. suggests that Trump-era Republicans have really stopped trying to appeal to African-Americans:
The Republican Party has struggled to get significant support from black voters for decades. What's different now is that many GOP officials seem to have stopped trying to speak to them, no longer paying even minimal lip service to their concerns. Changes in both parties' bases of support have shifted the incentives for elected Republicans, and you can see that in their rhetoric.
Trump himself is a font of insensitive rhetoric. And he has gone out of his way to embrace even more insensitive Republican pols such as Georgia's vote-suppressing Brian Kemp and Mississippi's Confederate-loving Cindy Hyde-Smith. It was telling also that African-American Republican senator Tim Scott had to put a stop to the effort by Trump and Senate Republicans to place an old vote-suppressing compadre of Jesse Helms's, Thomas Farr, in a lifetime federal judgeship.
While Trump has a lot to do with African-American hostility to the GOP, it must be recognized that the support of that party for basic civil rights has devolved a long way very quickly. As recently as 2006, President George W. Bush signed a reauthorization of the Voting Rights Act of 1965. By 2013, five Republican-appointed Supreme Court Justices moved to gut enforcement of the VRA in the Shelby County v. Holder decision, holding that the formula for jurisdictions under the regular supervision of the Justice Department for voting rights irregularities needed to be updated. Interest among congressional Republicans in enacting a modified VRA faded quickly. And now Republicans have stopped even talking about it, and instead are full of the dog-whistle rhetoric of phantom "voter fraud." So how do you expect black voters to react?
If by 2020 the economy goes south — as a majority of economists now project — then African-American antipathy for Trump and the GOP will only grow. And if a black Democrat (two, Cory Booker and Kamala Harris, are widely expected to run for president) is on the national ticket opposing Trump, then Barack Obama's 95 percent of the African-American vote in 2008 is a pretty good expectation. Maybe Trump just had it all backwards.