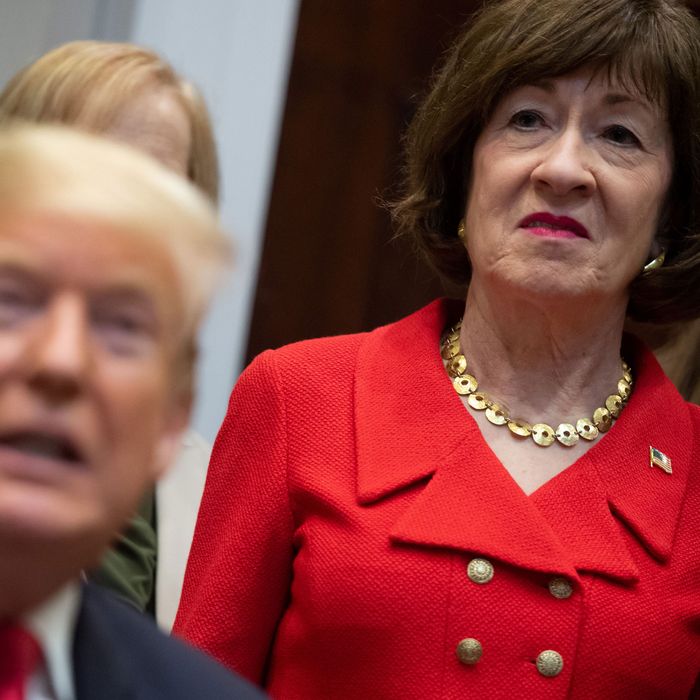 Collins is very lonely now. And Trump isn't helping her party in New England.
Photo: Saul Loeb/AFP/Getty Images
With the defeat of Maine U.S. House member Bruce Poliquin (assuming his long-shot legal challenge to ranked-choice voting doesn't succeed), his Senate colleague Susan Collins has the dubious distinction of now being the only Republican in Congress from any of the six New England states. So Democrats hold 32 of 33 Senate and House seats from a region that was once a Republican stronghold.
Before New England's Yankee population began to be rivaled by immigrants from Ireland, Italy, and Quebec (among other places), the Republican Party was generally dominant. Vermont went Republican in every presidential election from 1856 until 1964. Maine contributed Lincoln's first vice-president, Hannibal Hamlin; the powerful 19th-century House Speaker Thomas "Czar" Reed; and 1884 presidential nominee James Blaine. Massachusetts Republicans produced President Calvin Coolidge, the Lodge dynasty, and Ed Brooke, the first African-American to serve in the Senate since Reconstruction.
Even more recently, the region was relatively competitive, as former New Hampshire senator Judd Gregg has noted:
After 1980, New England had five Republicans in the United States Senate. There were also nine Republican members of the House of Representatives elected from the five [sic] New England states — at least one from each state.
Collins is up for reelection in 2020, and there is much speculation she might retire; she nearly left the Senate for a gubernatorial run this year. And if she does run, she will have tough sledding, particularly after her decisive vote to confirm Brett Kavanaugh's Supreme Court nomination (which quickly produced a crowdsourced fund of $3 million for her future opponent). Aside from progressive anger at Collins, her brand of relatively centrist Republicanism (which used to be the norm for Republicans throughout New England) is out of step with her fellow party members, as represented by her own state's fiery conservative governor Paul LePage, who was term-limited this year.
At the same time New England Republicans have been all but wiped out in Congress, however, they still hold unlikely governorships in Massachusetts (Charlie Baker) and Vermont (Phil Scott) via old-school moderate candidates who have succeeded in ignoring Donald Trump and the toxic issue positions of their national party and pursuing a mix of social liberalism and fiscal conservatism. It's not an approach that's likely to work as well in congressional elections where it's impossible to ignore the president, which is why Susan Collins is unlikely to obtain any partisan company in 2020, even if she survives herself.