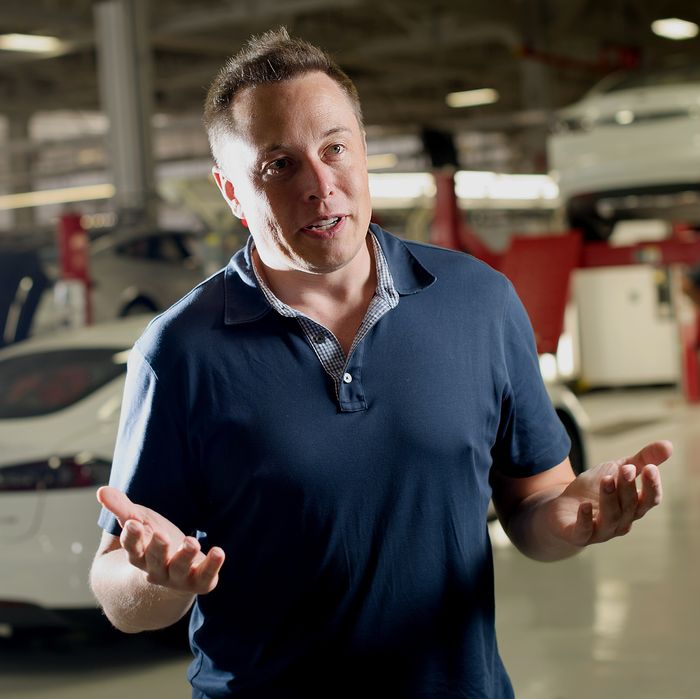 And a roller coaster! Come on!
Photo: Noah Berger/Bloomberg via Getty Images
Workers at Tesla's Buffalo Gigafactory are unionizing to demand better compensation and improved workplace conditions, WVIB News reported on Thursday morning. The United Steelworkers and the International Brotherhood of Electrical Workers are leading a joint drive to organize different job descriptions — production and manufacturing — within the factory. "They can improve on demands from the workers that are much needed in the workplace," said Tesla worker Pete Farrell, going on to cite "fairness, job security, higher wages" as reasons to organize. WVIB plans to release a lengthier investigation into the Gigafactory's conditions on Thursday evening.
Tesla's Twitter-happy founder and CEO, Elon Musk, has yet to weigh in on the matter, but soon he may have to. Buffalo's Gigafactory isn't the only Tesla facility to try to unionize. When workers at his Fremont, California, car plant announced their intention to organize with the United Auto Workers in 2017, BuzzFeed News reported that Musk accused one worker of being a "union plant" in an email to staff, and promised to build "a Tesla electric pod car roller coaster" and free frozen-yogurt machines. This did not dissuade Tesla workers from organizing, in Fremont or elsewhere. In fact, if conditions inside the Buffalo facility resemble those at Tesla's other factories, the USW/IBEW organizing drive looks inevitable.
A Wired report, published Thursday morning, depicts a mercurial Musk who regularly berates employees at his Nevada Gigafactory, seemingly with no check on his power. "Sometimes Musk would terminate people; other times he would simply intimidate them. One manager had a name for these outbursts — Elon's rage firings — and had forbidden subordinates from walking too close to Musk's desk at the Gigafactory out of concern that a chance encounter, an unexpected question answered incorrectly, might endanger a career," Wired wrote.
Several months ago, a lengthy Business Insider report on the Nevada factory described it as a crowded, chaotic place that overworked employees. "People quit within the first two hours, people quit after a week. There was one guy who was fresh out of high school, 18 years old, never had a job before and was excited to work: 'I want to work seven days a week, 12 hours a day!' By about the fifth day, he was on the floor crying," Jonathan Galescu, a welder, told Insider. Galescu is trying to organize a union at Tesla, and he, like his would-be comrades in Buffalo and Fremont, face stiff opposition from the company's management.
Though Tesla has said employees are free to unionize as they choose, workers themselves have repeatedly complained of anti-union coercion and intimidation from management. One former worker, Dezzimond Vaughn, told the Guardian in September that he believes he was terminated for holding union meetings at his home. The Guardian verified Vaughn's record of superlative work performance — and verified, too, that his reviews suddenly took a downward turn after management learned that he'd begun to organize. Other California workers said they were discouraged from wearing union shirts, and that management shut down workplace conversations about organizing. Though Tesla has taken some steps to reduce injuries, a Reveal investigation found in April that Tesla had omitted some workplace injuries from its official reports, which made the company's factories look safer than they actually were.
UAW has filed several unfair labor practices charges against Tesla with the National Labor Relations Board. According to Jalopnik, one of those complaints stemmed from a meeting Musk held in 2017, during which he reportedly told workers that "it would be futile for them to select a union as their bargaining representative by telling them that employees did not need a union and that [Tesla] would allow them to have a union if [Tesla] failed in its efforts to remedy their safety grievances." On December 21, representatives for Tesla and the UAW are scheduled to file new briefs in an ongoing NLRB hearing. At times, Musk himself has complicated those very NLRB proceedings; the board filed a complaint in August alleging that Musk violated labor laws when he appeared to tweet that workers would lose their stock options if the UAW organized the company's Fremont, California, plant. In July, Musk's girlfriend, the musician Grimes, also inserted her foot directly into her mouth on the subject of unions; on her own Twitter account, she claimed that she had tried to "instigate" a union vote, whatever that means.
Buffalo workers, then, are wading into an already-fraught battle. Though they aren't working with the UAW, their organizing drive still increases pressure on Tesla management. And Buffalo is capable of throwing quite the gauntlet. Once a mighty steel town, Buffalo has a strong labor history with USW in particular; the union even once represented workers at the defunct steel plant that the Gigafactory replaced. Complicating matters even further, the Gigafactory was built with $750 million in taxpayer funds as part of Governor Andrew Cuomo's vaunted Buffalo Billion project. Though Cuomo branded the project as a way to revitalize Buffalo's economic health, the New York Times reported in July that the Buffalo Billion has achieved "uneven" results for the city and surrounding region. Perhaps for related reasons, eight people connected with the project were either convicted or pleaded guilty to charges of corruption. One, Alain Kaloyeros, is headed to prison for three-and-a-half years, according to the Rochester Democrat and Chronicle. Some local officials had already expressed concern that Tesla wasn't on track to deliver the employment results the company had promised, something Tesla itself disputes.
Musk has said that Tesla's work will change the world. Cuomo wanted to change Buffalo. Buffalo's Gigafactory workers look ready to call in both promises.
Update: Tesla responded to this piece with the following statement:
Tesla greatly values its employees and the direct relationship it has with them at our Buffalo facility. We offer wages and benefits that exceed those of other comparable manufacturing jobs in the region, and we recently increased our base pay even further. In addition, unlike other manufacturers, every single employee is an owner of Tesla, as everyone receives stock upon hire and for good performance, which results in significantly more compensation beyond our already high wages. 

 

Other factories are shutting down in the US and we still have a long way to go to make Gigafactory 2 financially sustainable. Nevertheless, we continue to do everything we can to keep exceeding our commitments to jobs and business in Buffalo.

 

Today's demonstration consisted almost entirely of groups outside of Tesla, not Tesla employees. And ultimately, it's up to our employees to decide if they want to be unionized. While we will never please everyone outside of Tesla, we have an unwavering commitment to providing a great workplace for our employees. That's what matters.