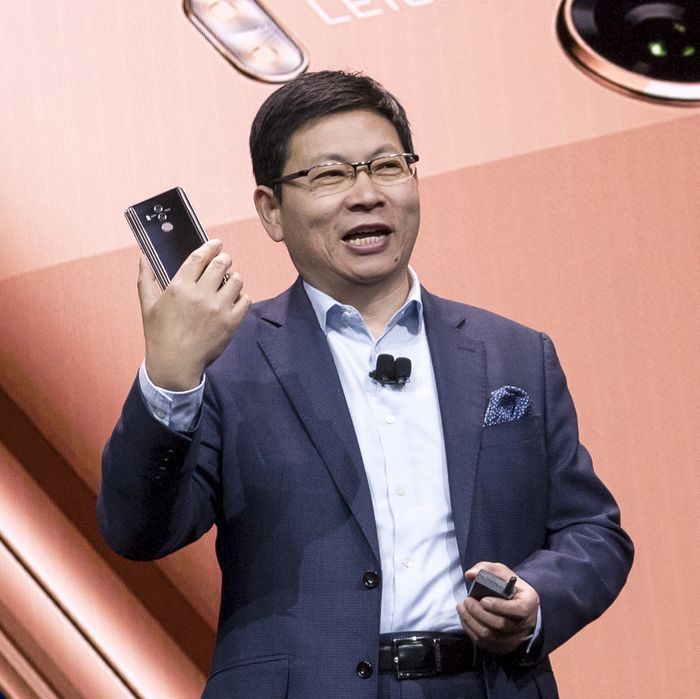 Richard Yu, CEO of Huawei, holds the Mate 10 Pro smartphone while speaking during the company's keynote event at CES.
Photo: David Paul Morris/Bloomberg via Getty Images
Every iPhone has it: the small etching reading "Designed by Apple in California, Assembled in China." And while China still assembles phones for Apple, in mid-2018, Chinese smartphone manufacturer Huawei surpassed Apple to become the second-largest manufacturer of smartphones on the planet, second only to Samsung. China — the single largest market for smartphones in the world — isn't just where smartphones are put together for foreign companies anymore.
While the smartphone market may not be the rocket ship it once was, a new class of Chinese smartphone manufacturers are quickly coming into their own, many posting double-digit sales growth and finding profitable niches in markets across the globe, whether that's continental Europe, India, Latin America, or Africa. As companies like LG or HTC eye exiting the smartphone space altogether, and Samsung attempts to realign its brand around mid-tier phones, hyperaggressive Chinese companies stand uniquely well-positioned to take advantage.
One place you won't find many of these brands? U.S. store shelves, due to pushback from a U.S. government that sees Chinese manufacturers as both a security and business threat. U.S. carriers have therefore been leery to sell phones from Chinese manufacturers. But governments change, and so do attitudes. Your next phone may not come from a Chinese company, but the phone you buy after that may very well. With some help from Gartner analyst Anshul Gupta, here are the Chinese smartphone makers that will be shaping the face of the mobile industry over the next decade.
Huawei
Smartphones Sold in 2017: 150 million
Flagship Model: Huawei P20 Pro
Ideal User: Anyone in the global upper-middle class
Huawei (pronounced, per Huawei itself, "wah-way") popped up on many Americans' radars after its CFO Meng Wanzhou was arrested by Canadian police for potentially violating American sanctions against Iran. While it's unclear how that case will play out, the company itself has quickly become a major global presence on the smartphone market, becoming the second-largest manufacturer of smartphones in mid-2018, surpassing Apple and second only to Samsung. A shift away from low-end handsets has worked out for Huawei, where its high-end phones have been enthusiastically received in Europe, the Middle East, and China itself. "It's a global player with strong distribution, brand, and a broad portfolio," says Gupta. It did well even during a downturn in the Chinese consumer market, and spent much of 2017 and 2018 on an acquisition spree. It wouldn't be surprising for Huawei to eventually snap up some of the other brands on this list for itself.
Oppo
Smartphones Sold in 2017: 112.4 million
Flagship Model: Oppo Find X
Ideal User: Someone who wants a phone that turns heads
Oppo phones have done exceptionally well in the still-developing markets of India and Southeast Asia, where it shoved aside the former leader Samsung with low-cost, high-quality phones that look much more expensive than they are. It managed to get global attention in mid-2018 with the Oppo Find X, one of the first phones to have no bezel whatsoever, even hiding the front-facing camera behind the screen — an ambitious design that other companies will only be catching up to in 2019, showing that Oppo is serious about competing for the European and U.K. market. "Oppo has a strong brand, distribution, and premium positioning," says Gupta.
Vivo
Smartphones Sold in 2017: 99.7 million
Flagship Model: Vivo Nex
Ideal User: Mid-market customers who still want something shiny
Vivo was one of the first Chinese manufacturers to move into India, where it sold low-cost handsets when Indian consumers were first beginning to buy. It turned heads when it released what was then the world's thinnest smartphone, the X1, in 2012, and has continued to do so with clever engineering. The Vivo Nex, a mid-budget phone with an all-screen design, solves the problem of where to put the front-facing camera by having the camera pop out of the phone in a very R2-D2-esque manner when you want to take a selfie.
Xiaomi
Smartphones Sold in 2017: 89 million
Flagship Model: Xiaomi Mi 8 Pro
Ideal User: Apple lovers who don't love Apple prices
Beijing-based Xiaomi knows what its users want: phones that look like iPhones, but don't cost as much as an iPhone. Catch a glimpse of a Xiaomi Mi 8 Pro from across the room, and you'd be hard-pressed to say whether it was or wasn't an iPhone X. It's a strategy particularly well-suited for the Chinese market, where Xiaomi remains the top-selling brand, as Chinese users use WeChat, a messaging app that's essentially an operating system unto itself, allowing users to do everything from send a photo to pay their rent to apply for college — and WeChat works equally well on Android or iOS. It's also found success in other markets where consumers like the aesthetics of the iPhone, but don't much care about actually using iOS or being in Apple's ecosytem.
ZTE
Smartphones Sold in 2017: 50.5 million
Flagship Phone: ZTE Axon 9
Ideal User: Prepaid-phone-plan buyers or anyone looking for a phone on the cheap
ZTE was, until very recently, one of the more popular brands in the U.S., thanks to often being packaged in deals with prepaid cell phone plans from carriers like MetroPCS. The U.S. Commerce Department abruptly banned the phone maker from working with American manufacturers, which would have crippled the company, after ZTE admitted to shipping parts to Iran and North Korea. After paying over $1 billion in fines, ZTE is recovering, and continues to carve out a spot for itself in the affordable market segment.
Lenovo
Smartphones Sold in 2017: 47.5 million
Flagship Model: Motorola G6 Plus
Ideal User: Savvy North American phone shoppers who love a good deal
After Google stripped Motorola for patents and parts, it sold the former American phone manufacturer to Chinese firm Lenovo in 2014, where Lenovo has had success using Motorola's brand recognition to sell very well-built and reasonably priced phones, successfully establishing a comfortable niche as the budget smartphone of choice for savvy North American phone shoppers. Motorola has also been happy to experiment phones have played around with ideas like modular phones, shatterproof screens, batteries users can pop in and out, or rolling out the first phones with insanely fast 5G data connections, but its bread and butter remains things like the Motorola G6 Plus, a $250 phone that you could easily pass off as a $500 phone to the unsuspecting.
Alcatel
Smartphones Sold in 2017: 41.3 million
Flagship Model: Alcatel 5
Ideal User: Users on a budget who still want high-end specs
Alcatel is French brand owned by Finnish firm Nokia and licensed for cheap by Chinese television manufacturer TCL, but it's seen success selling phones in developing markets in Latin America. It's strategy is made plain in the Alcatel 5, released in February of 2018, which features a massive screen, facial recognition, and dual-lens front-facing cameras for portrait-mode selfies, and a price point under $200.
Tecno
Smartphones Sold in 2017: 11 million
Flagship Phone: Tecno Spark 2
Ideal User: One of Africa's growing middle class
Trannsion, the holding company of Tecno and a host of other brands, has effectively staked out a dominant position in Africa, where it produces three of the continent's top-ten-selling phones. It's also China's largest exporter of phones, shipping out over 150 million phones in 2017, but that number includes feature phones (i.e., flip phones and non-touchscreen phones) that are still popular in Africa, where weeklong battery life and ruggedness remain major selling points. The smartphone market, meanwhile, is still ripe for growth, and the Tecno Spark 2 is the type of phone you'd see on the streets of Lagos or Nairobi, where the continent's rapidly growing middle class has already transitioned from feature phones to smartphones, and the Spark 2's price point of $100 hits the sweet spot of features and price.
OnePlus
Smartphones Sold in 2017: Unknown
Flagship: OnePlus 6T
Ideal User: Anyone who takes pride in both saving money and their phone's Geekbench score
If you're an American, the one manufacturer on this list that you're most likely to have considered is OnePlus, which gained a ton interest from the American gadget media by making its first phone, the OnePlus One, invitation only. OnePlus has since established a nice solid position turning out phones that stuff the highest-end specs possible into the lowest-cost phone possible. Consistently well-reviewed by the tech press, if you want to feel superior about how little you paid for your phone while watching someone play with their iPhone or Galaxy on the subway, the OnePlus is for you.