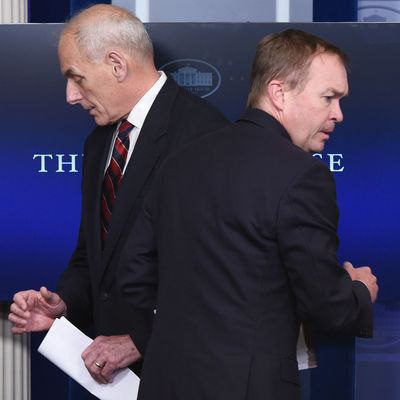 John Kelly and Mick Mulvaney were not exactly friendly.
Photo: Mandel Ngan/AFP/Getty Images
One morning earlier this year, minutes after White House chief of staff John Kelly left a meeting among a small group of senior officials in the West Wing, he learned that details from the meeting had already been leaked to reporters, who emailed his aide with an inquiry.
Kelly printed out the email and used a highlighter to trace over the information that most upset him. He addressed the paper to another senior White House official and, in the margin, wrote a note —"LEAK?" — then left it for the official to find on their desk.
The implications of the act were clear to the recipient: Kelly, in his passive-aggressive style, was making an accusation. In doing so, he was undermining the very sense of unity he was supposed to be fostering among his colleagues.
He'd been hired the previous summer with an uncomplicated but impossible mandate: bring order to Donald Trump's White House, a place run by amateurs and defined by chaos. Leaks had functioned as both a cause and a symptom; leaks described a state of chaos and paranoia, which created more chaos and paranoia, which prompted yet more leaks, and then leaks about the leaking, pointing fingers at suspected leakers. Readouts of meetings held to address the leaking epidemic were often leaked immediately after they ended.
Kelly never managed to fix the place or even to make many tangible improvements during his more than 16 months on the job. But as his time there comes to an end, it's clear that he was a transitional figure, under whose rule the West Wing became an insular environment that is more dysfunctional than ever. And now he has been replaced by another transitional figure, the "acting" chief of staff Mick Mulvaney, who already holds two roles in the administration, as the director of the Office of Management and Budget and the acting director of the Consumer Financial Protection Bureau. The decision followed a week of speculation after Trump announced that Kelly would be leaving at the end of this year but admitted he wasn't sure who would take his place.
Mulvaney does have one advantage: He has demonstrated his loyalty to the president since the beginning. "It's cultish. It's Stockholm syndrome," said one person close to the White House. "There's this thing that's set in of a bunker mentality. There's less infighting because of the bunker mentality." Nevertheless, as the incoming Democratic Congress prepares to challenge Trump, and various law enforcement investigations draw ever closer to him, it seems unlikely that Mulvaney will be able to do much to change the place.
What has historically been a prestigious and powerful job in any administration is, in Trump's, a death sentence: too visible, too difficult, too much legal exposure, and so on. Thanks to Trump's uncertainty, the search to replace Kelly became an inverse pageant in which there were many contestants, but none who wanted to win. Suddenly even the career strivers who, under ordinary circumstances, would kill for the gig, were preoccupied with their families. "Leading candidates" announced that they could not take the job at this time mere hours after they were identified as such in the media.
Yet even as it reflected poorly on him, Trump seemed to welcome the drama as a distraction from news about federal investigations and his former lawyer going to jail. The caveat in his Friday announcement — Mulvaney is "acting" chief of staff, not chief of staff — left room for the guessing game to continue.
"It's a hard job under the present circumstances," the person close to the White House told New York, referring to the clannishness of the remaining senior staffers inside. "They don't like a new person in there."
Kelly's predecessor, Reince Priebus, was a Republican National Committee alum from the Midwest who performed the job with a putty fist. He lasted six months, and in that time, it was unclear he did anything other than spar with his colleagues, like Steve Bannon, who frequently sought to humiliate him — anonymously, of course — in the press. On one occasion, with nothing better to do, Priebus and Bannon spoke at length to New York about how, despite how it looked, they were in fact the best of friends: "Reince is giving me my daily back massage," Bannon had joked; Priebus assured me, "I don't have time to play the double-reverse-agent role and run the White House at the same time."
Priebus never seemed sure about how to address the toxicity of his workplace, and so he didn't try to. "Reince just pretended it wasn't happening," one former senior White House official told New York about the leaks. There was optimism, at first, about replacing Priebus with a four star general who'd commanded U.S. forces in Iraq. But quickly, it became clear that however fraught it felt, the West Wing wasn't a battlefield, and the mere ability to issue orders doesn't mean anyone will follow them. And then what do you do?
Shortly after Kelly was named chief of staff, he entered a meeting to find the man who would one day succeed him, Mick Mulvaney, was there despite not being on the approved list of attendees. "Kelly flipped out on Mick and said, 'You wanna be the fucking chief of staff? Here, I'll just leave because you wanna be the chief of staff,'" the second former official said. Mulvaney and the president were both confused by Kelly's reaction, according to this person, who recalled the president saying, "But he's Mick. What do you mean he's not on the list? What are you talking about?"
"Kelly was always trying to instill some sense of order and wanted things to be very regimented," the second former White House official told New York. In meetings with the president, Kelly would conduct: "Okay, you talk now. You talk now. You talk now — and that's not how Donald Trump works, obviously, so there was always a tension in meetings, because Kelly was trying to lead the meetings but Trump leads any meeting or conversation he's in."
These changes had a practical purpose: Kelly had cut down on the number of meetings in general and made the meetings that were held a more exclusive affair, reasoning that with fewer people as witnesses, there would be fewer leakers and the identity of those who did leak would be more obvious.
"The nature of leaking has changed," a third former White House official said. "Some of it can be attributed to this bunker mentality, where there's not a lot of people left and they're getting a hailstorm of bullets on them every single day and people are generally less likely to leak when they're getting shit on every day."
"He would come into a meeting and say, 'You're probably going to leak this,' " the first former senior White House official said. "I don't think he ever really understood how it actually worked. It was kind of weird that the people he gravitated towards in terms of becoming his allies were some of the most prolific leakers."
An irony of the Kelly era was that even those around the president who had been desperate for help supervising him, like Jared Kushner and Ivanka Trump, were never able to overcome their differences with Kelly. The disunity that plagued the White House in its first few months never went away; the feuding just moved further and further out of view.
In recent months, the circle of trust containing Trump's most senior advisers has contracted to exclude almost everyone outside of the core group. The president has even been advised that he can no longer speak freely about what certain aides are thinking or have said in conversations with him, since the risk of a leak is too high.
"It's really solidified," the person close to the White House said. "You just get that feeling from listening to them that there's no air. There's no movement. There's no concession about anything anymore. Everything is sort of the propaganda: 'We bring it home. We don't leave it.' Whereas before, there would at least be an, 'Oh god, he did this. Ah, he's making it hard' — there was a little normality to it." Now, this person said, either the president's agents are reluctant to break character, or their character itself has changed.
"They're all hunky-dory together. It's from being in the bunker together."