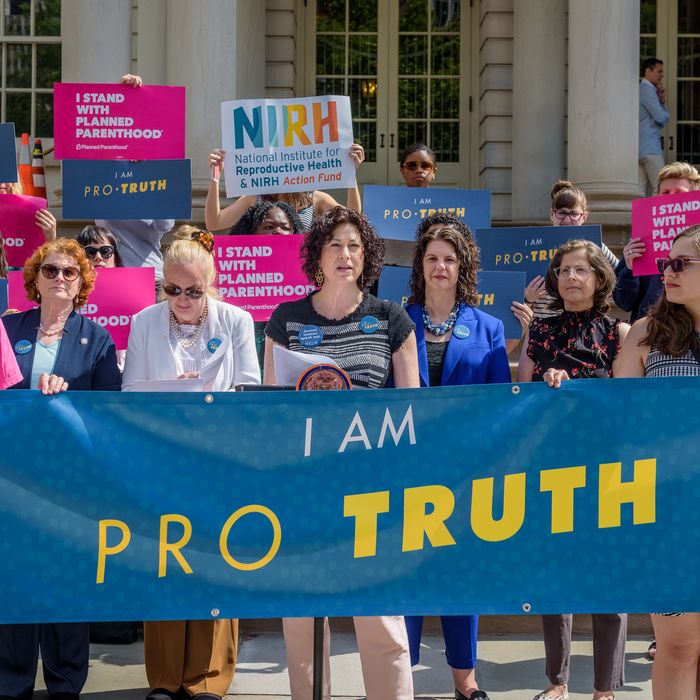 Reproductive rights advocates protest on the steps of New York City Hall on June 8, 2018.
Photo: Pacific Press/LightRocket via Getty Images
With a new Democratic trifecta set to take power in the state of New York, reproductive rights activists are preparing to demand passage of a new abortion rights law. The New York Daily News reported on Wednesday that the National Institute for Reproductive Health Action Fund is launching a $500,000 media campaign to promote the Reproductive Health Act, which would expand access to late-term abortions and regulate abortion as a health-care procedure. NIRH also intends to target some newly elected state legislators to "bolster their commitment to the bill and demonstrate widespread public support," NIRH president Andrea Miller told the Daily News. Governor Andrew Cuomo told the paper he supports both the campaign and the RHA. The RHA has repeatedly passed the House only to die in the Senate, where Republicans held a majority for many years, thanks to a group of rogue Democrats.
New York might be blue, but NIRH's campaign is only necessary because the state's abortion laws are surprisingly archaic. The state of New York has regulated abortion access in the criminal code since 1970. At the time of its passage, New York's abortion law was notably forward-thinking, and thousands of women traveled to the state from 1970 to 1973 to undergo abortions they couldn't access elsewhere. But post–Roe v. Wade, the law has aged badly. The state restricts, significantly, the pool of medical professionals who are authorized to perform the procedure, and abortion is illegal in most cases after 24 weeks of pregnancy. Nationwide, over 90 percent of women who choose abortion undergo the procedure before 13 weeks of pregnancy; New York's law mostly penalizes women who need late-term procedures as a result of fetal non-viability or some other health crisis.
Erika Christensen, a New York City resident who originally shared her story of needing a late-term abortion anonymously to Jezebel, outlined her struggles in a follow-up story for Rewire.news. After Christensen and her husband learned that their unborn baby suffered from severe health conditions "incompatible with life," state law forced them to travel back and forth from Colorado to New York. It's an expensive trip, financially and psychologically, stacking burdens on top of burdens. "My internal questions played like a tape over and over in my mind: Why am I here? Did New York expect me to carry this baby to term, only to watch him suffer and die?" Christensen wrote, urging passage of the RHA.
If the state legislature passes the RHA and Cuomo signs it into law as he's promised to do, abortion will move from the criminal code to the health code, and it will be easier for physicians' assistants and nurse practitioners to perform abortions. By expanding the pool of medical professionals authorized to perform abortions, RHA advocates like NIRH believe the procedure will become easier for women to access.
With the RHA, New York legislators also have an opportunity to establish the state's progressive bona fides in distinct opposition to the administration of Donald Trump. One of the clearest through lines of Trump's presidency has been his willingness to appoint far-right Christians to influential positions. From allowing Scott Lloyd, the head of Health and Human Services' Office of Refugee Resettlement, to block teenage refugees from accessing abortion to putting Neil Gorsuch on the Supreme Court, the Trump administration actively facilitates the erosion of abortion access in the U.S. But now that New York is fully controlled by Democrats, there's an opportunity to take a different path. With Trump in power, the state may well find itself in a position it occupied before the Supreme Court handed down Roe in 1973 — that of a national beacon for women's rights.