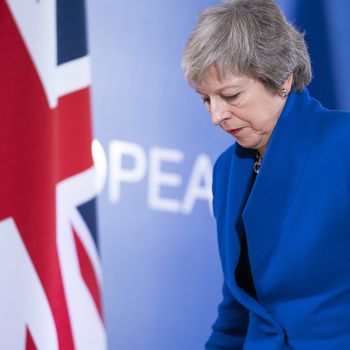 May was given an impossible task.
Photo: Jasper Juinen/Bloomberg via Getty Images
Pity Theresa May. After trying so hard at the impossible task of negotiating Brexit, the hard-luck British prime minister on Monday postponed a Parliament vote on the draft agreement she had reached with E.U. negotiators in November. Had the vote gone ahead today, she acknowledged, it would have been defeated "by a significant margin."
She doesn't have the votes. She never did — and most likely, she never will. Indeed, May's Brexit deal was practically dead the moment she first unveiled it, with over 60 members of Parliament rejecting it out of hand. The objections came from all quarters: pro-Europe MPs who didn't support Brexit at all, hard-line members of her Conservative party who wanted a "harder" Brexit, and Northern Irish allies of the Tories who consider her plan for the Irish border unacceptable.
The prime minister had a scant two weeks to whip dozens of votes into her column, but by Monday, if anything, opposition to the deal had only grown. Facing the prospect of a three-digit defeat that would likely spell the end of her tenure at 10 Downing Street, May wiped the vote off the calendar and promised to go back to her E.U. counterparts to seek "further assurances" on Parliament's concerns. Markets shuddered and the pound fell as investors priced in the increasing likelihood of a no-deal Brexit.
It's not clear what those assurances would entail, but if they mean additional concessions from the E.U., they won't be forthcoming. European Council president Donald Tusk responded that the bloc was prepared to discuss ways to "facilitate U.K. ratification" of the deal but ruled out renegotiating any part of it. May will spend today meeting with her Dutch and German counterparts, in addition to Tusk, before a special session on Brexit at a previously scheduled E.U. summit in Brussels on Thursday. Realistically, it's highly unlikely that these meetings will break the impasse.
The key element of the deal that has caused consternation among May's colleagues is the backstop provision for the Irish border: the only land border between the U.K. and another E.U. country (Gibraltar has been a whole other headache, but it's a British overseas territory, not strictly part of the U.K.). Under the deal, if the Brexit transition period ends in December 2020 without a separate trade agreement, the U.K. will be placed in a "single customs territory" with the E.U. — effectively a euphemism for keeping the U.K. in the E.U. customs union indefinitely. Northern Ireland would still follow most of the rules of the European single market, which would minimize the need for border controls.
Monday's announcement was just the latest humiliation for May in a year-and-a-half-long ordeal that has consisted of little else. The deal that won't be voted on today was itself an admission of defeat: The status quo would remain in place for nearly two years, after which London would still have to play by some E.U. rules and offer permanent residency to any E.U. nationals who moved to the U.K. during that time.
The Irish border has been the heaviest albatross around May's neck throughout the negotiations, as her coalition demanded a border hard enough to control immigration, but soft enough not to disrupt the considerable amount of commerce that flows across it daily, without keeping the U.K. in the customs union or forcing Northern Ireland to remain bound by E.U. regulations. This was always a pipe dream: The deal May's allies really want would require the E.U. to create a special exception to its rules for the U.K., which European leaders were not at all inclined to do, as it would open the floodgates to other wayward member states using the threat of withdrawal to extort similar concessions.
Unfortunately, May was forced to contend with her own extortionists in her Northern Irish coalition partners, the Democratic Unionist Party, who allowed her to remain in government by forming a tenuous pact with the Tories after their disastrous showing in a snap election she called in the summer of 2017. Hard-line Brexiteers in her own party were also dead-set against anything short of a complete severance from the E.U. single market and the customs union — but preferably with special treatment that would allow that severance to be consequence-free for Britain.
None of this was ever going to happen. Time and again over the past two years, May has been hamstrung by a constituency whose position was akin to demanding alimony in a divorce for which they were entirely at fault. The reason she has been unable to make a deal that works for both her European counterparts and her fellow British lawmakers is that no such deal exists: The two parties' nonnegotiables have always been mutually exclusive. This was true from the start and is proving still to be true at the end.
The future of Brexit is now officially up in the air: May has set a deadline of January 21 to either hold a vote or make a statement to Parliament on how her government will proceed. In the meantime, Labour leader Jeremy Corbyn is pushing for a general election, while May's rivals in the Conservative Party are threatening a challenge to her leadership. Both Labour and the Tory backbenchers had been looking forward to voting down her deal as a means of advancing their respective agendas, and were furious that they won't get the chance.
Other possible paths forward include a cross-party coalition to block a no-deal Brexit (if MPs can unite around a specific plan other than May's) or a second referendum: a once-remote possibility that is looking more possible as the March 29 Brexit deadline approaches. Assuming May manages to hang onto her job for the next month, the only strategy left for her is to play chicken with Parliament, running out the clock and forcing MPs to choose between her deal and no deal, which really are the only options short of canceling Brexit altogether.
On that point, the European Court of Justice issued an emergency judgment on Monday, giving the U.K. a green light to renege on Brexit without the assent of the other E.U. member states. Anti-Brexit politicians in the U.K. welcomed the ruling, but foreign minister Jeremy Hunt called it "irrelevant" as there was no chance of the government changing course.
If the government were to cancel Brexit, public opinion on that choice would be varied. Even as the potential consequences have become clearer, the British public remains divided roughly 50-50 on whether Brexit is a good idea. The outcome of a second referendum would not be entirely predictable. The pro-remain voters who stayed home in 2016, thinking leave had no chance, would probably turn out this time around, but they would be matched by leavers outraged that the government hadn't delivered what they voted for the first time. Britain's far-right nationalists, meanwhile, would make a roaring comeback (they're already gearing up for it) and the backlash to a canceled Brexit could get ugly.
May's deal is a bad one, but it's the best deal Brexiteers could possibly hope for. If it fails, which it probably will, the U.K. faces a crashout scenario with all its attendant miseries: a currency crisis, a labor shortage, shocking disruptions to the flow of trade, chaos at airports, and so forth. Companies that conduct business across the English Channel are already activating their contingency plans for a no-deal Brexit, stockpiling materials in the U.K. and relocating employees to Europe. Overall, however, Britain is scarcely prepared for the rude awakening that awaits the country on March 29.