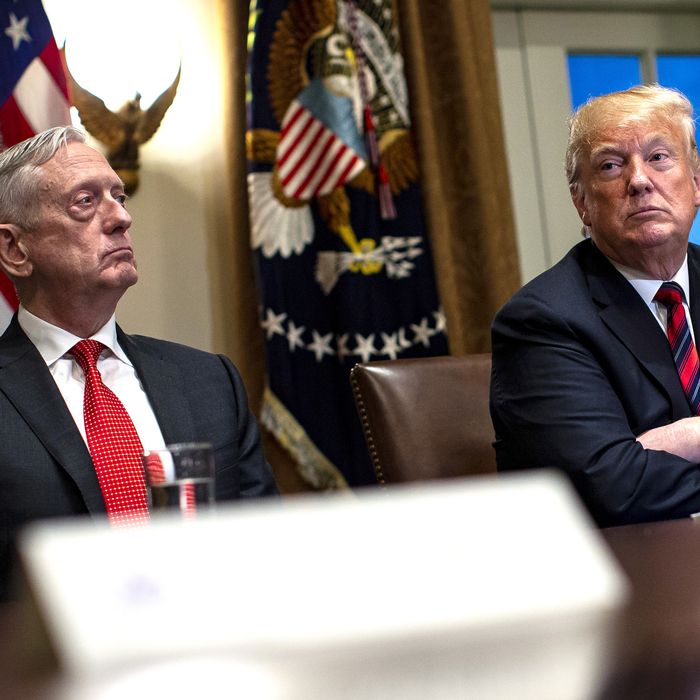 Mattis's last day has been moved up to January 1.
Photo: Al Drago/Bloomberg via Getty Images
When James Mattis published his resignation letter this week, he anticipated staying on until February 28 to allow for a smooth transition and a thorough vetting process for the next secretary of Defense. But smooth and thorough aren't the driving standards of the Trump administration: On Sunday, Trump decreed by tweet that Mattis would be out as of January 1, and that his deputy Patrick Shanahan will assume the title of acting Defense secretary. Aides report that Trump had not realized how scathing Mattis's resignation letter was until TV news explained its contents.
In one of the White House's most tumultuous weeks this year, Mattis submitted his resignation on Thursday, in protest of the president's surprise decision to withdraw from Syria — a decision informed by a phone call Trump had with Turkish president Recep Erdogan, who reportedly told him that Turkey would handle the endgame in the battle against ISIS if the U.S. left Syria.
On Saturday night, Trump said that he gave Mattis a "second chance" after president Obama fired him as head of Central Command in 2013, claiming that he gave Mattis "all of the resources that he never really had. Allies are very important — but not when they take advantage of the U.S." That line appears to be a rebuke of Mattis's resignation letter, in which he stated the president had failed to check authoritarian leaders, and that the U.S. must "advance an international order that is most conducive to our security, prosperity and values, and we are strengthened in this effort by the solidarity of our allies." Trump was reportedly furious that Mattis had condemned his decision, and that the letter created days of negative news coverage.
Prior to his confirmation to the Department of Defense, Patrick Shanahan was an executive at Boeing, known as "Mr. Fix-it" for solving problems in the company's missile defense and commercial aviation departments. He was appointed to the deputy position — considered to be the bureaucratic head of the military-industrial complex — to help realize Trump's dream of expanding the military.