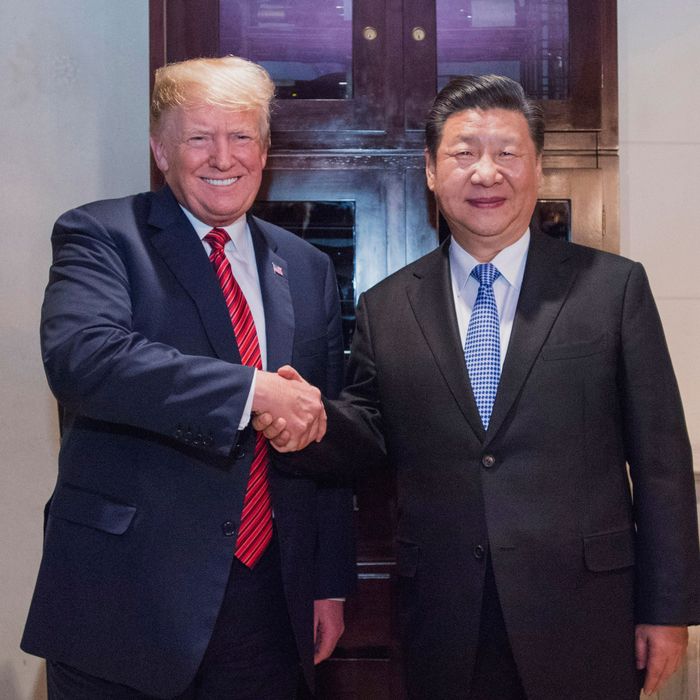 Trump and China's Xi Jinping make a deal, but much of it is hazy.
Photo: Li Xueren/Xinhua News Agency/Getty Images
It's becoming increasingly clear that Donald Trump's modus operandi in global affairs means taking a close look at what he does and not simply what he says. Council on Foreign Relations president Richard Haass summed it up nicely:
To put it simply, it's like a mayor who digs a hole, fills it up, and then holds a gala ribbon-cutting for the completed "project."
But as Trump knows, every deal has more than one author, and so in looking at the U.S.-China "trade deal" announced over the weekend, after his meeting with Xi Jinping during the G-20 summit, it's important to look at both countries' statements and what they did and did not say.
Trump was over the moon, as CNBC reported:
"It's an incredible deal. It goes down, certainly, if it happens, it goes down as one of the largest deals ever made," Trump said while en route to Joint Base Andrews in Maryland.




As per an earlier statement from the White House , the U.S. leader also said China would now look to buy from the U.S. a "tremendous amount of agricultural and other products," in a bid to address the one way flow of trade.




"It'll have an incredibly positive impact on farming, meaning agriculture, industrial products, computers, every type of product," Trump told a gaggle of reporters.
Turns out the Chinese did not agree to any specifics in terms of future purchases of U.S. goods, and also did not secure the permanent suspension of higher U.S. tariffs it sought. The "deal" actually just "pauses" a planned jump in tariffs from 10 percent to 25 percent that was scheduled for the beginning of 2019.
The catch is, however, that Xi and Trump must find resolution on "forced technology transfer, intellectual property protection, non-tariff barriers, cyber intrusions and cyber theft, services and agriculture" within 90 days, according to the White House press secretary's statement.
Trump also tweeted a specific Chinese concession on automobile tariffs that Beijing has yet to confirm or clarify:
As more careful practitioners of the English language would note, "reduce" and "remove" are two different things. There are similar ambiguities over what the two leaders specifically did (or did not) agree to with respect to a huge deal between Qualcomm and NXP that China appeared to have killed earlier this year, and on exactly how and when China intends to regulate the production and exportation of fentanyl, a major U.S. objective in the talks.
The very positive reaction of financial markets to the "deal" was based less on its accomplishments than on the alternative outcome of an intensified U.S.-China trade war. Investors were "relieved," not necessarily excited. And time will tell whether this represented anything more than a pause in hostilities, or in the longer run, a meaningless twist in a circular story.
At the moment it looks like Trump is holding his ribbon-cutting ceremony before it's even clear that the hole he dug has been filled.