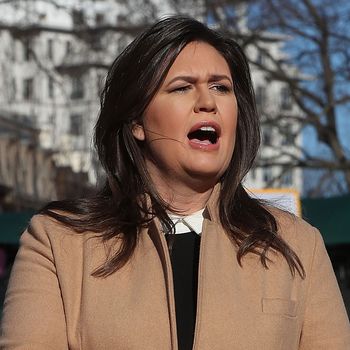 Trump sent out Sanders to walk back his border wall demands.
Photo: Mark Wilson/Getty Images
Even as the federal government drifted toward a partial shutdown over the last few days, it's been obvious to just about everyone that it was an entirely avoidable crisis created by Donald Trump's temper tantrum last week during a photo op with Democratic congressional leaders. Even as he was signaling he was backing down on his border wall demands, he let himself get baited into a chest-pounding statement on his ability and willingness to shut down the government if he didn't get his way. So the question since then has been how long it would take the president to creep back to his previous position.
The answer just arrived via a bland statement from Sarah Huckabee Sanders, as reported by the Washington Post:
Sanders told Fox News Channel: "We have other ways that we can get to that $5 billion."




"At the end of the day we don't want to shut down the government, we want to shut down the border," Sanders said.




Sanders said the White House was exploring other funding sources and believed it could be legally done.




"There are certainly a number of different funding sources that we've identified that we can use, that we can couple with money that would be given through congressional appropriations that would help us get to that $5 billion that the president needs in order to protect our border," she said.
This is apparently an allusion to Trump's talk about using Department of Defense resources to help build the wall, which he was deploying to walk back the appropriations demand before his Oval Office meltdown. In other words: Never mind!
It shouldn't take congressional Republicans that long to cut a deal with Democrats to keep the government open beyond the current December 21 deadline, now that their chief seems willing to get out of the way. But it would be wise to keep an eye on the presidential Twitter feed until the deal is completely done.
Update:
Trump appears to have gone from issuing threats that he's going to shut down the government and take the blame for doing so to begging for help to keep the government open and trying to blame the Senate for not allowing him to do so. Never let it be said that the President is reluctant to change his mind.