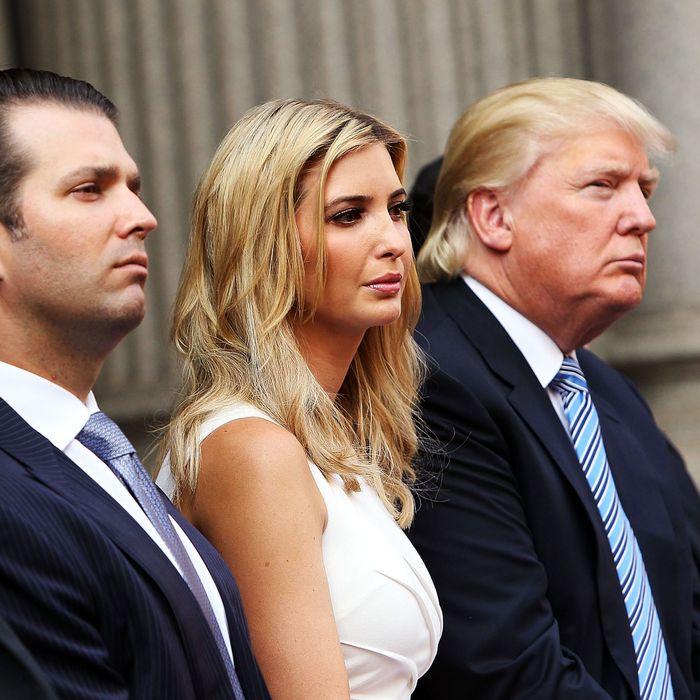 Mount Trumpmore.
Photo: Paul Morigi/WireImage
New York attorney general Barbara Underwood is investigating the Trump Foundation, one of the the more transparently illegal schemes operated by Donald Trump and his family. Today, Underwood announced that the foundation is shutting down. But the criminal investigation will continue.
The foundation was a slush fund used to benefit Donald Trump's business and political ambitions. Its hilariously venal schemes, many of which were uncovered by Washington Post reporter David Fahrenthold, often lacked even transparent cover stories. The foundation's largest "gift" went toward the restoration of a fountain outside the Trump Plaza Hotel in New York. Its smallest gift was a $7 Boy Scout enrollment fee for Donald Jr. More typically, Trump used the foundation's "charitable" money for purposes such as paying off his own legal settlements.
Underwood claimed to have found "a shocking pattern of illegality," which is not surprising. The Trump Foundation apparently lacked even rudimentary oversight from the cronies who putatively ran it. Officers Donald Trump Jr., Eric Trump, and Ivanka Trump never held a board meeting. (Donald Jr.'s Boy Scout merit badges apparently didn't include a unit on nonprofit foundation management.) Its "treasurer," Allen Weisselberg, told investigators he was unaware he was on its board.
It is worth noting that the Clinton Foundation's comparatively puny conflicts of interest attracted vastly more campaign coverage than the Trump Foundation did. In a normal presidency — i.e., one not beset by numerous other investigations — the Trump Foundation probe would be five-alarm fire news. Indeed, it does pose a very serious ongoing threat to Trump and his family members. The details that have emerged already in public, even before the investigation has concluded, reveal the foundation as a vehicle for what is basically straight-up theft. And since the investigation is occurring at the state level, Trump's pardon power, which only applies to federal crimes, is useless.