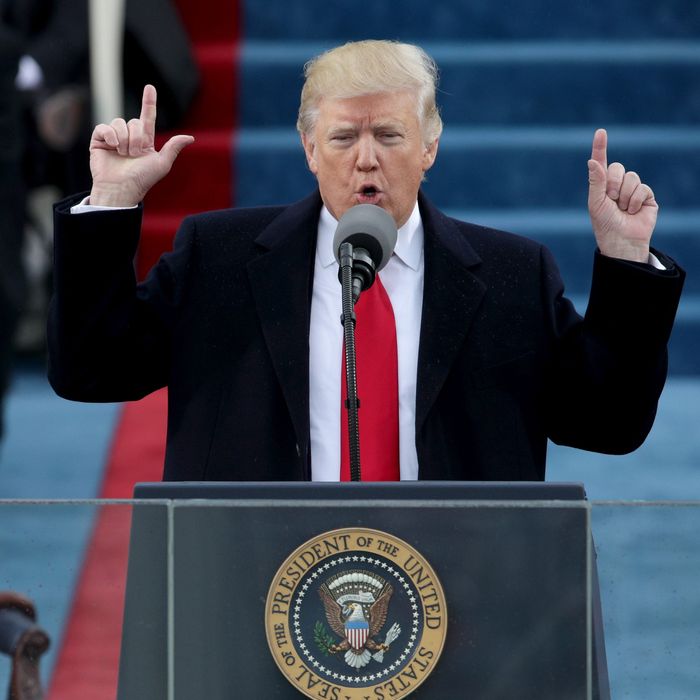 President Trump at his creepy and also possibly crime-filled inauguration.
Photo: Alex Wong/Getty Images
President Trump is facing so many criminal investigations it's difficult to keep track of them all. The latest, revealed late Thursday by The Wall Street Journal, is that the U.S. Attorney's Office in Manhattan is probing Trump's Inauguration. The investigation reportedly centers on two alleged crimes: embezzlement and trading money for favors.
Trump's inauguration looked fishy from before it even took place. Three days prior, the New York Times noted that Trump's inauguration raised twice as much as the previous record, but "How much of that the committee will spend, and how, is less clear." Nobody has managed to figure out where all the money went, especially given its relatively sparse attendance. "It's inexplicable to me. I literally don't know," Greg Jenkins, who chaired George W. Bush's second inaugural, told WNYC. "They had a third of the staff and a quarter of the events and they raise at least twice as much as we did," he said. "So there's the obvious question: Where did it go? I don't know."
Robert Mueller is reportedly investigating Russian businessmen gaining unusual access to the festivities. But the new investigation, which concerns misappropriation of funds and federal corruption laws, might not be related to that inquiry at all. The vice-chairman of the Inaugural Committee was Rick Gates, Paul Manafort's former lobbying partner, who has pleaded guilty to financial crimes and is cooperating with Mueller. It would not exactly be a surprise if Gates did something shady with the vast unexplainable sums at his disposal.
Today's Journal report also notes that "the investigation partly arises out of materials seized in the federal probe of former Trump lawyer Michael Cohen's business dealings." As a reminder, federal prosecutors seized a vast trove of notes and recordings from Cohen's office. Cohen worked closely with Trump for a decade, and since both Cohen and Trump are crooks, there could be a lot of other crimes that arise out of this investigation. The procession of criminal investigations around Trump may be just getting started.