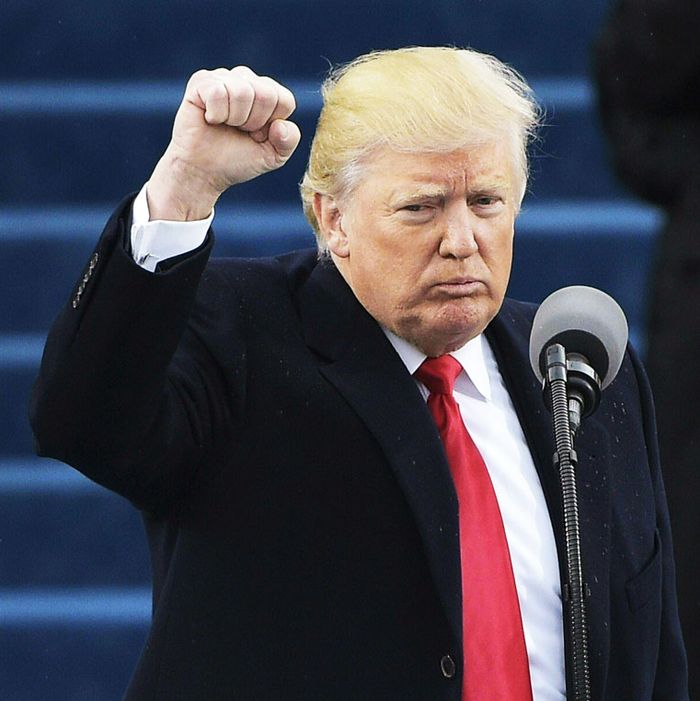 President Trump distances himself from his crime-filled inauguration.
Photo: Mandel Ngan/AFP/Getty Images
Last night, the Wall Street Journal reported that federal investigators are probing the Trump inauguration for influence-trading and misappropriation of funds. White House press secretary Sarah Sanders told reporters that the Trump inauguration has nothing to do with Donald Trump.
"That doesn't have anything to do with the president or the First Lady," explained Sanders. "The biggest thing the president did, his engagement in the inauguration, was to come here and raise his hand and take the oath of office. The president was focused on the transition at that time and not on any of the planning for the inauguration."
Apparently Trump just showed up, gave a speech, and left, never asking how the money being raised in his name was being spent or who was handing it over. And so the massive, nationally televised festival of Trump joins the list of Trump-related people or activities for which Donald Trump claims no responsibility.
Michael Cohen, Trump's longtime fixer, did "very low-level work" for him, he told Fox News, "more public relations than he did law." Of course, since Trump's defense requires professing ignorance of the law, he has also puffed up Cohen's responsibility for this: "He was a lawyer and he is supposed to know the law," he wrote. "It is called 'advice of counsel,' and a lawyer has great liability if a mistake is made. That is why they get paid." The apparent lesson here is not to use your low-level, mostly public-relations person to give you legal advice on whether or not your covert payment is a felony.
Being charged with a crime appears to be a reliable way to have your status in Trumpworld retroactively diminished. George Papadopoulos, who Trump had introduced to the Washington Post as one of his foreign policy advisers, was demoted to "young, low-level volunteer" and "coffee boy." Carter Page, cited by Trump at the same meeting, subsequently became "a very low-level member of I think a committee for a short period of time. I don't think I ever met him."
Yet another person whom Trump barely knows is his former campaign manager, Paul Manafort. "He worked for me for a very short period of time," Trump said of Manafort last summer.
Murray Waas reports that Manafort gave advice to Trump and senior White House officials on how to respond to Robert Mueller's investigation. Manafort is deeply compromised, having maintained close ties to his business partner, Konstantin Kilimnik, a Russian intelligence agent. The defense of Trump has always asserted that their short intersection during the campaign is their only connection, and Manafort's criminality only "concerns his business as a political fixer long before he worked for the Trump campaign," as the Wall Street Journal editorial page rationalized.
Kind of strange, isn't it, that Trump would coordinate his legal defense with a man he knows only slightly, and who turns out to have committed a bunch of crimes that don't implicate Trump in any way?