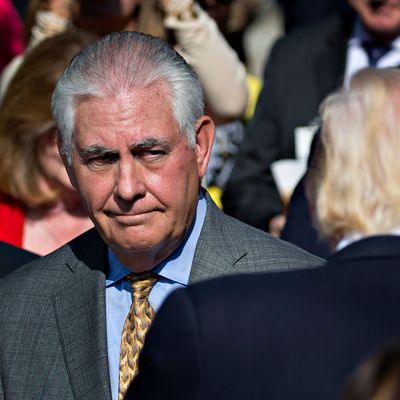 Rex Tillerson: I'm with stupid.
Photo: Andrew Harrer - Pool/Getty Images
Former Secretary of State Rex Tillerson reportedly m=top">conspicuously declined multiple opportunities to deny having said this. In an interview with Bob Schieffer, Tillerson, who has since left the administration, was asked to characterize his former boss. He put it a little more delicately:
"It was challenging for me," he said, "coming from the disciplined, highly process-oriented Exxon Mobil corporation, to go to work for a man who is pretty undisciplined, doesn't like to read, doesn't read briefing reports, doesn't like to get into the details of a lot of things, but rather just kind of says, 'This is what I believe.' "
So basically, a fucking moron. Trump fought back in characteristic style, insisting that Tillerson is the dummy.
No moron, no moron, you're the moron.
Would a stupid president fire off a ragetweet calling his former secretary of state "dumb as a rock" and "lazy as hell"? I don't think so.