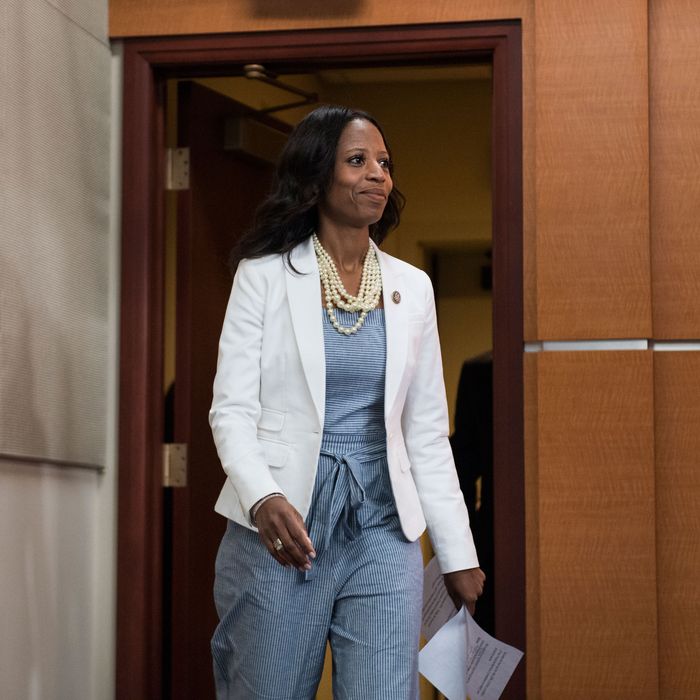 Mia Love, one of five defeated GOP House members whom Trump mocked the day after the election.
Photo: Tom Williams/CQ-Roll Call,Inc.
The obvious irony involved in this week's bizarre Oval Office confrontation with congressional Democratic leaders was that the president went into it on the brink of avoiding a partial government shutdown and wound up defiantly bellowing his determination to shut it all down if he didn't get exactly what he wanted in the way of border wall funding. But this unraveling of Trump's position was made worse by another thing that happened in the meeting: Nancy Pelosi goaded him into insisting belligerently that he did too have enough votes from House Republicans in support of his full border wall demand. Now he may have to prove it, as the Hill notes:
Now, [House Republican Whip] Scalise, Ryan and House Majority Leader Kevin McCarthy (R-Calif.) are under enormous pressure to prove their ally in the White House was correct and that Pelosi, the likely incoming Speaker, was wrong.




But it was still unclear late in the day whether Republicans would have enough votes to pass such a package on a party-line vote. Democrats have agreed to back $1.6 billion for border security but have rejected Trump's $5 billion demand. 
In a close vote, Trump needs every Republican he can get to support the unpopular border wall demand. So it's now looking like he wasn't being terribly shrewd on the day after the midterms when he mocked five not-so-lame-duck House members as stone losers for failing to snuggle up to him on the campaign trail. Per Newsweek:
In his first press conference since the heated 2018 midterm elections, President Donald Trump mocked Republican candidates who lost their elections on Tuesday after refusing to "embrace" him and his administration. 




"Mia Love gave me no love. And she lost. Too bad. Sorry about that, Mia," Trump said to reporters at the White House on Wednesday. The president touted Republican success in the Senate while blaming the loss of the House to retiring GOP lawmakers and the "hostile" media….




Love wasn't the only losing Republican to receive Trump's ridicule. The president also lamented the losses of Carlos Curbelo, Barbara Comstock, Peter Roskam and Mike Coffman.




"You had some that decided to say 'let's stay away,'" Trump said of GOP candidates who rejected his presidency and the support of his administration. "They did very poorly. I'm not sure if I should be happy or sad, but I feel just fine about it."
Surely these five members, who probably blame Trump for their losses to begin with, will raise heaven and earth to be there for him when the House votes on whether to back up his ill-designed threats. It's a real problem, as the Hill observed this morning:
One major GOP hurdle for the wall? Republicans were conducting "bed checks" on Wednesday to figure out how many of them were in Washington.




The House is only scheduled to work four days between now and Dec. 21, and 17 Republicans missed Wednesday's farm bill vote. Many of them are not returning to the House next year and remember that Trump mocked a handful of House Republicans who lost their races. Don't count on their votes.
And don't make idle boasts about your support in the House of Representatives until you count the votes.