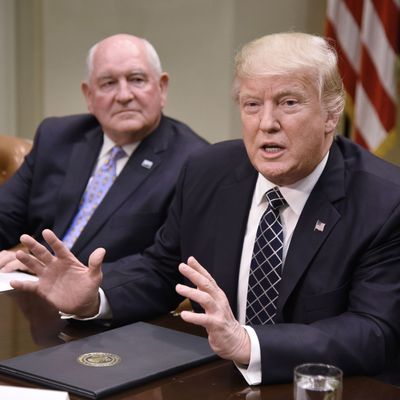 Donald speaks as Agriculture Secretary Sonny Perdue looks on during a roundtable with farmers.
Photo: Olivier Douliery - Pool/Getty Images
Congress may have reached a farm bill compromise, but that conciliatory mood hasn't reached the Trump administration. On Thursday, the USDA announced a proposed rule that would, if it goes into effect, attach strict work requirements to the Supplemental Nutrition Assistance Program, or food stamps. In a press release, the USDA asserted that the rule would "restore the system to what it was meant to be: assistance through difficult times, not lifelong dependency." The rule would accomplish something congressional Republicans failed to do in the farm bill: expand work-for-welfare and ultimately shrink entitlement programs like SNAP. "Long-term reliance on government assistance has never been part of the American dream," the release quotes Agriculture Secretary Sonny Perdue. "As we make benefits available to those who truly need them, we must also encourage participants to take proactive steps toward self-sufficiency. Moving people to work is common-sense policy, particularly at a time when the unemployment rate is at a generational low."
SNAP already has work requirements in place, but states have some flexibility in how they decide to structure the programs: They can apply for waivers, which suspend requirements in cities and counties with unemployment rates greater than 20 percent of the national average. The Trump administration wants to restrict that flexibility, as the Washington Post reported on Thursday, proposing that states only be allowed to waive the requirement in areas in which unemployment is above 7 percent. Since the unemployment rate is 3.7 percent, currently the rule allows waivers in places with unemployment above 4.44 percent. "Approximately 2.8 million able-bodied recipients without children or an ailing person in their care were not working in 2016, according to the USDA's latest numbers. Roughly 755,000 live in areas that stand to lose the waivers," the Post wrote. According to the Bureau of Labor Statistics, only three metropolitan areas in the country have unemployment rates above 7 percent: the Visalia-Porterville, California metropolitan statistical area, the Yuma, Arizona metropolitan statistical area, and the El Centro, California metropolitan statistical area.
The USDA's proposal isn't identical to work requirements as they were written into the initial House version of the farm bill. Had Democrats failed to block House Republicans from advancing that version to Trump's desk, needy recipients who make three consecutive paperwork errors would have lost their benefits for three years. Able-bodied individuals between the ages of 18 and 59 would have had to prove they were working at least 20 hours per week or enrolled in school or job training. This provision would have penalized individuals who can't find work, or who have irregular hours — a common problem for workers in the food service and retail industries.
Trump backed work requirements, but without Congress in his corner, he had to find another way to get the job done. Thus, the USDA. Trump, it turns out, can be consistent when he pleases. The great border wall might turn out to be a crowdfunded metal fence, but on the subject of poverty, Trump is a reliable antagonist. Low unemployment is a convenient justification for policies to which Trump was already committed: tax cuts for the wealthy, welfare cuts for everyone else.
While Secretary Perdue correctly notes that unemployment is low, wealth inequality remains steep. Americans are working, in other words, but that doesn't mean they are making enough to make ends meet. Stricter work requirements for SNAP would therefore penalize individuals who already live in extreme poverty, and there's not much evidence to support Perdue's belief that the USDA can push people into the workforce by depriving them of food aid. As I previously wrote for Intelligencer, a 2018 study by the left-of-center Center for Budget and Policy Priorities reported that work requirements for the Temporary Assistance for Needy Families program — welfare — actually pushed the poor more deeply into extreme poverty. Another report, released by the Stanford Center on Poverty and Inequality in February, found that while there's some evidence work requirements may raise employment rates, that trend may also be attributable to events that have nothing to do with means-testing welfare, making it difficult to tell what role, if any, work requirements actually played in getting people into the labor force.
We do know, however, that attaching work requirements to entitlement programs amounts to welfare cuts. TANF's work requirements shrunk the number of families on welfare. In Arkansas, work requirements for Medicaid expansion have cost nearly 17,000 people their health-care benefits. It's a callous way to cut public spending, and unnecessary, too. There are less punitive ways for the government to save money. It could increase revenue by raising taxes on corporations and wealthy households. Or it could raise the minimum wage. One study by the Center for American Progress found "that minimum-wage increases lead to statistically significant reductions in SNAP enrollment and spending." The reason, CAP concluded, was simple enough. When people can afford to buy food without government help, they don't ask for government help. That's ideologically inconvenient for the Trump administration, and indeed for anyone else still committed to trickle-down economics. It's no sin to need welfare. That need, though, is still a moral indictment, not of the poor themselves, but of the actors who keep them that way.